Across the country, people will be packing their bags and heading to grandma's house, reconnecting with friends, or visiting a new destination this Thanksgiving.
Record High Demand for Air Travel
U.S. airlines are expecting nearly 30 million travelers over the 11-day Thanksgiving travel period (Nov. 17-27), which is an all-time high.
A4A projects about 2.7 million passengers will fly per day over the holiday, which is a nine percent increase from 2022.
The Sunday after Thanksgiving, Nov. 26, is predicted to be the busiest day of the holiday period, with a record-setting 3.2 million passengers.

---

Airlines are Ready for Record Demand
U.S. airlines have been working for months to prepare for the holiday travel season and are ready to welcome a record number of travelers. To prepare, airlines have been:
Hiring aggressively to ensure we have the right people in the right places at the right time to support the unprecedented travel volumes. Today, U.S. passenger airlines have the highest employment levels in more than 20 years and are hiring at a pace 3.5 times higher than overall U.S. job growth. More information about the industry's investments in our workforce can be found here.
Adjusting schedules to reflect passenger demand and to prioritize operational performance.
Investing heavily in technology including mobile apps to improve communication with travelers.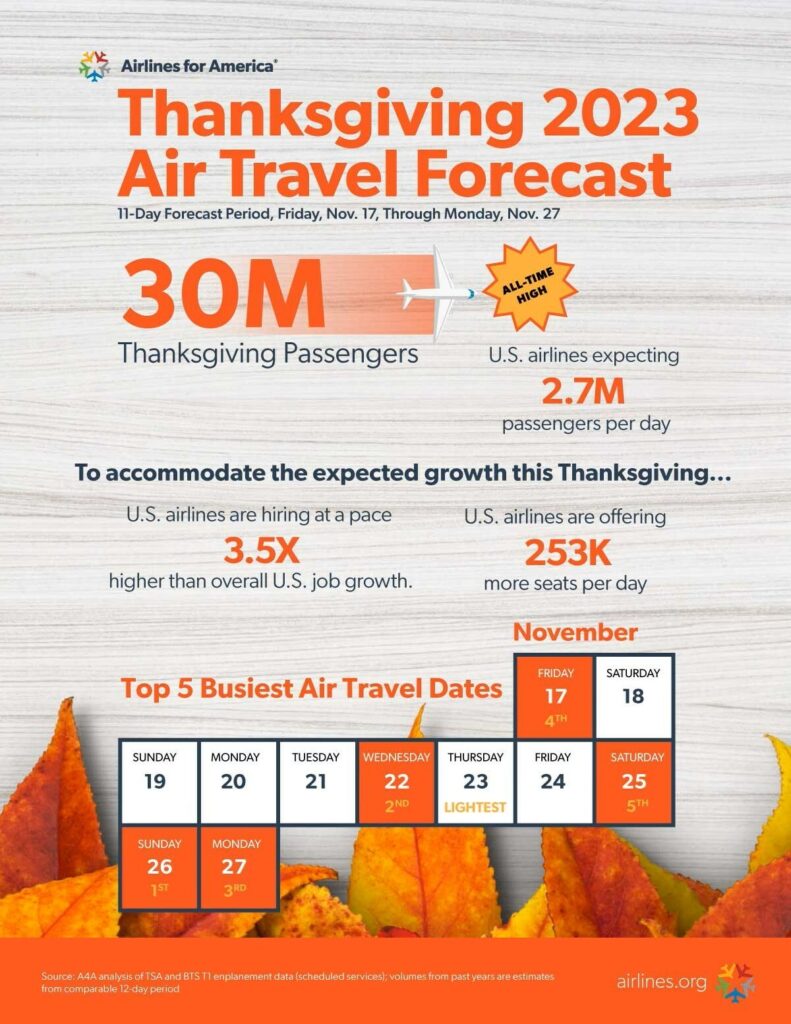 ---
Tips for Travelers
Download your airline's mobile app: Be sure to download your carrier's app as soon as you purchase a ticket! U.S. airlines have made significant investments in their mobile apps so they can provide important flight updates such as boarding times, gate numbers, and other necessary announcements. Also, many airline apps offer free movies, TV, or texting services in flight.
Allow plenty of time: Be sure to allow extra time if you are hailing a taxi or using a ride-share company, as they get particularly busy around the holiday travel season. If you are driving yourself to the airport, allow ample time for heavy airport traffic and be aware that some parking garages are under construction.
Pack snacks and an empty water bottle: Some airport vendors may be closed, so take a snack and an empty water bottle that you can fill after clearing security.
Consider signing up for TSA PreCheck or Global Entry: If you do not have TSA PreCheck, consider enrolling ahead of your next trip for a faster and smoother experience at the security checkpoint.

---

About A4A
A4A advocates on behalf of the leading U.S. airlines, both passenger and cargo carriers. A4A works collaboratively with industry stakeholders, federal agencies, the Administration, Congress, labor, and other groups to improve aviation for the traveling and shipping public.
Airlines for America (A4A) members are Alaska Airlines, American Airlines, Atlas Air, Delta Air Lines, FedEx, Hawaiian Airlines, JetBlue Airways, Southwest Airlines, United Airlines, and UPS. Air Canada is an associate member.
For more information about the airline industry, visit our website airlines.org, and our blog, A Better Flight Plan, at airlines.org/blog.