A world of color awaits travelers to LGBTQ+-friendly Asheville now through fall. In addition to nature's symphony of crimson and gold hues, this season offers art experiences that invite visitors into painted landscapes and imagined worlds. When the day's adventures are over, guests can rest their heads at an artfully designed boutique hotel that will transform an overnight stay into a dreamscape. From fall art exhibitions and captivating performances to festival fall events such as The Art of Food and Blue Ridge Pride, here's what LGBTQ+ travelers need to know to plan a fun fall getaway in Asheville, North Carolina!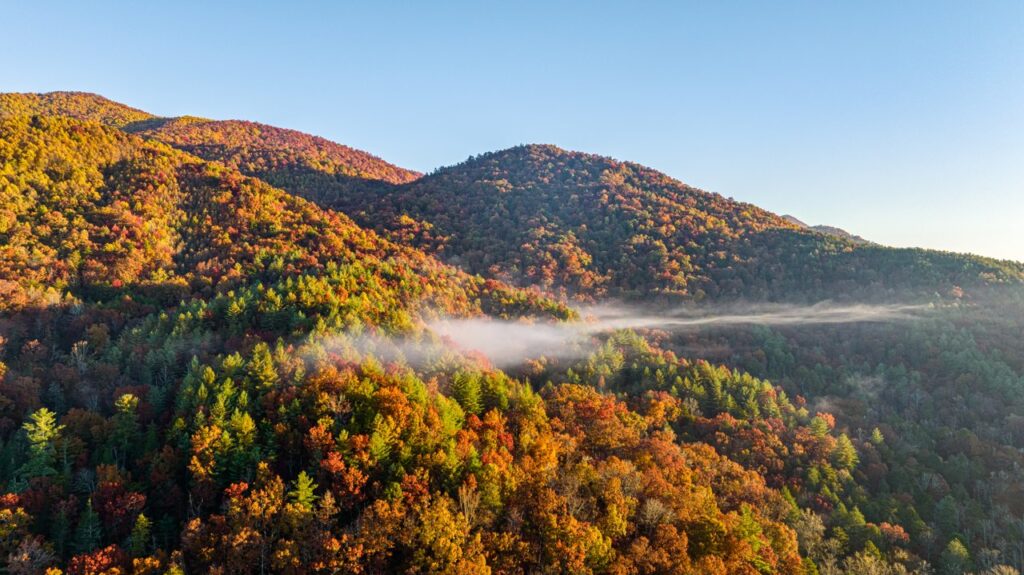 ---


An Artful Feast for All Senses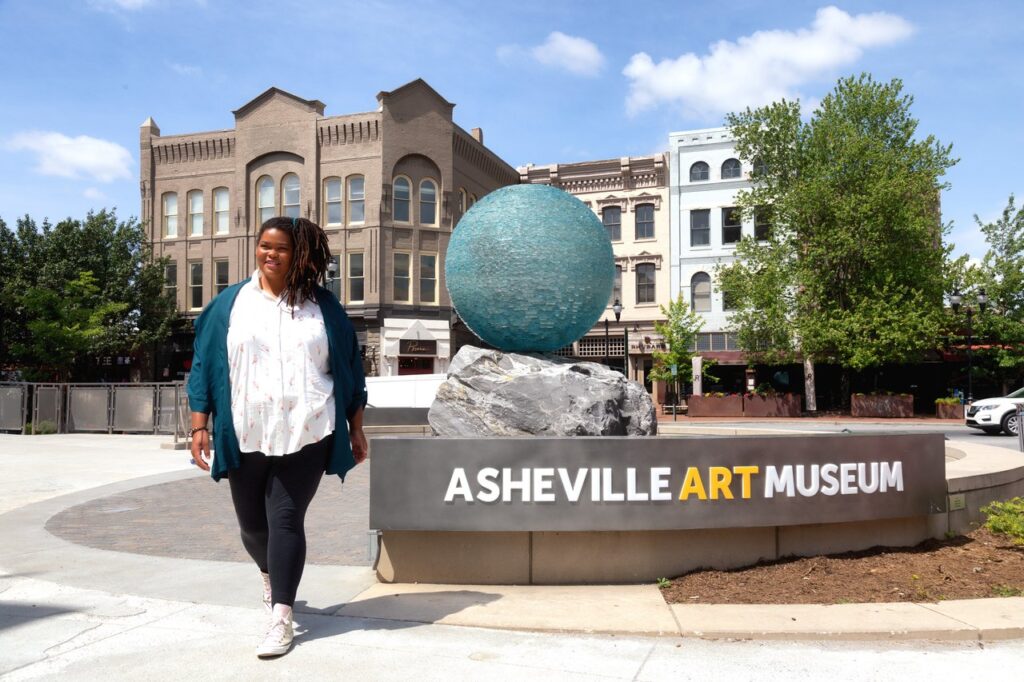 Exhibition | Krafthouse: Forest of the New Trees is a first-of-its-kind immersive art installation at the Center for Craft. The self-guided experience created by local visual artists, filmmakers, poets, performers, and costume designers invites visitors into an imaginary realm, inspired by Appalachian craft traditions, indigenous wisdom, and the ancient wildness of the Blue Ridge Mountains, the world's oldest mountains. Return visits will reward guests with new perspectives. The exhibition runs Sept. 23-Oct. 13.
Exhibition | Asheville, nicknamed "Foodtopia" for its distinguished culinary and farming scene, now has an appetizing art exhibit dedicated to food as a focal point in culture and life. The Art of Food is a collection of works by some of the most preeminent postwar and contemporary artists, including Roy Lichtenstein, Andy Warhol, and Enrique Chagoya. On view at the Asheville Art Museum through Oct. 22.
Gallery Hop | The Second Saturday gallery hop just got a new set of wheels. The ArtsAVL Connect Trolley offers free rides to artist galleries and studios downtown and in the River Arts District. Riders can hop off or on at any stop along the route. The trolley runs every second Saturday from 12-8 p.m.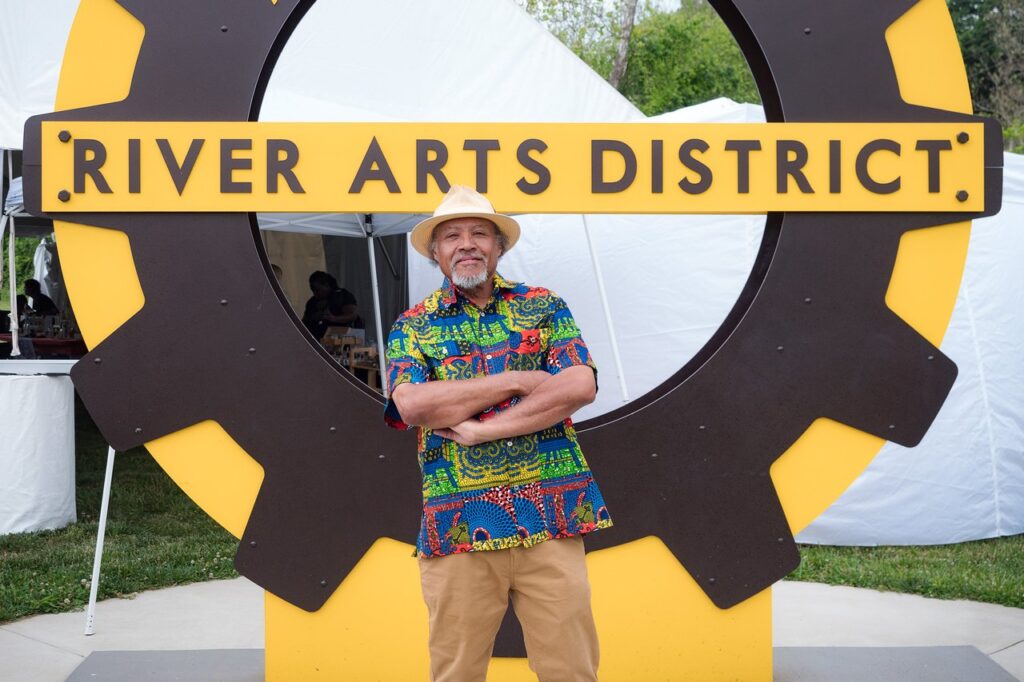 Open Studios | Every first Friday, more than a dozen artists at The Refinery AVL Creator Space and Gallery open their studio doors to visitors. El Mercadito, a new addition to the gallery space, is a collection of drawings, sculptures, and mixed-media artwork by Luis Alvaro Sahagun centered on Latinx narratives. As the grandson of a curandera, or healer, Sahagun calls his artmaking "a mystical instrument" that forges a spiritual connection to heal wounds of conquest, colonization, and capitalism. Upcoming First Fridays: Sept. 1, Oct. 6, and Nov. 3.  
Public Art | A bright purple mural celebrating Latinx heritage now stretches across a wall along Coxe Ave., near downtown. The artwork, titled "Eres Un Orgullo Latino" (which means "You Are Latin Pride"), was designed and painted by Leslie Reynalte-Llanco as part of Buncombe County's Creative Equity Mural Project.
Visitors can discover more of Asheville's murals, graffiti, and public sculptures with Mountain Mural Tours. In addition to checking out the area's street art, tours include information about the artists, their inspiration, and local history.
---


Vibrant Festivals and Cultural Events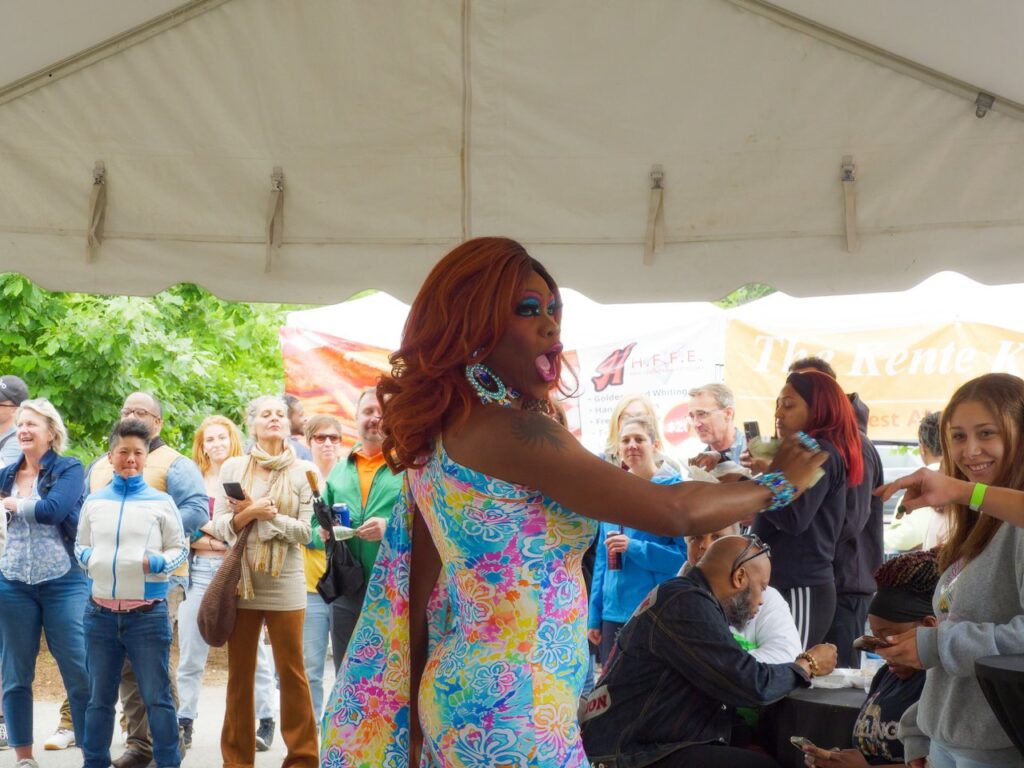 Event | The first Beer City Comic Con makes its debut at Harrah's Cherokee Center downtown Sept. 29-Oct. 1. The weekend-long event invites comics fans and sci-fi enthusiasts of all ages to "get your nerd on" with a variety of panel discussions, seminars, contests, and more. Planned topics include "neurodiversity as a superpower" and "the biology of Star Wars."
Speaking of Star Wars, the weekend lineup also includes the Asheville Symphony Orchestra performing "Star Wars: Celebrating a Galaxy of Music." Audiences will journey to a galaxy far, far away and experience cinematic moments, from the Battle of Hoth to the Death Star Trench Run.
Festival | Ya'll means all in Asheville. This year's Blue Ridge Pride festival kicks off the morning of Sept. 30 with a procession through downtown, culminating in a day-long celebration in Pack Square Park. The annual free event features musical acts, food trucks, and dozens of vendors.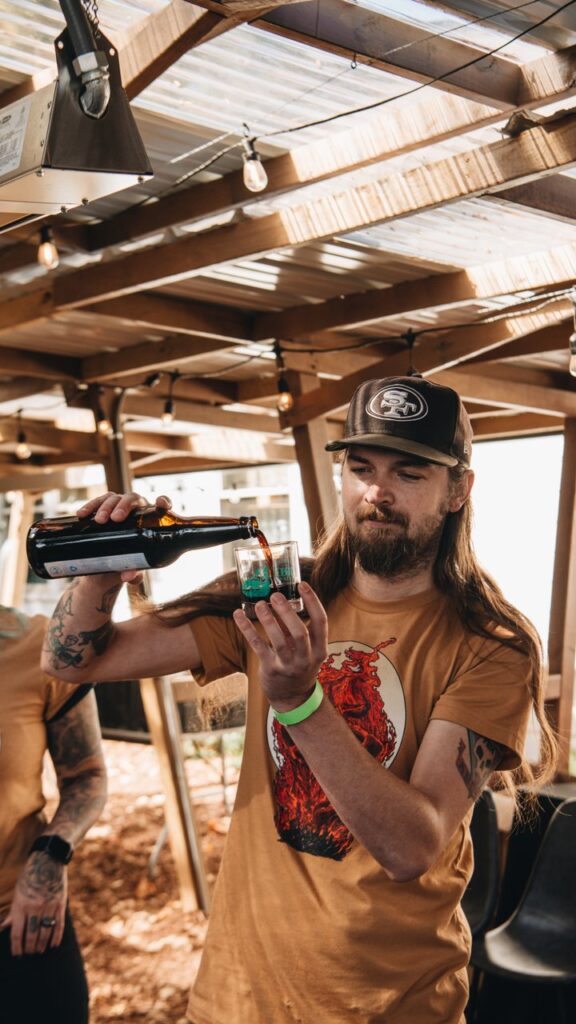 Festival | Burial Beer Co. hosts its premiere event, Burnpile, at its Forestry Camp Facility on Oct. 14. The annual beer and music festival includes a full-day concert alongside a tasting experience from a diverse lineup of more than 50 of the country's best breweries. This year's lineup features Deer Tick, S.G. Goodman, and MJ Lenderman.
Festival | This year's LEAF Festival (Oct. 19-22) pays homage to first nations, indigenous, and Latinx communities, centered around the theme of "Legends of the Americas." The three-day music festival at Lake Eden in Black Mountain features a lineup of renowned musicians and performers, including Halluci Nation, Martha Redbone, and Son Rompe Pera.
---


Sound and Color Take Center Stage 

Shows | An unforgettable season of diverse and captivating shows will light up the marquee at Wortham Center for the Performing Arts this fall. The lineup features an array of unique national and international touring acts, sure to delight and captivate audiences of all ages.
Artrageous (Sept. 23) – Amazing works of visual art come to life on stage in this fusion of art, music, puppetry, and dance. Described as "Picasso meets Blue Man Group," this one-of-a-kind experience brings together visual artists and world-class musicians.
Black Violin (Oct. 12) – This two-time Grammy-nominated duo returns to Asheville, boldly merging classical music and hip-hop. Their arrangements marry modern beats and vocals – creating a world where Mozart, Marvin Gaye, and Kendrick Lamar harmoniously coexist on one stage.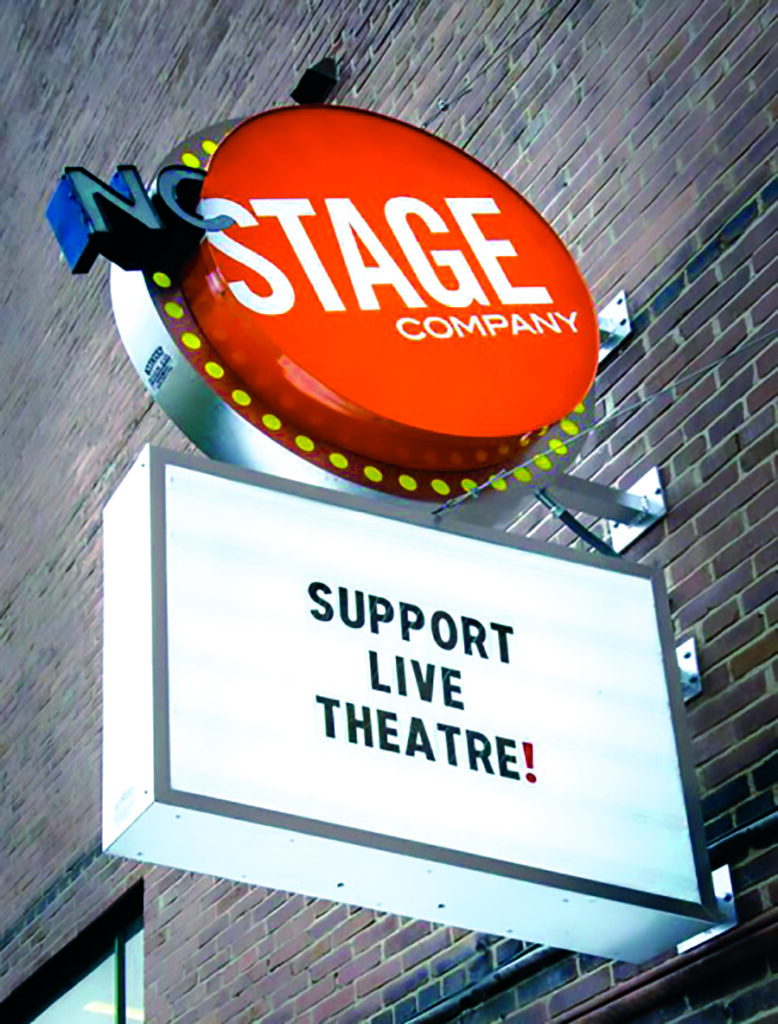 Theatre | Asheville's local theatre companies offer audiences the opportunity to experience the joy of live performance, with a range of classic and original works.
In time for Halloween, The Splatter Play is a spooky comedy by local playwright Abby Auman that will haunt the Magnetic Theatre stage this October. The protagonist, Tina, tries to sell her childhood home, but its resident creepies and crawlies aren't quite as ready to move on as the seller would hope. Runs Oct. 6-21.
Unroll a picnic blanket and head to the Hazel Robinson Amphitheatre for Shakespeare under the stars. The Montford Park Players wrap up their 20th season of Shakespeare in the Park with The Tempest, running Sept. 1-30.
Other local theatres to check out this fall include NC Stage Company and Asheville Community Theatre. For more fall events and festivals, check out this guide.
---


Dreamy New Places to Stay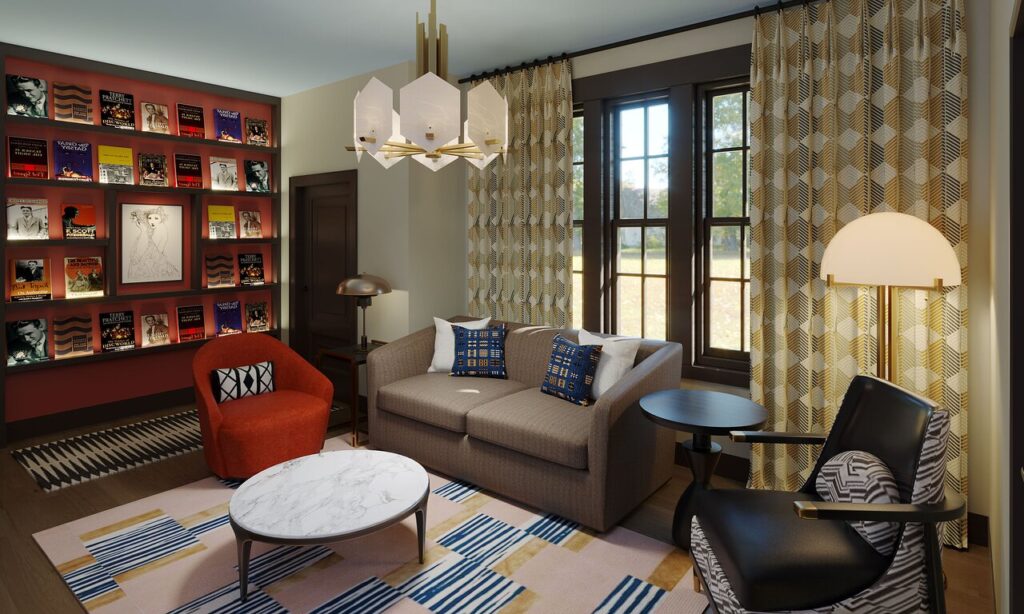 New Hotel | A bold, daring new boutique hotel is set to join the River Arts District this fall. The Radical is a 70-room contemporary hotel and living art installation that breathes new life into a once-abandoned building while preserving beautiful evidence of its past lives. With rebel luxe interiors by Suomi Design Works, the hotel's richly layered design features original street art, including work from decades past as well as modern additions. Now accepting reservations for stays beginning Oct. 8, 2023.
On the heels of The Radical opening, Lark Hotels and Hatteras Sky will also introduce an artful love letter to Asheville with the opening of Zelda Dearest, a 20-room boutique hotel inspired by the passion, style, vibrancy and intoxicating personality of Zelda Fitzgerald.
For more information on travel to the Asheville area this season, including weekly color reports, a fall foliage tracking map, and autumn adventure ideas, visit ExploreAsheville.com.