Las Vegas native Brady McGill has served his community since he was young, working alongside various nonprofit organizations over the years. All of which acted as a catalyst for him to serve as the current President and CEO of Las Vegas PRIDE for the past four years. Making the world a better place has always been on his radar.
McGill started at Las Vegas PRIDE as a volunteer 15 years ago. He recalls, "I got into this work when one of my friends was Miss Vegas PRIDE in 2008. We traveled with some members of the Las Vegas Convention and Visitors Authority (LVCVA) on a tour to promote Las Vegas PRIDE. Since then, I've stayed active, involved, and worked to make our community better every day that I can."
Accessible and Inclusive LGBTQ+ Las Vegas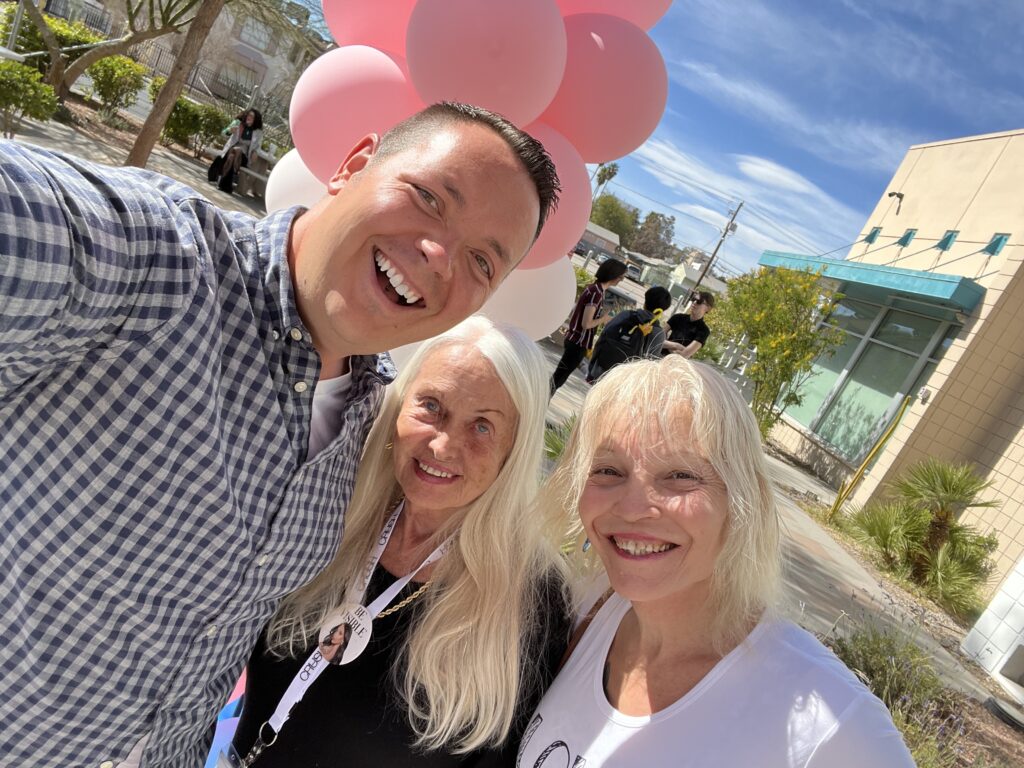 McGill has been tirelessly dedicated to ensuring that the all-volunteer, non-profit organization Las Vegas PRIDE focuses on several goals, which include raising the visibility of the local LGBTQ+ community, creating safe spaces for LGBTQ+ people, and providing opportunities for people to be a part of the community.
To accomplish the aforementioned goals, the organization has created the Las Vegas PRIDE Magazine, a helpful resource not only for locals but also for new and returning LGBTQ+ visitors, too. The magazine provides the local LGBTQ+ community with a platform to amplify their voices, showcase its successes and contributions to the larger community, and tell compelling LGBTQ+-focused stories that are rarely told. McGill estimates that more than 6,000 people visit their website each day. That total includes the digital magazine which also has a bi-monthly print edition.
---

Drag Queens Take Center Stage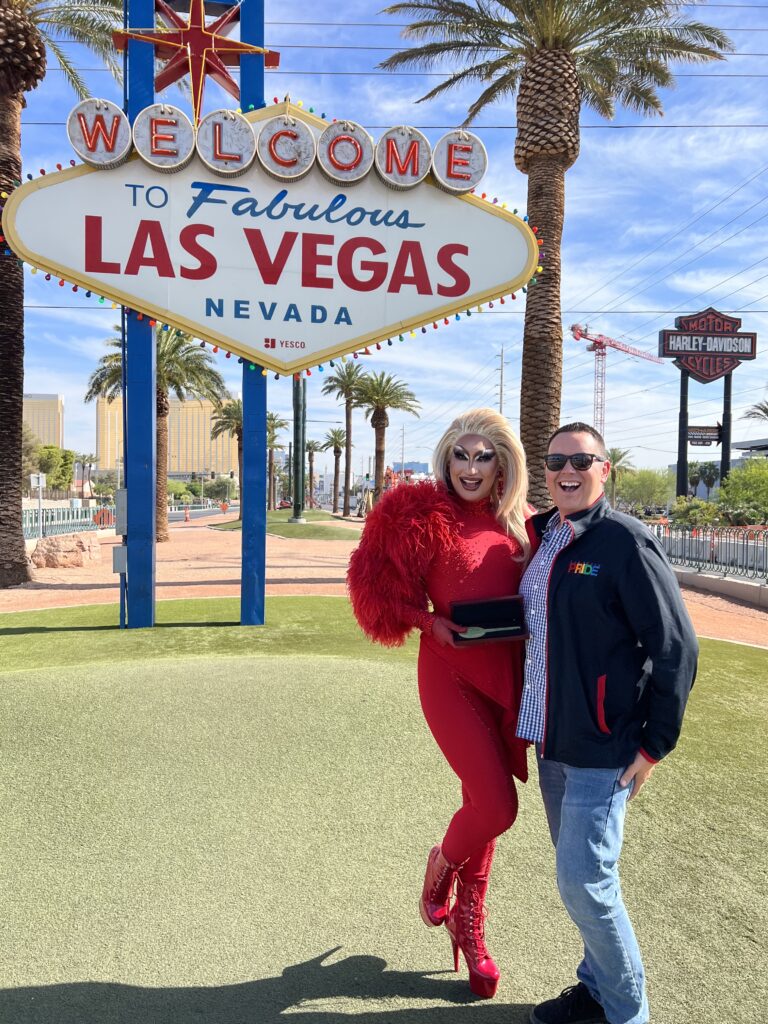 Some venues that host drag shows have closed doors due to the anti-drag legislation passed in some states around the country. But Las Vegas embraces the vibrant community, hosting regular drag performances in local bars and clubs, such as The Phoenix Bar & Lounge and Piranha Nightclub as well as the top-rated RuPaul's Drag Race LIVE!, serving Emmy-Award-winning drag queen realness at Flamingo Las Vegas.
McGill admits the fight to keep and secure the rights of all members of the LGBTQ+ community continues, and he remains hopeful.
"I have been ramping up and engaging more with our elected officials and with our health services, and I've seen great progress, great engagement, and great interest for doing more and the right things to get ahead of these issues," said McGill.
One thing he's proud of is Miss Las Vegas PRIDE 2022 – Jolene Secret, a Pacific Islander who is also hearing impaired and confidently calls themselves the "Deaf Queen from Guam." They are a shining example of the diversity that exists in the LGBTQ+ community. With the drag queen community becoming a prominent topic in politics, it's not surprising that drag performers will take center stage at Las Vegas PRIDE this year.
"It's our 40th anniversary so we're honoring all our past drag queens. Typically, each year, we have a Miss Las Vegas PRIDE and Mr. Las Vegas PRIDE. People can choose what gender marker or gender expression they want to use. It's a non-rigid system and anyone who wants to run can run for whatever they want," said McGill.
---

Las Vegas PRIDE Celebrates 40 Years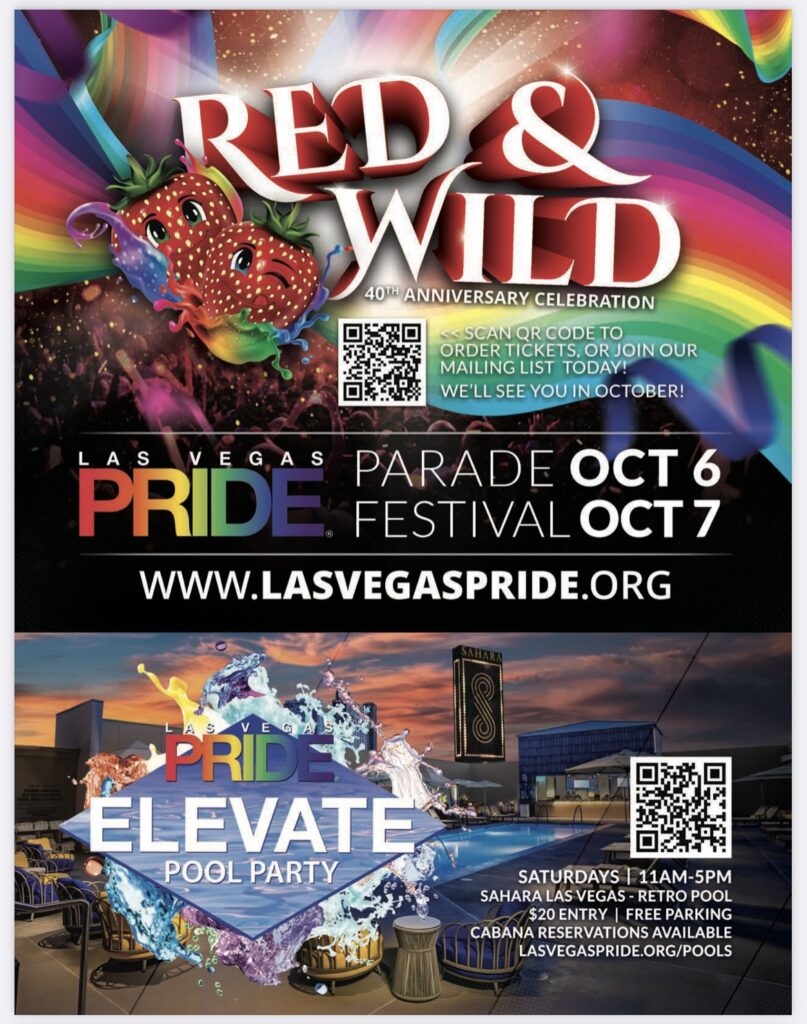 His infectious passion for diversity and inclusion will no doubt be omnipresent at Las Vegas PRIDE as it celebrates its milestone anniversary. Unlike most Pride celebrations and events, Las Vegas PRIDE is usually scheduled in October to highlight important dates.
"Internationally, October is LGBTQIA+ History Month and Las Vegas PRIDE typically falls around the same time as National Coming Out Day and Indigenous Peoples Weekend. So, we're able to lean into some of those things in October," he explains.
So, what exactly can LGBTQ+ revelers and allies expect for this year's milestone Pride weekend in Las Vegas from Friday, Oct. 6 to Sunday, Oct. 8, 2023? McGill gave us the rundown. On Friday, October 6, thousands of people will don their most festive attire for the Annual Las Vegas PRIDE Night Parade, in downtown Las Vegas amongst iconic casinos like Golden Nugget and El Cortez Hotel & Casino. It's scheduled to start on Clark Street at 7 p.m. and run along 4th Street, ending on Ogden Avenue. However, you can start celebrating early at the Parade Pre-Show at 6 p.m. on 4th Street between Bridger and Clark Avenues.
On Saturday, October 7, it's the family-friendly Pride Festival at Craig Ranch Regional Park, home to a scenic lake, three dog parks, two baseball fields, four volleyball courts, six tennis courts, two basketball courts, and a 65,000-square-foot skate park. Festival-goers can purchase food and drink from more than 100 vendors, but it's the two stages featured here that will see the most action.
"Our Rainbow Stage celebrates and uplifts people of color and will feature Black Pride and Latin performances. We're also celebrating our trans community with a lineup of trans artists. On the same stage, we'll host a wedding and run some kids' content in the morning," said McGill, adding that the Main Stage will feature major acts and local bands.
McGill also mentioned that Las Vegas PRIDE will move its weekly ELEVATE PRIDE Pool Party at SAHARA Las Vegas' AZILO Ultra Pool from Saturday to Sunday, Oct. 8 from 11 a.m. to 5 p.m. Visit Las Vegas PRIDE and check out Las Vegas PRIDE Magazine for additional information and the most recent updates about the 40th Annual Las Vegas PRIDE Parade, Festival, and more!
---


Las Vegas PRIDE Year-Round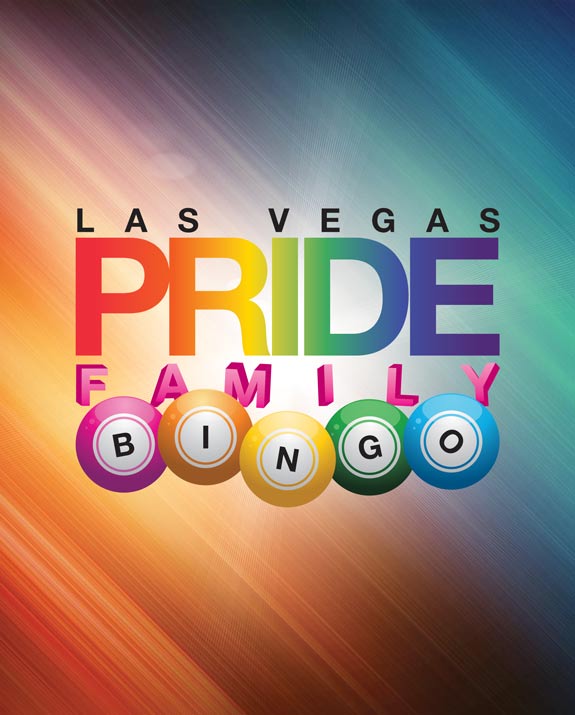 If you didn't already know, Las Vegas PRIDE celebrates the LGBTQ+ community throughout the year with a roster of fun events that locals and vacationers can take advantage of even if they don't make it for Pride weekend in October. In addition to the ELEVATE PRIDE Pool Party at SAHARA Las Vegas on Saturdays, McGill said that Las Vegas PRIDE Family Bingo, primarily targeted to adults, takes place every month at the Downtown Grand Hotel & Casino at 7 p.m.
For queer outdoor enthusiasts, you can join other hikers for PRIDE OUTside Hike, a free event that combines exercise with a great way to meet new people. Pull out your hiking boots to make the trek along the Cathedral Rock Trail on Sunday, Sept. 10, and the Historic Railroad Tunnels on Oct. 1, and Nov. 12, 2023.
Other activities and events to plan during your next trip to Las Vegas include the kid-friendly PRIDE Skate Night, nightclub nights, a monthly Latin Brunch, and scores of other LGBTQ+-friendly events. McGill recommends, "Visit our website. We always promote not only our own Las Vegas PRIDE events, but we also have events on our calendar that we support to showcase other things going on in the community."
McGill believes that Las Vegas PRIDE provides a platform for out-of-towners to connect with the local LGBTQ+ community because sometimes it can be challenging to find fun LGBTQ+ safe spaces in a new city.
"We provide stories and information about what to do in town, how to have a good time, and how to engage with the local community so that you feel like you're a part of the mix… part of Las Vegas."
For more information about the 40th anniversary of Las Vegas PRIDE, visit Las Vegas PRIDE's website. Also, check out Visit Las Vegas and follow them on X (formerly Twitter), Facebook, Instagram, TikTok, and YouTube for more travel info and inspiration.