The rainbow-clad June merch more clearly recognizes the LGTBQ+ community and the company's corporate giving.
Another June, another rainbow collection of Disney merchandise at Walt Disney World, Disneyland, online, and beyond. Except this time, for the first time, the tags actually say "Pride." And even better, it seems like the mouse house is trying to curb its corporate rainbow-washing. Because this year, for the entire month of June, all profits from the newly renamed The Walt Disney Company Pride Collection go to queer causes and non-profits. Not some. All.
After a rocky spring for Disney amid political donations to anti-LGBTQ+ lawmakers, hollow company statements, multiple reports of queer censorship in movies for countries abroad, and numerous employee walkouts, a lot of queer eyes will be on the company's LGBTQ+ efforts this June. Here's everything you need to know about Disney's Pride merch this year, from the new items to the actual impact.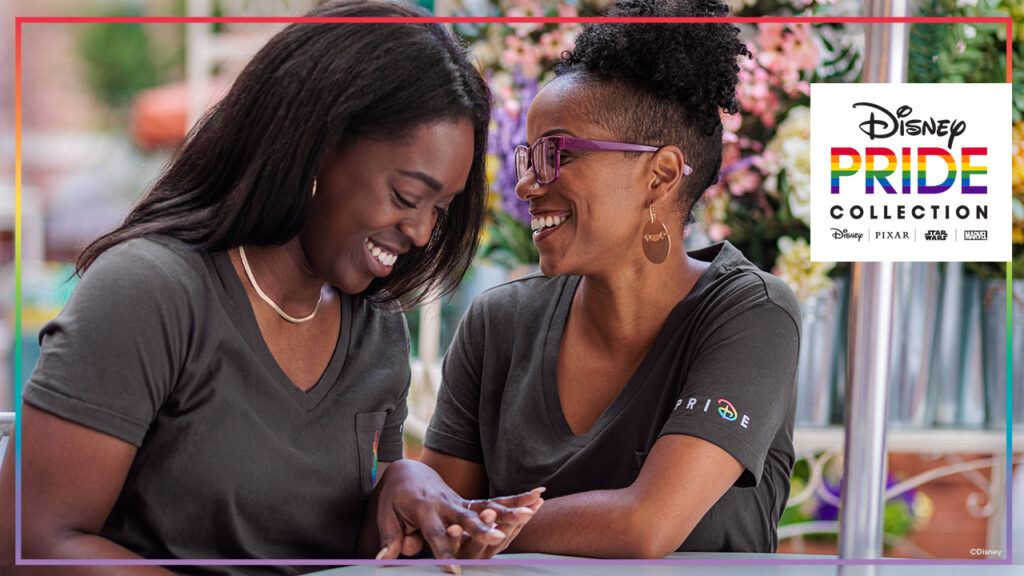 No More Vague Rainbows
This is not the first year Disney has rolled out Pride merchandise. Though in the past it wasn't clearly labeled "Pride." The previous Rainbow Disney Collection, which debuted in 2018, featured apparel, accessories, home décor, and even more merchandise in June. It was a wink-wink-nudge-nudge way to offer LGBTQ+ merch without always stating it was for Pride Month. Though most store displays at Disney World or Disneyland did have a sign tucked away explaining what the collection was and how Disney had donated to queer organizations. However, the merchandise was often shuffled around or separated into other displays and the messaging got muddled and lost.
But now, each price tag clearly says the Disney Pride Collection, Pixar Pride Collection, MARVEL Pride Collection, or Star Wars Pride Collection. And each tag has copy explaining what the collection is and that the item is "in celebration of Pride." Each tag also links to TWDCPrideCollection.com, which redirects to this page on Disney Connect, a corporate messaging website for Disney Parks, Experiences, and Products, to further explain the company's donations to queer causes in the U.S. and around the world.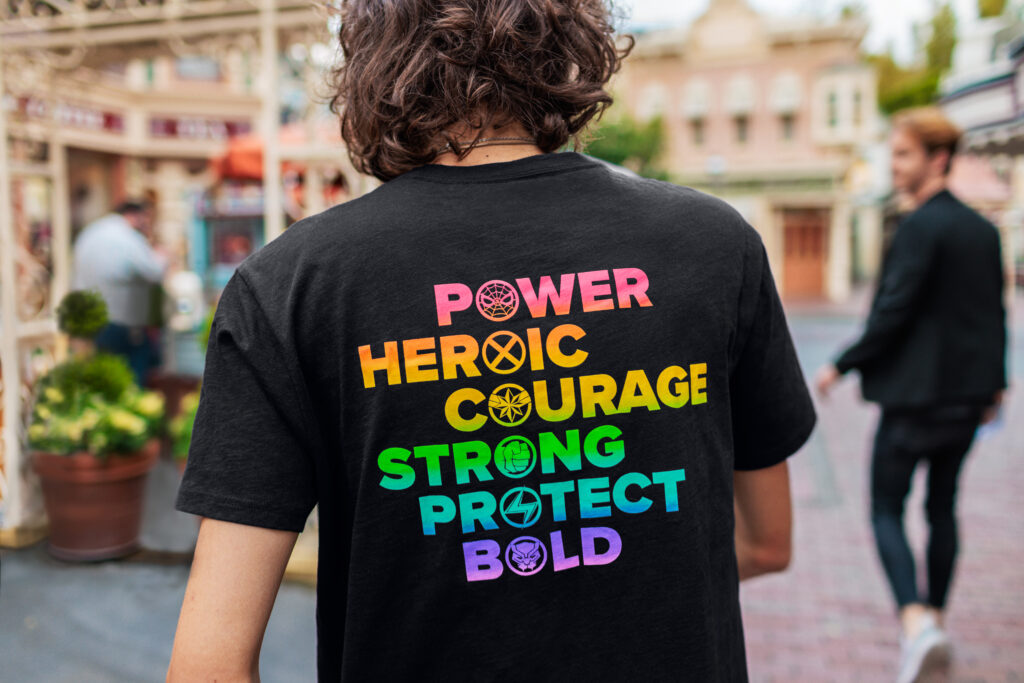 Pride Across the Brands
Like in years past, the collection features dozens of rainbow-wrapped items from several content empires under the Disney umbrella, including Pixar, MARVEL, and Star Wars. But unlike previous collections, this year features more direct branding in Pride flag colors. You can score a sweatshirt with Pixar's iconic Luxo Jr. lamp or a pin with the Star Wars Rebel Alliance Starbird – both in rainbow colors. It's a significant expansion, a fandom deep dive, and a shift from previous years with Mickey's gloved hands around a rainbow heart on everything. It makes connections to content and franchises that queer fans have been (and still are) waiting for queer representation, especially as main characters. This year's MARVEL offerings include superhero icons in each color of the rainbow with a word associated with that superhero. Hulk is obviously green with the word "Strong." Black Panther is purple with the word "Bold" and so on. It's something. Though, the colors and the words don't exactly match or make sense with the colors (and the meanings of each stripe color) of the rainbow Pride flag. It's a missed opportunity and a reminder of how messaging can get diluted when big corporations create Pride merch and not independent queer artists.
Mickey Pride flag pins are back, too, from bisexual Pride and lesbian Pride flags to the Philadelphia pride flag, which includes two additional black and brown stripes, and the transgender Pride flag that both made their debut last year. Additional pins and mugs this year feature the words, "Belong, Believe, Be Proud," which is oddly empowering and affirming considering the company's wishy-washy, passive treatment of queer representation on screen and lack of services for queer guests in Disney Parks.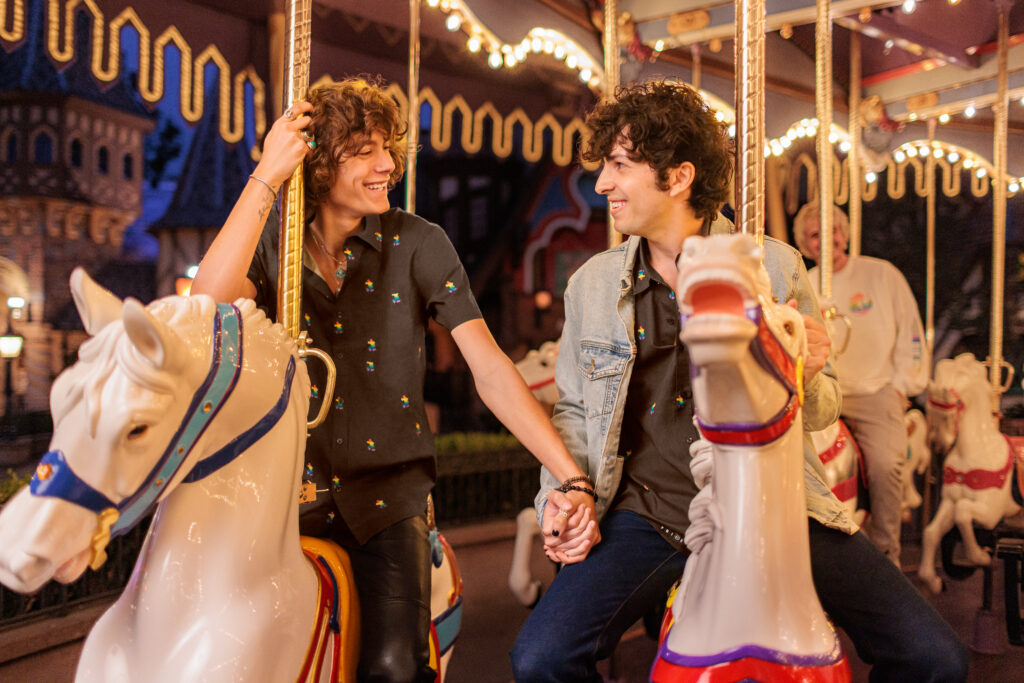 The Impact of the Pride Merchandise
In the U.S., profits from the collection will benefit eight national and regional organizations: GLSEN, PFLAG, The Trevor Project, Zebra Coalition, Los Angeles LGBT Center, LGBTQ Center Orange County, San Francisco LGBT Center, and Ali Forney Center. In Europe, profits will benefit ARELAS in Spain, BeLonG To Youth Services in Ireland, Diversity München e.V. in Germany, Diversity Role Models in the U.K., Famiglie Arcobaleno in Italy, and MAG Jeunes LGBT+ in France. In Asia and the South Pacific, profits will benefit Minus18 in Australia and Nijiiro Diversity in Japan. And in Latin America, profits will go to It Gets Better affiliates in Argentina, Brazil, Chile, Colombia, Mexico, and Peru.
The Rainbow Rub
There are several micro wins in Disney's new Pride collection this year. Even the apparel is finally listed as unisex for both adults and kids. And that's great. But in many ways, the magic ends at midnight on June 30. Proceeds from any remaining merchandise in stores and online will be pocketed as of July 1. And that feels cringy. Disney has promised that there's more to come to celebrate the LGBTQ+ community throughout the year, but no details have been released. Better to buy your fan merch this month so that profits from the collection help and support queer organizations around the world.