If you're heading to San Francisco, you can leave the city without visiting paying homage to LGBTQ+ activist and public official Harvey Milk. In San Francisco, you can learn about the life and legacy of the gay civil rights leader and public official Harvey Milk.
Of course, San Francisco has changed a lot since 1978, but five historic locations connected to Harvey's life still exist that you should consider visiting when you're in the "City by the Bay."

1. Harvey Milk Plaza
If you're looking to follow the life story of Harvey Milk, you should start your self-guided tour on the corner of Castro and Market streets under the giant Rainbow Flag, designed by San Francisco-based artist Gilbert Baker. Harvey Milk Plaza is located in the town square of the famous Castro neighborhood. It's used as both a gathering place and a starting point for rallies that then head down Market Street to City Hall. You can savor the community's lively energy and look at the photos of Harvey's life that adorn the entrance to the Castro Muni Station, located at the southwest corner of the intersection. It was officially given the name "Harvey Milk Plaza" in 1979, one year after Milk's death, and formally dedicated to him on September 15, 1985.
Friends of Harvey Milk are working on a project to reimage Harvey Milk Plaza as a welcoming, vibrant space that honors Milk's life and legacy, celebrates his importance to the queer community, and inspires others by acting as a beacon of hope to marginalized communities around the world.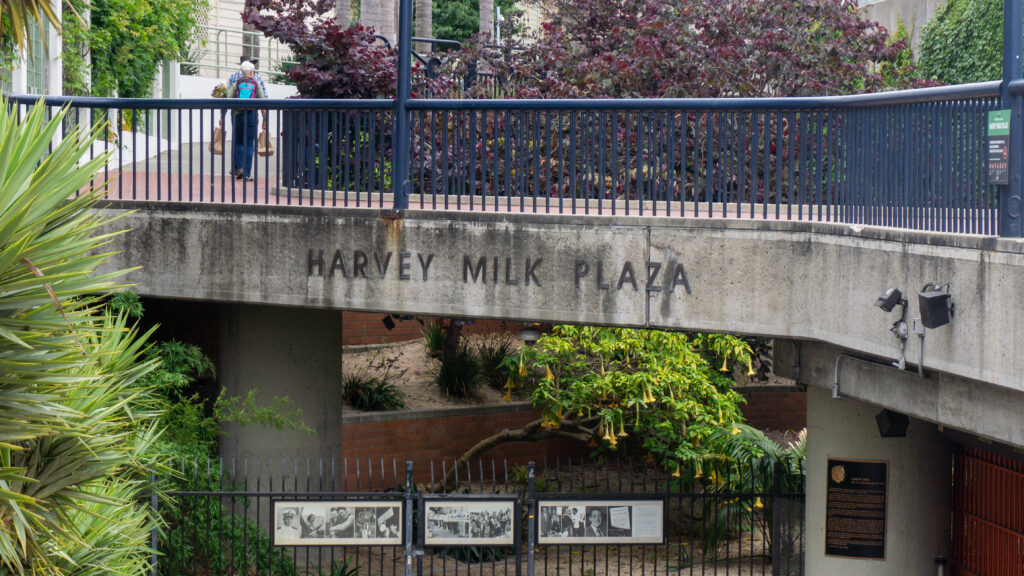 ---

2. 575 Castro Street
Once the location of Harvey Milk's small business, Castro Camera, 575 Castro Street serve also served as a gathering place for the neighborhood's growing LGBTQ+ community, as well as the storefront used to help revive the Castro Village Association, where he became its first president and launched the first Castro Street Fair. Castro Camera was also used as the campaign headquarters for Milk's various runs at public office. He lived in the apartment above the store from 1975 to 1978. More recently, it served as the home to the Human Rights Campaign.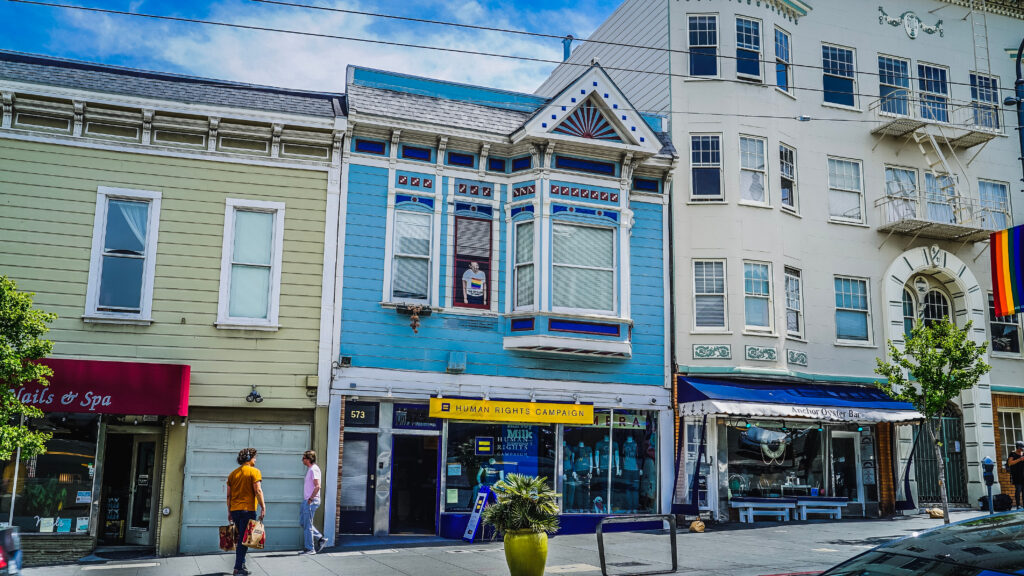 ---

3. San Francisco City Hall
Harvey Milk's office was located in San Francisco City Hall. It was also where his former supervisor colleague Dan White assassinated him and San Francisco Mayor George Moscone, on November 27, 1978. But if anything else, you have to stop by to see the 77-inches high memorial bust created by The Daub, Firmin, Hendrickson Sculpture Group. The bust – made of bronze and marble – is located at the top of the main staircase and outside the Supervisors's room. 
City Hall was also the backdrop for Milk's "You Must Come Out" speech at the 1978 Gay Freedom Day and the site of the 1979 White Night Riots after White was convicted of voluntary manslaughter, the lightest possible prison sentence he could get, and he was sentenced to seven years in jail. Click here for more information about tours of San Francisco City Hall tours.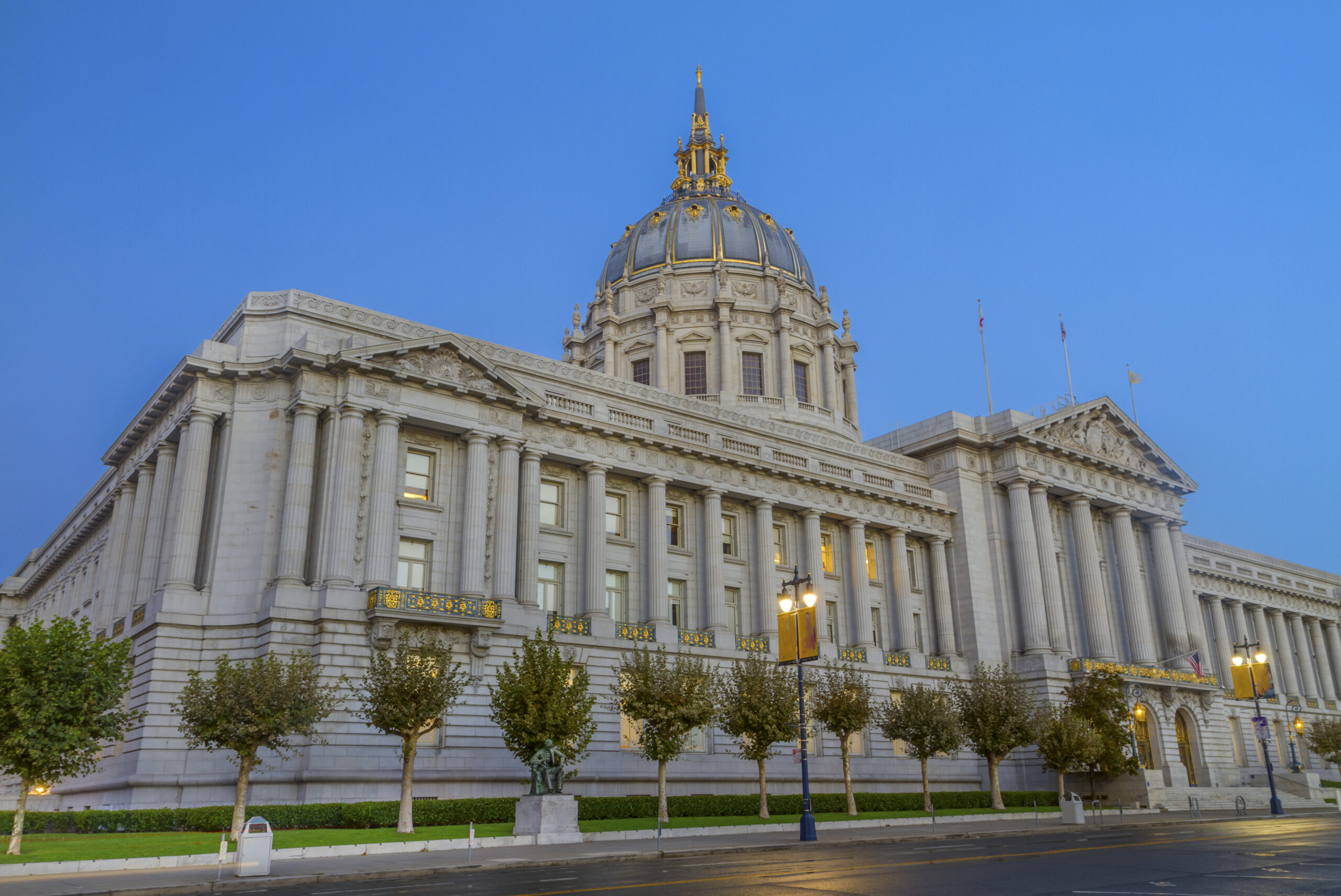 ---

4. The Harvey Milk Historic Streetcar
In addition to championing LGBTQ+ issues, Milk was also known for tackling issues like sponsoring an ordinance requiring dog owners to clean up after their dogs and advocating for the city's public transit. He was the first city supervisor to use the then-new monthly transit card. So, it's not surprising that the San Francisco Municipal Railway (Muni) would dedicate one of its historic streetcars to Milk's honor. Queer visitors can catch a ride on Streetcar No. 1051 on the same route he rode streetcars from Market Street between his home in the Castro and his office in the City Hall building where the F-line runs.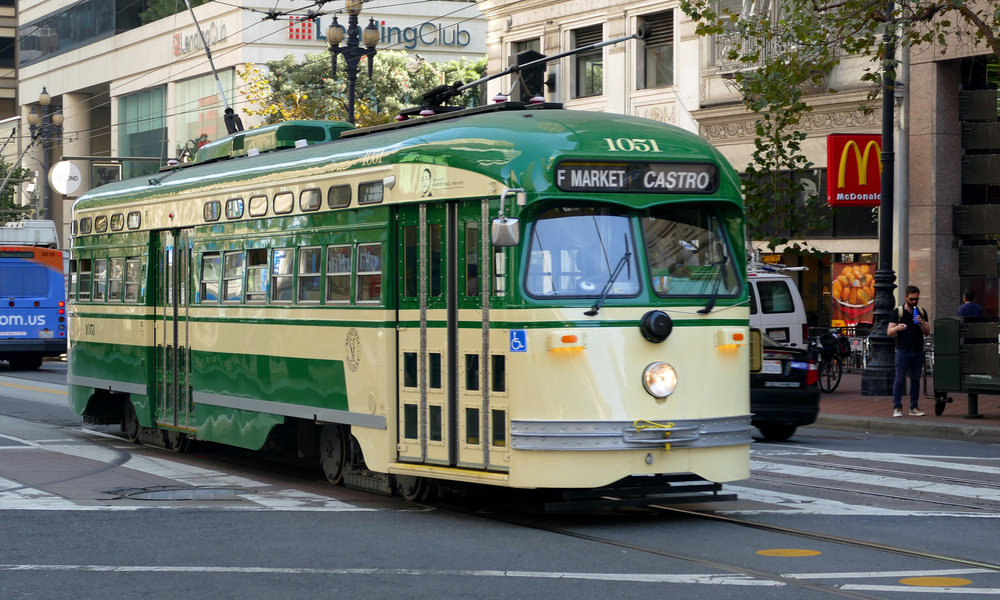 ---

5. Harvey Milk Terminal at San Francisco International Airport
You can't arrive at the San Francisco International Airport (SFO) without checking out the Harvey Milk, also known as Terminal 1, which was revamped in 2019. The modern and more spacious space now includes a large floor-to-ceiling exhibit of Harvey's life and accomplishments. Some of the exhibits are located past the security checkpoint, so you'll need to check it out before your flight or after you land. SFO is already renowned for its museum-quality exhibits and this exhibit is no exception.