Setting out on a fall gay camping trip offers a remarkable opportunity to embrace the changing seasons amidst the stunning autumn scenery. Camping holds a special place in our hearts, offering an escape from the everyday routine and the chance to explore and meet new friends. Pull out your tent and best camping lewks, pack the bug spray, and get set for an unforgettable autumn adventure!

Typically peaking from September through November, the leaf colors create the ultimate backdrop for your outdoor experience. For those who relish outdoor adventures, consider booking a spot at one of the fun gay campgrounds around North America. Whether you prefer a clothing-optional or family-friendly environment, we have compiled a brief list of inspiring options for LGBTQ+ travelers. While there are undoubtedly more welcoming campgrounds out there, these suggestions provide a starting point for your next unforgettable fall camping journey. If sleeping under the stars is not your preference, many campgrounds also offer cozy cottages or bunkhouses for added comfort.

Camp Out Poconos (Pennsylvania)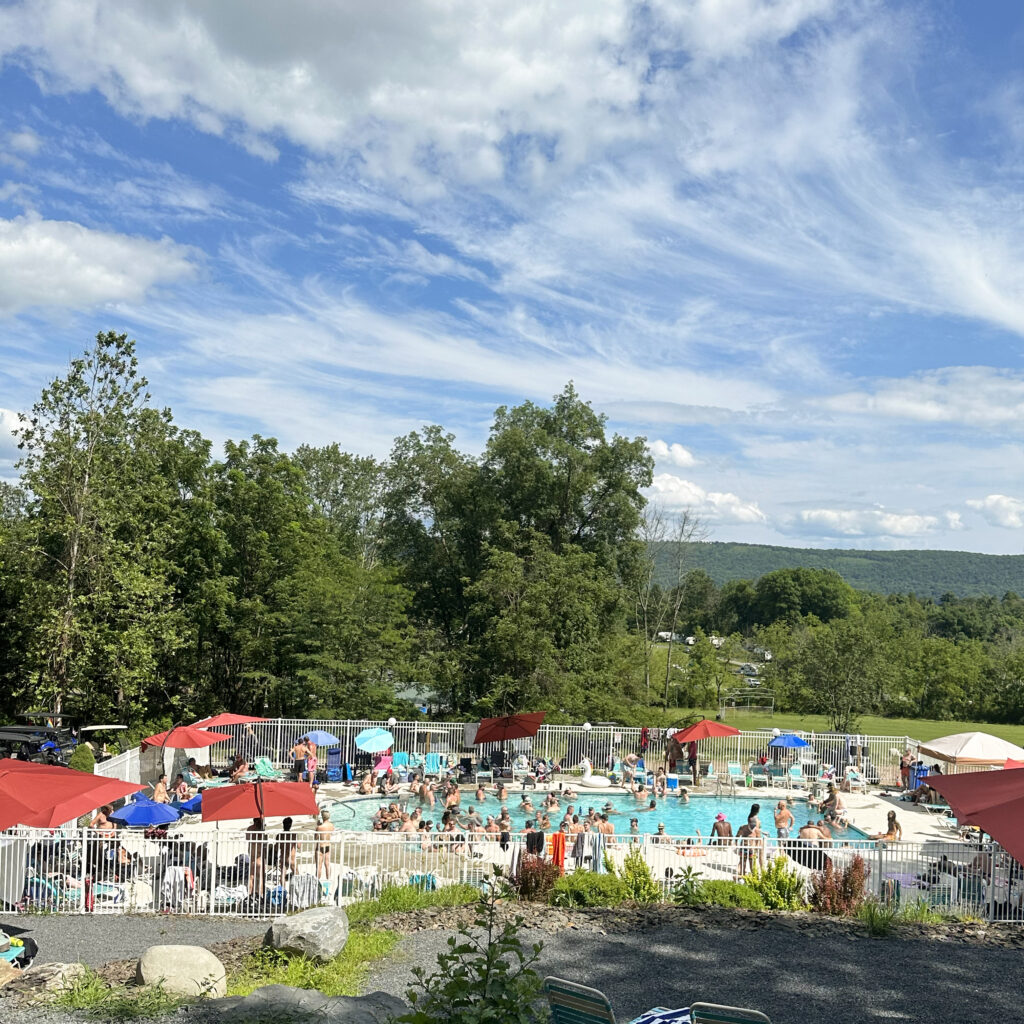 Camp Out Poconos, located in the picturesque Pocono Mountains of Northeastern Pennsylvania, provides a tranquil retreat away from the hustle and bustle of everyday life. Guests at Camp Out can enjoy various relaxation options, from lounging by the pool to gathering around campfires or taking leisurely nature walks. The campsite features a scenic pond, offering an ideal spot to sunbathe in the lush grass. For those seeking more active pursuits, weekends at Camp Out are brimming with diverse activities, including a sports field (kickball, anyone?), a nightclub, and a music video/piano lounge. As a staunch supporter of LGBTQ+ inclusivity, Camp Out Poconos prides itself on its commitment to fostering an open and welcoming environment.

While Camp Out staff is still recovering from their Labor Day White Party Foam Party, fall is in full swing! Upcoming fall events include Band Fest/Burn Fest (September 22-24), Octo-Bear-Fest (September 29-October 1), Geeks & Gaymers Weekend (October 6-8), Fall Fest/Arts Fest (October 13-15), Autumn Kink Weekend (October 20-22), and Halloween Weekend (October 27-30). Did you forget something back home? Do not worry, the Camp Store is there for you.

Click here for more information on Camp Out Poconos.
---

CreekRidge Campground (Michigan)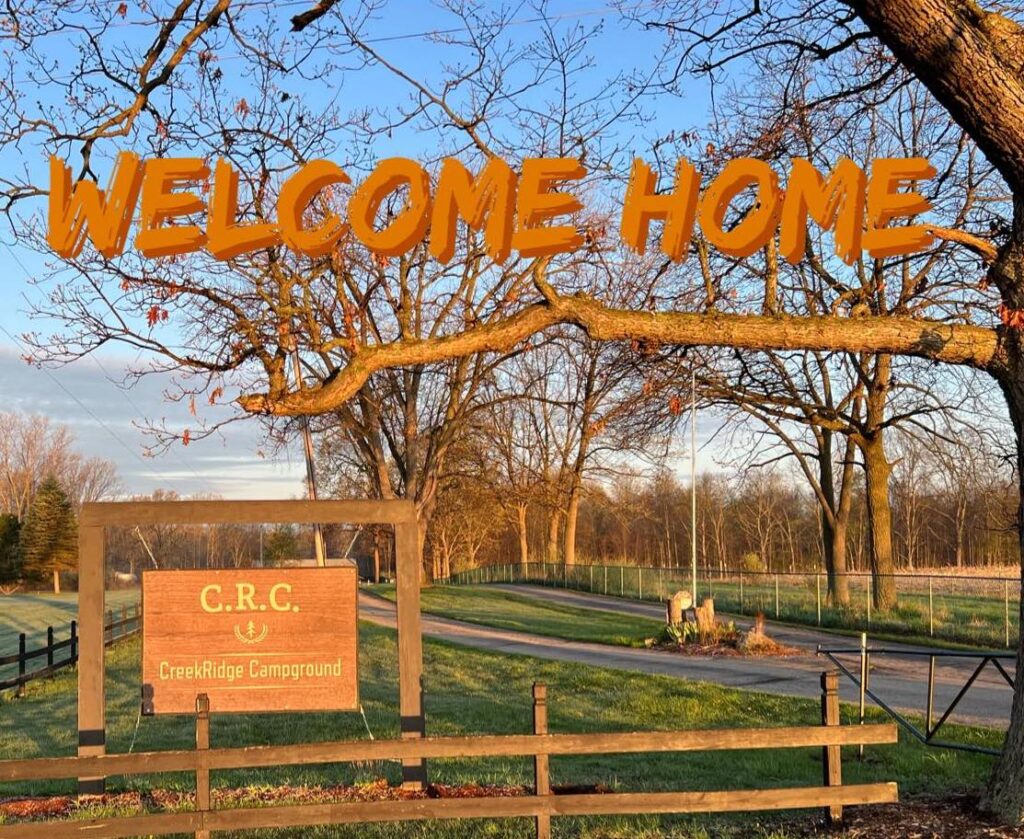 CreekRidge Campground (CRC) is Michigan's exclusive private, all-male getaway situated on 60 acres in Stockbridge, Michigan, just a short drive from Detroit. Established in June 2016, the campground caters to individuals who are 21 and over. This serene hideaway features a heated pool, the fun Dance Club "Solitude," 20 acres of hiking trails, and tranquil fishing ponds. Nestled in woodlands, CreekRidge provides a calming escape with walking paths, two ponds, and a winding creek. With 145 sites, it offers seasonal RV lots, primitive tenting, and tenting sites with water and electricity including updated 30 and 50-amp service. Big rigs and motorhomes find ample space with angled lots, each around 40 x 50 feet, equipped with water and electricity. Most sites include picnic tables and fire pits. 

As the season concludes on October 1st, CreekRidge prepares for its 2024 reopening on May 3rd. Upcoming fall events include Timber Weekend: Cowboys, Otters, & Jocks. Who will be Crowned Mr. CRC Otter 2023? (September 21-24), Another B Movie Weekend including a Halloween Costume party during the Saturday night Devil's Ball (September 28 – October 1) and the Season Farewell Weekend (October 5-8). Join CreekRidge Campground for memorable experiences amid Michigan's natural beauty, offering a one-of-a-kind all-male retreat. 

Click here for more information on CreekRidge Campground (CRC).
---

Rainbow Ranch Campground (Texas)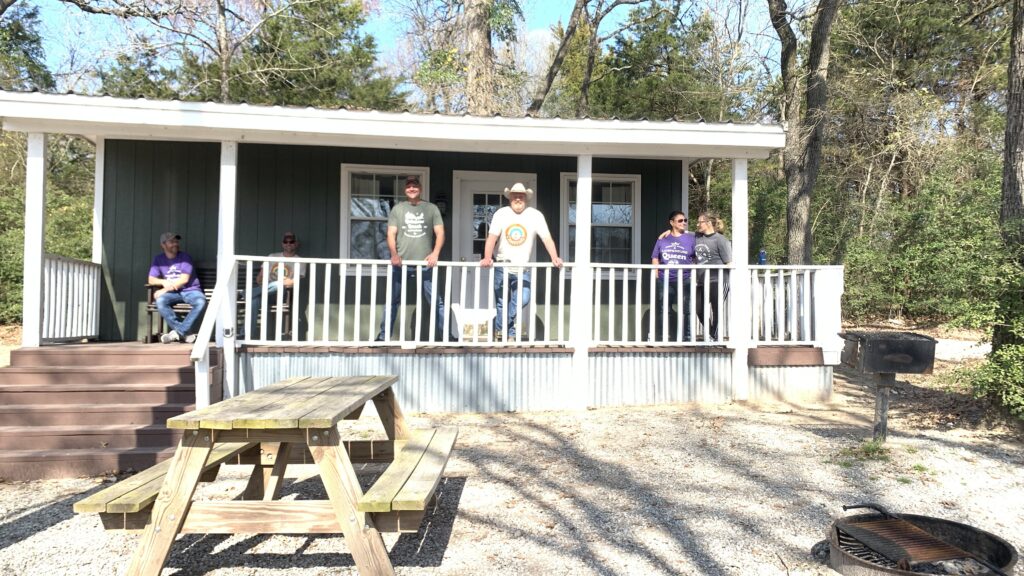 Rainbow Ranch, located on the shore of Lake Limestone in Central Texas, is an LGBTQ+ haven where campers can unwind, reconnect with nature, and freely express themselves. Their calendar offers alternating event weekends, allowing you to opt for a tranquil "off" weekend or immerse yourself in the festivities during our event weekends. During your stay at the Ranch, you will have access to nearly 700 acres. Enjoy leisurely walks, scenic bike rides, and invigorating hikes along our trails. Try your hand at fishing or simply kick back and relax with your new friends. Weekends really take off at Rainbow Ranch, with themed gatherings such as Drag Bingo, Luau, Mardi Gras, and Chili Cookoff/Ho Down Weekend. 
What are you going to be for Halloween? Pitch a tent and show off your costume at their upcoming Halloween weekend (October 27-30). Additional fall theme weekends include LGBT Outdoor Fest (September 22-24), Oktoberfest (September 29-October 1), Bear Roundup including the Saturday night BarBEARian Costume Party (October 13-15), Fall Women's Fest (November 3-5), and Fall Men's Fest: Decadence (November 10-12). 

Click here for more information and upcoming events at Rainbow Ranch.
---

Roseland Resort and Campground (West Virginia)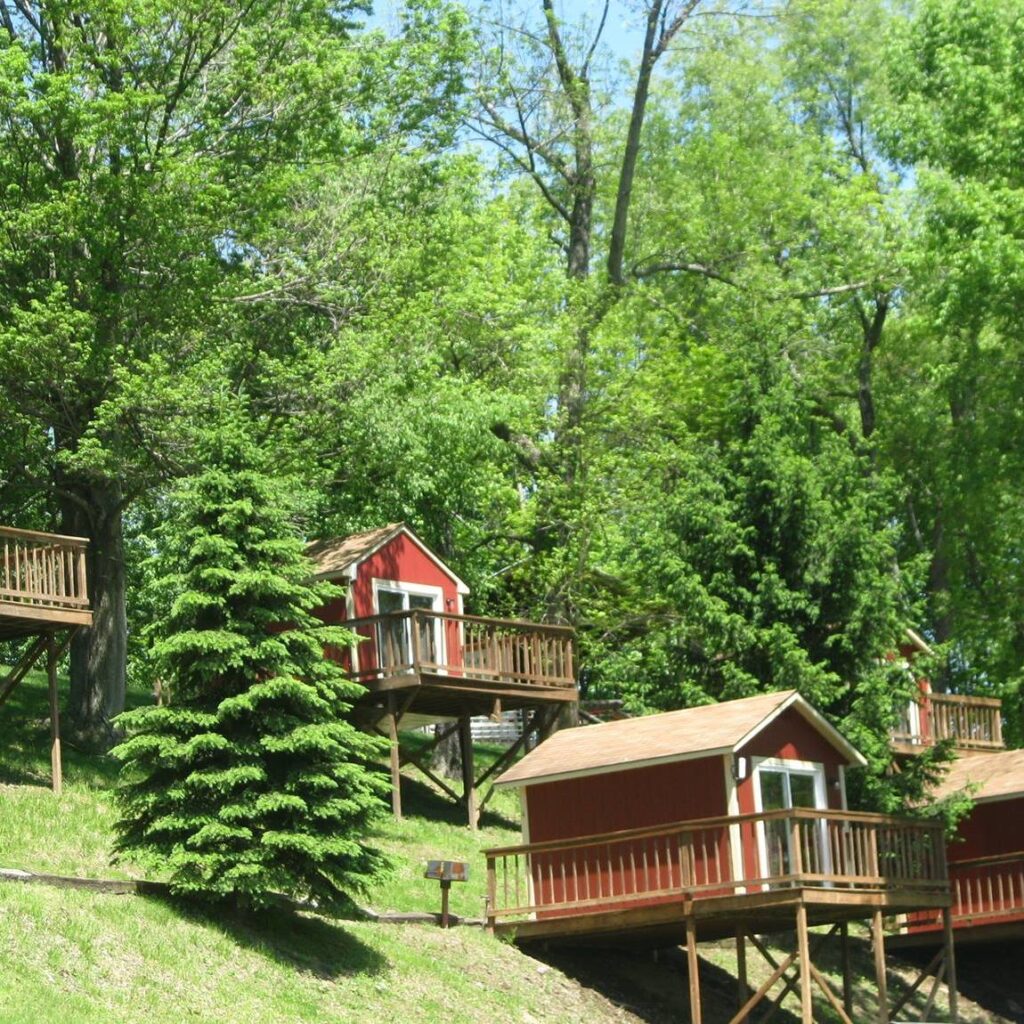 A secluded LGBTQ+ resort and campground, Roseland caters exclusively to adult gay men aged 21 and older and it offers a unique year-round escape. This tranquil property features a range of amenities, including a refreshing pool, two inviting hot tubs, well-maintained hiking trails, and diverse recreational facilities. Guests can relax in hammocks, gather by a warm campfire, or explore the beautiful natural surroundings through a network of nature trails. After dark, the bustling Town Hall comes alive with music, dancing, and a lively atmosphere, creating memorable evenings with friends.

What sets Roseland apart is its breathtaking natural setting. With 222 acres of pristine wilderness, the resort provides a serene retreat where you can unwind by the pool with a good book, enjoy a siesta in a hammock, or venture out to explore numerous hiking trails throughout the expansive property. An on-site general store ensures easy access to all the essentials for a comfortable stay.
Fall events include Bear Fair (September 15-17), NUDE (September 22-24 and September 29-October 1), Octo-Bear-Fest (October 6-8), Chill in the Hills (October 13-15), Pre-Halloween Party (October 20-22), and Freak Show (October 27-29).

Click here for more information on Roseland Resort and Campground.
---

Starlight Lodge (North Carolina)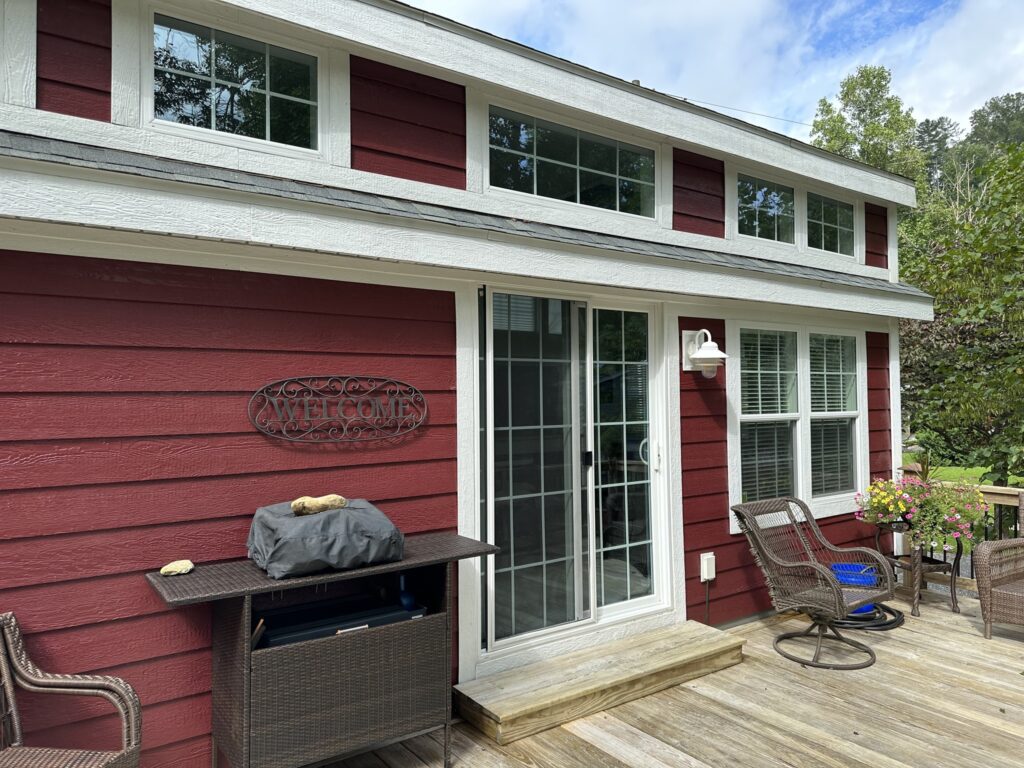 Fall is the perfect time to embrace Starlite Lodge, an inclusive LGBTQ+ camping haven that welcomes all with open arms. Whether you are a couple seeking relaxation or a family looking for a warm, judgment-free environment to let the little ones run around in nature, Starlite Lodge has something for everyone. Situated amidst the beauty of Pisgah National Forest, you can enjoy riverside sunbathing and peaceful lakeside strolls, with waterfalls and hiking trails nearby. The heart of the community is the pool and lodge, hosting various events, including Starlite Oktoberfest (October 7) and Halloween at Starlite (October 28).

Starlite Lodge started 25 years ago as a neglected campground in Caldwell County. It evolved into a cherished mountain retreat for LGBTQIA+ individuals and allies. Cozy tiny homes, complete with kitchens, bathrooms, and fresh linens are available for $154 per night. Families are welcome, with dedicated kids' pool hours from 10 am to 2 pm. Fishing is permitted with a valid North Carolina fishing license, and river activities like wading, tubing, and swimming make a visit truly special. Starlite is also pet-friendly at RV, van, and tent sites. The lodge is a hub for fireside gatherings, music, and more. It also features a fully equipped kitchen for communal meals.

Click here for more information on Starlight Lodge.
---

The Woods (Pennsylvania)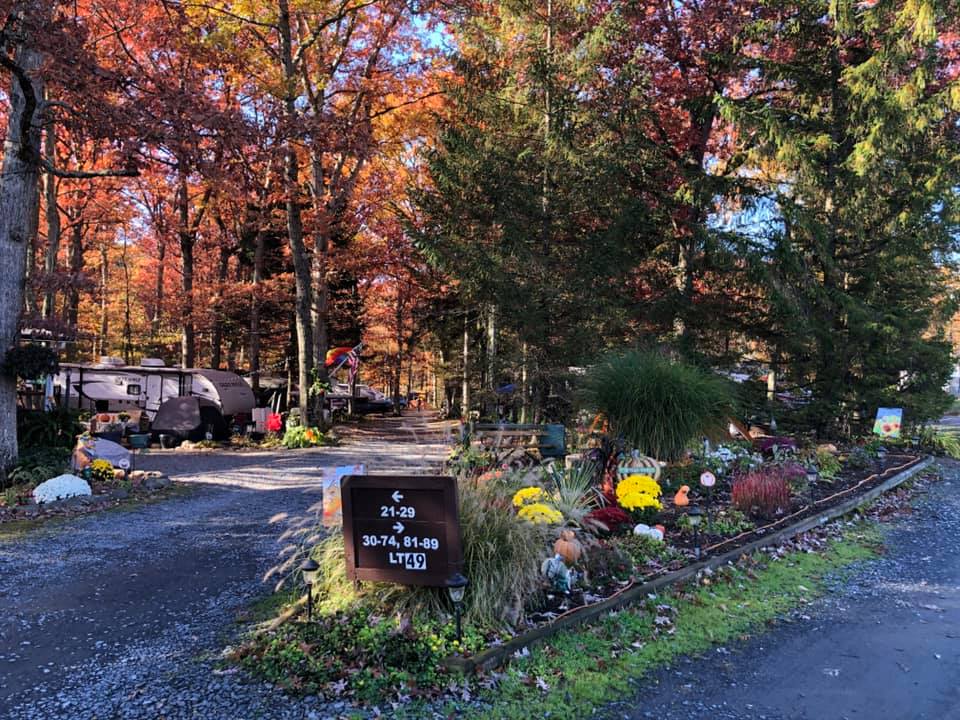 Explore The Woods Camping Resort, an exclusive LGBTQIA+ hideaway nestled within the scenic Pocono Mountains of Pennsylvania. It's open to guests from May through October. Encompassing 161 secluded acres, The Woods offers peaceful streams, a charming four-acre lake, and a range of campsites tailored to seasonal campers, trailer enthusiasts, and tent campers. The site includes 36 cabins and three park-model resort homes available for rent. Inclusivity is a top priority. Most sites provide 50-amp service to accommodate all types of campers.

Established in 2004, The Woods has solidified its status as the premier LGBTQIA+ camping destination in America, fostering genuine social connections within a diverse community spanning all ages and backgrounds. Get into the fun this fall with Leather/Fetish/Country Weekend III (September 15-17), Festival of Lights (September 22-24), Gay Geek Fest (September 29-October 1), Fall Festival (October 6-8), Bears At The Woods IV (October 13-15), Halloween (October 20-22), and Last Chance Weekend (October 27-29). Whether you are stocking up on camping essentials at the Camp Store, participating in clubhouse activities, enjoying lively music-filled weekends, or exploring the tranquil nature trails, The Woods promises an unforgettable camping experience amidst the breathtaking beauty of the Pocono Mountains. On The Woods Campground Instagram page, photographer Christopher Logan notes "My spray tan may fade but the memories will last forever." 

Click here for more information on The Woods.
---

One of the most enchanting aspects of fall camping is the captivating display of autumn foliage, creating the perfect backdrop for outdoor experiences. Camp Out Poconos in Pennsylvania, CreekRidge Campground in Michigan, Rainbow Ranch Campground in Texas, Roseland Resort and Campground in West Virginia, Starlite Lodge in North Carolina, and The Woods Camping Resort in Pennsylvania all offer unique experiences for the LGBTQ+ community. 
With a range of amenities and events, these campgrounds ensure unforgettable memories in the great outdoors. So, pick your destination, pack your bags, and embark on a fall camping journey filled with warmth, camaraderie, and the beauty of nature before the season ends and the frost sets in.