Earlier this year, the LGBTQ+ Danger Index ranked the 150 most visited countries based on eight different factors that may impact LGBTQ travelers. These factors included the legal status of same-sex marriage, the protection of worker rights, the presence of any anti-discrimination laws, and whether any anti-LGBTQ+ "morality" laws are in place.
It was found that Scandinavian countries have performed the best in this new index, with Sweden topping the list as the world's most LGBTQ-friendly country followed by Canada and Norway. Nordic nations Finland (7th), Iceland (9th) and Denmark (14th) all placed well.
For this reason, we have decided to provide our readers with a little something queer about each one of these Nordic countries and their largest or most LGBTQ+ friendly cities to assist with your queer travel needs and concerns.
Sweden
Sweden has a reputation for being one of the most open-minded, welcoming countries in the world. It's a place where diversity and inclusion are important, making it an outstanding travel destination for LGBTQ+ travelers.
Sweden has hosted Europride three times in three decades, in both Stockholm and Gothenburg. However, Pride is celebrated all over Sweden, with over 30 different Pride celebrations throughout the country every year. These events include the very special Sapmi Pride, a festival founded in 2014 to recognize the indigenous population of Swedish Lapland and all of Scandinavia. In fact, there are more Pride festivals per capita in Sweden than anywhere else in the world.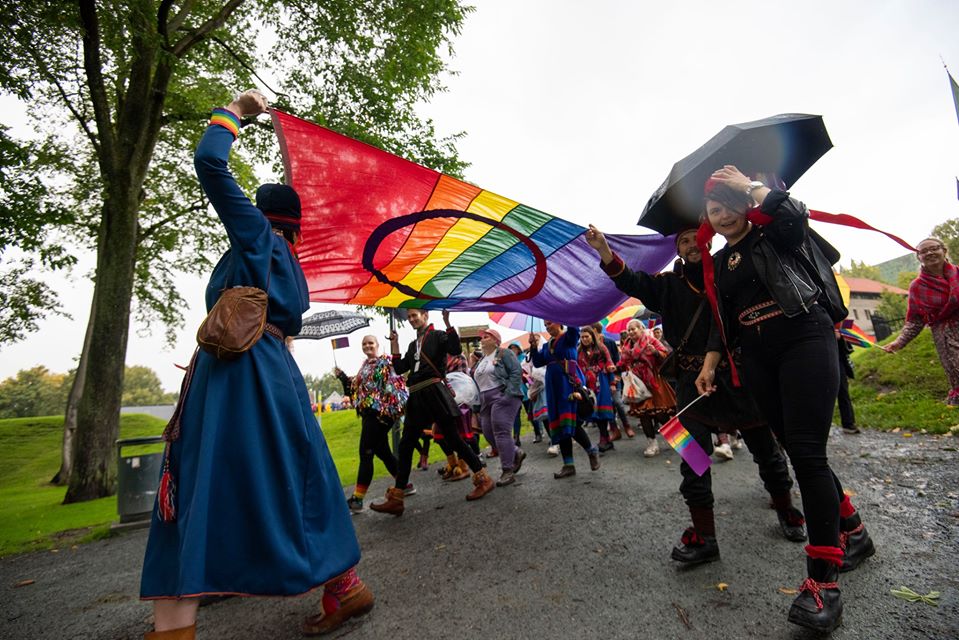 Stockholm
Stockholm is regarded as one of the world's most 'Open Cities', and a beautiful and sophisticated city with an inclusive LGBT scene. Stockholm Pride is one of Scandinavia's biggest Pride festivals, and allegedly Sweden's biggest annual event. But whatever time of year you visit, urban adventure seekers will absolutely love Stockholm's delicious food scene and its passion for art, architecture and design.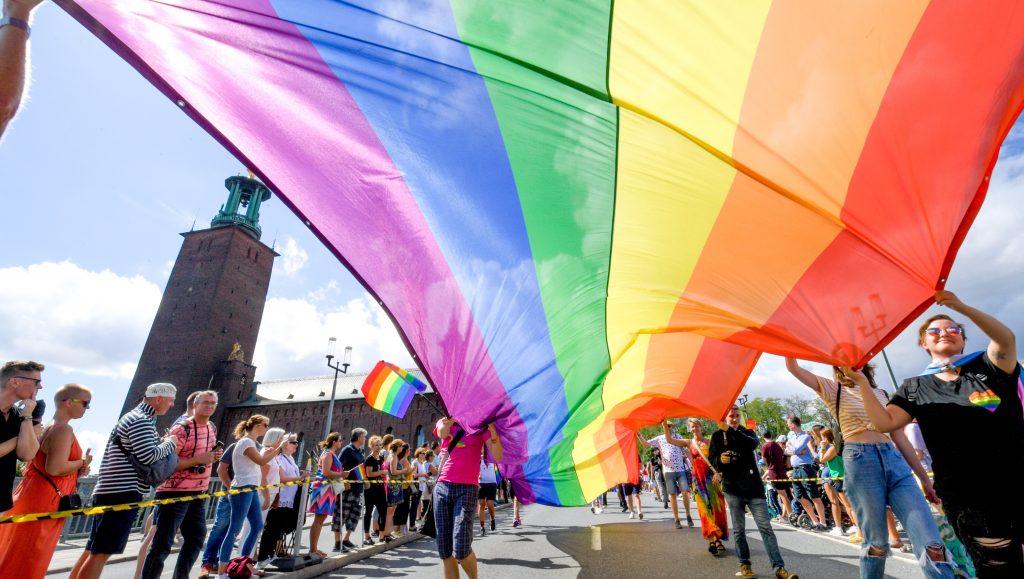 Gothenburg
Gothenburg is another fabulous city in Sweden with a strong LGBTQ+ community. Each year, the city kicks off the summer season with West Pride, which attracts travelers from all over. The summer months in Gothenburg are full of festivals and wonderful things to do.
The city is also the gateway to the gorgeous archipelago and countryside of West Sweden, so it will come as no surprise that Gothenburg boasts some of the freshest, most innovative restaurant concepts around. Gothenburg is sure to delight gay and lesbian foodies.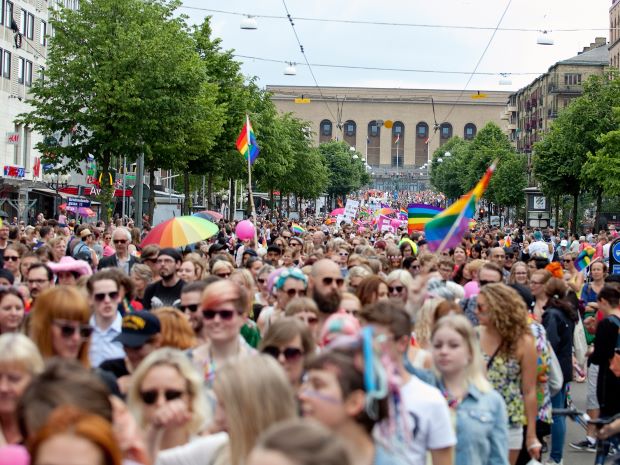 Finland
Finland is a very open and LGBTQ+ accepting country. The legislation in the country does not accept any kind of discrimination based on sexuality or gender. There's even an entire community of companies and events that are welcoming to LGBTQ people called the We Speak Gay Community – a community that is committed to inclusion and diversity, and creating safe spaces in which members of the LGBTQ community can feel valued and respected.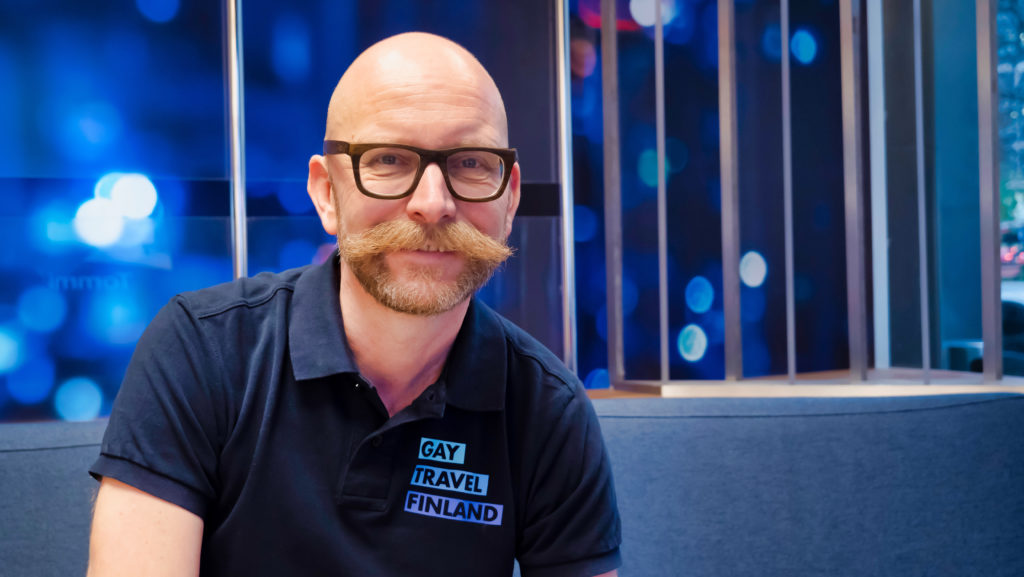 Helsinki
Helsinki is the beautiful capital of Finland, and one of the most gay-friendly cities in the world because of its safe and liberal atmosphere. Helsinki is also known for its design, architecture, and technology, and was considered the smart city of Europe in 2019.
Helsinki is also a city of contrasting atmospheres. You can feel the beat of the city, but also be able to explore and feel the peace and quiet of the archipelago or nearby national parks in just a few minutes. This makes Helsinki a compact place to visit and experience both the city's culture and nature.
No one can talk about Helsinki without mentioning Tom of Finland. Helsinki is the former hometown of Touko Laaksonen, the artist behind Tom of Finland. You can buy Tom of Finland products almost everywhere in the stores. You can also spend a Tom of Finland-inspired weekend in hotel Klaus K where your bed will be made with Tom of Finland-themed bed sheets.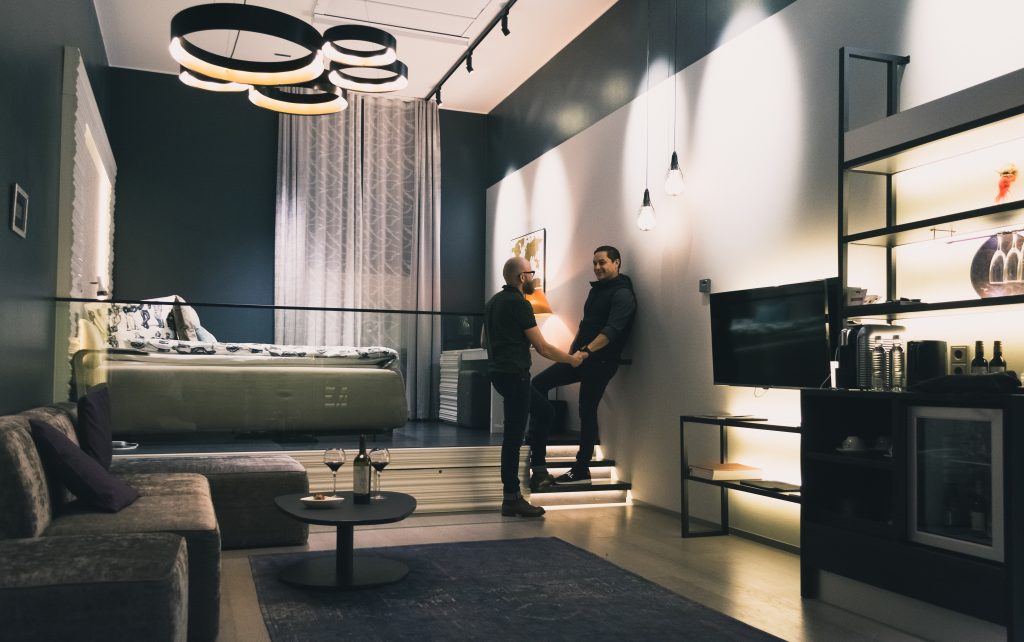 There are several gay clubs and bars in Helsinki. Most of them are located in the center of Helsinki, so it is very easy to walk to them. The biggest gay clubs are dtm and Hercules. The Hercules is geared toward the mature crowd, while the dtm audience is younger and more mixed. The other gay bars in the city center include Mann's Street and Room Blvd.
Summer in Helsinki is especially filled with events that are welcoming for LGBTQ people, with the biggest festival being Helsinki Pride. Helsinki Pride gathers people from all over Finland and other countries to the city to celebrate diversity at the end of June.
Querelle is a proud, frantic, and carnivalistic festival full of electronic music, hip hop, rock, literature, drag artists, stand-up comedy, contemporary dance, installations, and more. The Quarelle Festival is dedicated to promoting equality in all its forms. Through positivity Querelle, raising awareness on issues that affect gender and sexual minorities.
Sideways festival is another festival dedicated to promoting diversity in both its audience and performing artists. Sideways features a line-up of the best national and international indie acts, paralleled by an elaborate range of exciting, mind-blowing, and fun sideshows.
Sideways Festival is a true haven of creativity and an absolute must-do for the music aficionado who loves to indulge in diverse food offerings, quality drinks, and experiences that are not found anywhere else.
Rovaniemi, Lapland
Rovaniemi is considered the cultured capital of Finnish Lapland, filled with intriguing museums, gorgeous hotels, quirky bars, and more than a few sauna options. In this town, you also have easy access to the expansive wilderness, where the dense Taiga forest is only broken by the odd husky kennels, reindeer farms, and rustic huts perfect for Northern Light viewing.
Of course, in such a small town, there is no camp nightlife or gay village with raunchy saunas. For many, however, this may be a large part of the appeal. If you are looking for a more high-energy gay getaway, larger cities may be a better option.
There is a fabulous annual Arctic Pride, and Rovaniemi is the official residence of everyone's favorite bushy-bearded bear – Santa Claus! But for most LGBT travelers the appeal perhaps lies more in the complete acceptance they will find in such a liberal and open-minded destination.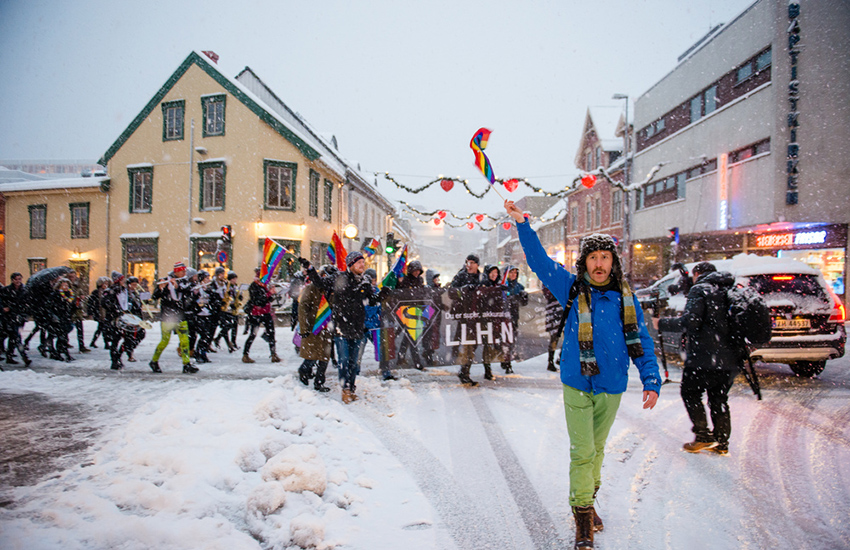 Denmark
In addition to consistently being rated as the happiest country in the world, the small European country of Denmark is also known as one of the most LGBTQ-friendly countries in the world.
It was the first country to establish a National Association for Gays and Lesbians in 1948, during a time when homosexuality was still considered a crime in many western countries. Denmark also broke the mold in 1989, when it became the first country ever to officially recognize state-sanctioned same-sex partnerships. Adoption rights and marriage rights have been available to gay couples in Denmark for quite some time as well.
Copenhagen
Denmark's capital city, Copenhagen, is so accepting of LGBTQ folks that it was rated number one on Lonely Planet's list of The Most Gay-Friendly Places on the Planet. Every year, Copenhagen hosts a lavish Pride festival and an LGBT film festival called MIX Copenhagen. In 2021 Copenhagen will host WorldPride and will be the first city ever to host both the WorldPride and EuroGames.
The city is also hopping with LGBTQ cafés, bars, and nightclubs. Moreover, Denmark has many LGBTQ student organizations such as BLUS and ANSO that study abroad students can join.
One of the world's most LGBTQ-friendly cities where anyone is always welcome anywhere, there may be no greater city in the world for the LGBTQ+ community to visit than Copenhagen thanks to its tolerant and open communities and vibrant gay scene. As a queer person here, you can also visit straight bars with no problems, or walk home holding your partner's hand.
Copenhagen is one of the world's most sought-after travel destinations defined by a gastronomic revolution fuelled by New Nordic cuisine, Danish design that embraces simplicity, detail, and minimalist beauty, and of course, all the museums and cultural treasures for tourists to marvel over.
Copenhagen is also one of the world's most liveable cities filled with busy cycleways, world-class public transportation, inviting public spaces, and a full roster of events. It is easy to see why everyone – gay, straight, or unicorn – is flocking to this colorful and cool Scandinavian capital.
Copenhagen is also home to the Centralhjørnet, the world's oldest existing gay bar. Studiestræde and the surrounding streets in the old Latin Quarter (near the City Hall) are the hub of LGBT nightlife in Copenhagen.
The level of integration and tolerance here, however, explains the relatively small size of the gay scene in Copenhagen. Pride flags fly from flagpoles and buildings across the entire city, and it is immediately apparent that local gays by no means limit themselves to any one area.
Explore the extravagant queer spirit of Gay Copenhagen but don't forget that the entirety of this edgy yet functional city is your playground. In Copenhagen, you are welcomed just as you are!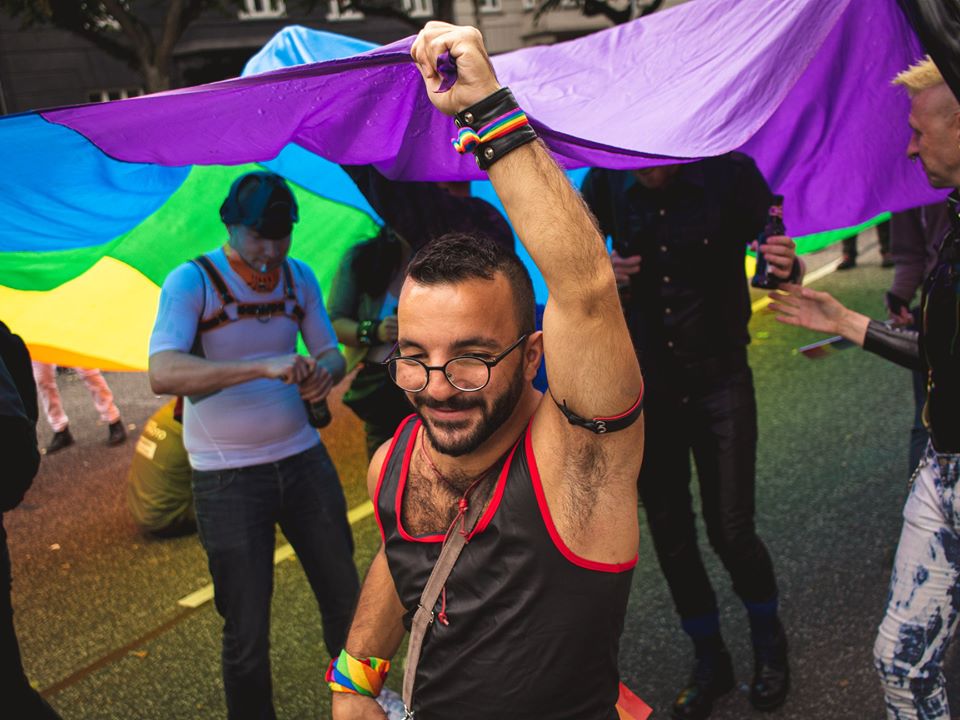 Norway
Norway was among the first countries in the world to give equal rights to everyone no matter whom they love, and the country was among the first to enact anti-discrimination laws against gays and lesbians
Like its Nordic neighbors, most Norwegians have a liberal attitude towards LGBT people. In fact, Norway ranks third best in the ILGA-Europe 2018 rating of 49 European countries. Cultural events, yearly parades, and a designated skiing festival for gays and lesbians are among the offerings of this liberal country.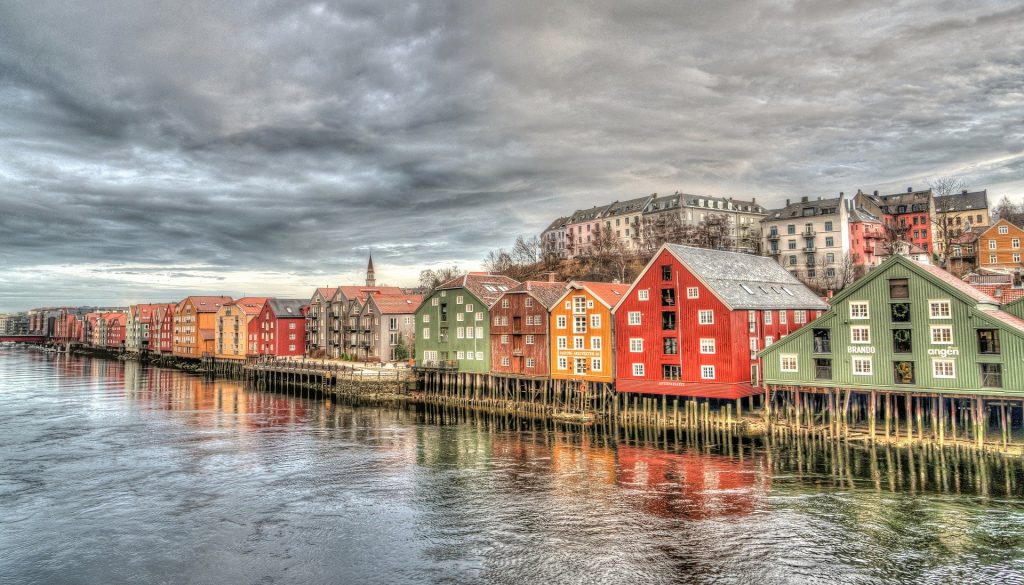 Oslo
Oslo is a progressive wonderland that is very accepting of the LGBTQ community. It is very inclusive, and everyone, regardless of sexuality, mingles together in an open social environment. This is great, but it also means that there are relatively few options for exclusively LGBTQ spaces in Oslo.
Since the 1970s, London Pub has been Oslo's most famous and oldest gay bar. Its friendly vibe makes it fun, whether you go to sing on Karaoke Tuesdays or to dance the night away upstairs.
The Elsker bar is another friendly spot to socialize with locals. The Elsker boasts a fun crowd perfect for a night of drinking and entertainment. And if you're a music fan, head up to the third floor and check out the bi-weekly Klubb 9 party for a night of house, electro, and underground music.
If you'd prefer a quiet time, Bob's Pub is very relaxed, with great drinks at reasonable prices. But if you'd rather get kinky, SLM Oslo is a safe place for those who are into leather, rubber, and uniforms. Besides playing and cruising, you'll get to meet others and make new friends in hot gear.
Oslo Pride is Norway's largest LGBTQ festival. Taking place at the end of June, this ten-day event attracts over 35,000 attendees with features queer music and art festivals, and a massive parade.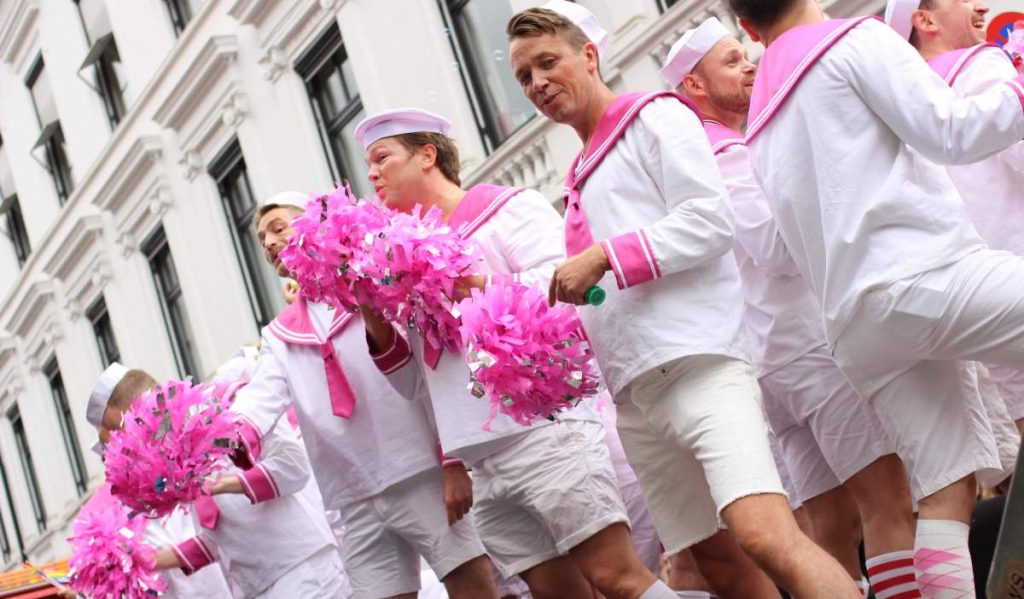 There are also small LGBTQ events happening throughout the year. If you are visiting gay Oslo around December, we particularly recommend checking out Oslo Fagottkor – the gay choir of Oslo – which hosts concerts and celebrates the holiday season.
Surrounded by the nationally protected Martas Forest, Oslo has many stunning outdoor areas waiting for your next adventure. The Palace Park, one of the most-visited local attractions, is gorgeous with its meticulously kept lawns, gardens, and ponds. There are several sculptures in this park, including a statue of the author and feminist activist Camilla Collett.
Bjørvika is a neighborhood in the Sentrum borough of Oslo, and it's quickly becoming the cultural center of Oslo. Stroll through this area and find museums like Munch Museum (which features the famous painting "The Scream") or grand architecture — Bjørvika is perfect for a day trip.
The Bygdøy is a forested peninsula that is famous for its place in maritime history. There are several museums throughout this neighborhood, from the Fram Museum, with a 19th-century polar ship on display, to the open-air National Folk Museums, where you can equally spend a whole day trekking through the area.

Frogner Park is another public park, oddly enough found in the borough of Frogner. The park is historically a part of Frogner Manor, and you can still find the manor house in the southern part of the park. Frogner is also home to the Oslo City Museum.
The Viking Ship Museum is most famous for the display of the entire Oseberg Viking ship. You can also see the Gokstad ship and the Tune ship, plus learn about the Viking Age and see how the Vikings lived, with an entire display of beds, wood carvings, and more.
Kon-Tiki Museum, in the Bygdøy peninsula, displays vessels and maps from the famous expedition. There's also a library with over 8,000 books. Avid skiers won't want to miss the world's oldest ski museum, the Holmenkollen Ski Museum. This place has over 4,000 years of skiing history, including examples from the Stone Age and the Viking Age. The exterior of the museum is equally intriguing, with its giant ski jump.
The Vigeland Museum is the place to learn about sculptor Gustav Vigeland and his impressive body of work. This museum contains his massive sculptures, along with his woodcuts, drawings, and sketches as well as letters, other writings, and a personal library.
Iceland
Being queer in Iceland is definitely something that's celebrated. There are very few places in the world where people from across the entire gender and sexuality spectrum receive as much love, and encounter as little hate, as they do in Iceland.
With almost full legal equality, strong representation in parliament and the media, and organizational structures that exist to support queer people, Iceland has become a true rainbow paradise. This welcoming and affirming culture has turned Iceland into a popular tourist destination for sexual and gender minorities.
It may not have the party appeal of Fire Island or the sands and sun of Mauritius, but Iceland is fast becoming recognized as a home away from home for the LGBTQIA community. There are many organizations today that specializes in gay travel; the local scene is developing quickly, and there is a whole range of events catering specifically to queer people and allies.
Since the 1990s, a slew of legislation has been passed that has made Iceland one of the most gay-friendly places on earth. It was one of the first European countries to recognize same-sex partnerships in 1996 and to grant equal adoption and IVF rights for same-sex couples in 2006.
In 2010, same-sex partnerships were recognized as marriages, and in 2012, the needs of the trans and genderqueer community were met with sweeping legislation that formalized the name and identity changing processes
The most recent development came in 2015 when the Church of Iceland declared that they would welcome same-sex partners to marry within their institutions.
An evolution in attitudes has clearly driven these changes in the law. In 2004, 87% of Icelanders surveyed declared their support for same-sex marriage; in a poll of the same year, taken in the USA, less than half – just 42% – believed the same. These attitudes were further reflected when Iceland became the first nation with an openly gay leader; Jóhanna Sigurðardottir was elected Prime Minister in 2009.
Reykjavik
It is very common for general institutions to put rainbow flags in their windows, or to have signs warning patrons against any discrimination on their property. This means that almost every space in Reykjavík is a safe and comfortable environment.
As traditionally heterosexual venues welcome queer people, the courtesy is returned. Reykjavík Pride Festival is an event the whole family comes to enjoy, and the turnout for the march is almost unbelievable.
Even though there are only about 340,000 people in the entire country, more than 100,000 come to celebrate, including the nation's President. Pride week has many events, such as concerts, documentary and film screenings, live comedy shows and drag performances. Reykjavík Pride festival, and the Reykjavík Rainbow Festival, which takes place in February, are holidays where the whole nation comes together.
There are many different ways that visitors can enjoy Iceland's queer scene. Because of the level of tolerance, there is no need for a gay district. There are only two actual "gay bars" – Kiki and the VintageBox. All venues in Iceland welcome people of all types.
Reykjavík also has many other queer events throughout the year. Legendary Icelandic pop star and gay icon Páll Óskar hosts an annual Pink Party. Bears on Ice comes around every September, and the stars of RuPaul's Drag Race have made several appearances over the past few years.
Up and coming queer artists are also given many platforms to perform, showcasing a wide diversity of talent. Regular performers on the downtown scene, such as Jonathan Duffy, a gay comedian, and Skaði and Mighty Bear, genderqueer punk musicians, are becoming more and more known throughout the city. Reykjavík Kabarett is also an incredible platform for queer talent, and very popular among the queer audience.
Icelandic drag has also recently been coming to the forefront of the queer scene. There is now a drag troupe known as Drag-Súgur who perform at least every third Friday and last Thursday of the month.
Dating someone of the same sex is completely uncontroversial in Iceland, as it is not at all uncommon to see two men or two women holding hands down the high street, having a romantic meal in one of the city's restaurants, or dancing just as opposite-sex couples do. As with anywhere in the world, there is no guarantee that same-sex couples will be free from any type of harassment, but bigotry is extremely rare and not tolerated by the general population of Reykjavík.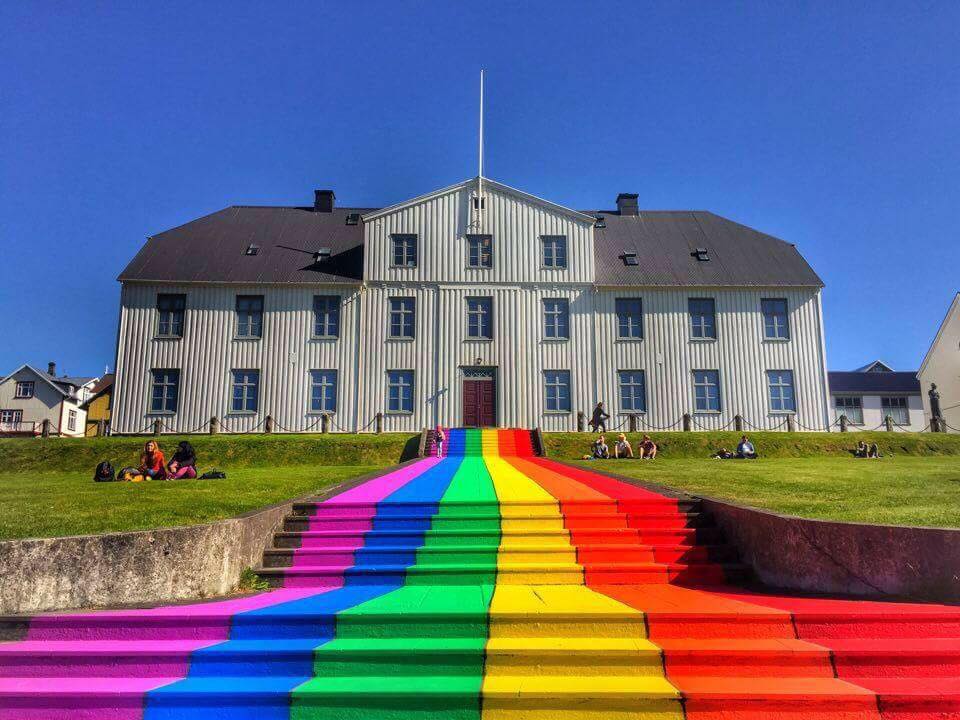 Greenland
It might come as a surprise to many that this glacier-covered nation is home to an open LGBTQ population. Although Greenland is a Danish territory, it is mostly self-governed. However, Greenland decided to follow the lead other progressive Scandinavian nations and legalized same-sex marriage in April of 2016.
Nuuk
Greenland's capital city, Nuuk, is the center for the LGBTQ community. The collection of bright multicolored homes is unintentionally, but appropriately, rainbow-colored. For this reason, it is used as a backdrop for Nuuk's annual Pride parade, which began in 2010.
Nuuk Gay Pride is held every June. A colorful and festive occasion, it brings awareness to political issues and celebrates the pride of Nuuk's LGBTQ+ community with concerts, films, and a parade.
The focal point during Pride is Katuaq in the city center. The first time the pride was held, some 1,000 gay, lesbian, transgender, and bisexual people and supporters took part in the parade with floats and flags in the city's center.
Perhaps the most remote destination on this list, this ice-covered nation is a place with a small, but open, LGBT population. If you're lucky, you can also catch a performance of Nuku and Lulu, drag queens who love to perform all over Greenland.
Nuuk also offers an impressive art walk, shops, and galleries — all worth a stop before or after you explore Greenland's stunning glaciers and other natural beauty.