Philadelphia, often referred to as the "City of Brotherly Love," is a must-visit destination for LGBTQ+ travelers. This vibrant city, with its rich history and diverse communities, welcomes everyone with open arms. From the historic streets of Old City, where the Declaration of Independence was signed, to the colorful LGBTQ+ scene in the Gayborhood, Philly offers a warm and inclusive atmosphere. Don't miss the iconic Liberty Bell and Independence Hall, which symbolize the city's commitment to freedom and equality. Plus, the Philadelphia LGBTQ+ community is active and proud, hosting numerous events and festivals throughout the year, such as OURfest. It's the perfect destination for LGBTQ+ travelers looking to explore history, culture, and the spirit of acceptance.

1. The Gayborhood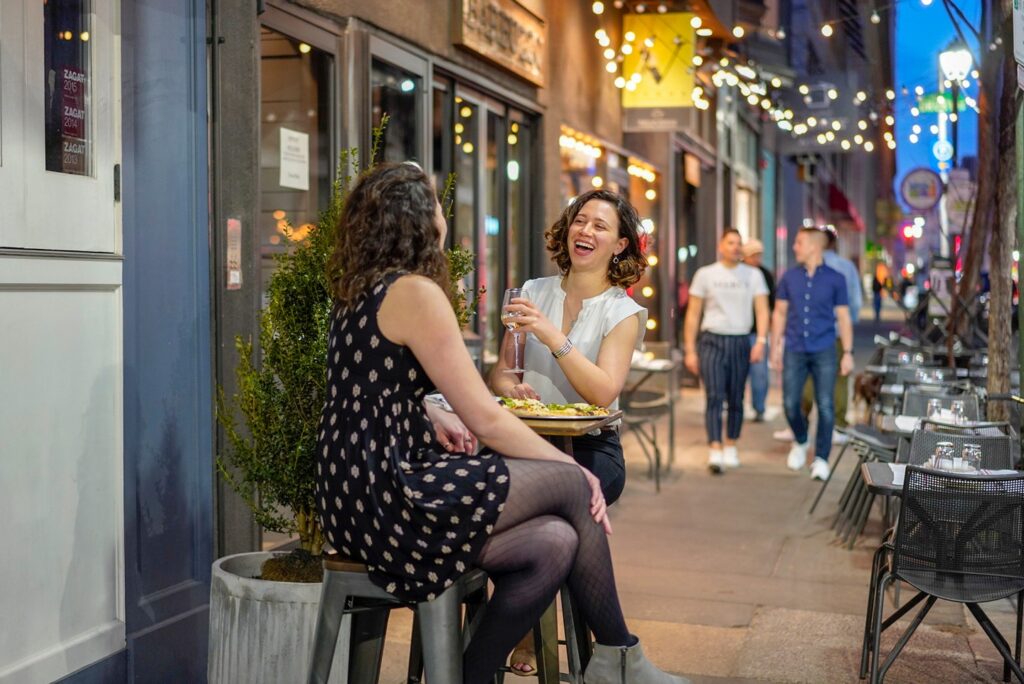 This iconic neighborhood, part of Midtown Village, is the heart of Philadelphia's LGBTQ+ community, filled with bars, clubs, and shops. It always feels like happy hour at Philly's iconic gay watering holes. After serving Philly beer, cocktails, and a little sass for over four decades, there's no question that Woody's is the go-to gay bar in Philly but there are plenty of other options to quench your thirst including Tavern on Camac, and UBar. If you're looking for bears and a little leather check out The Bike Shop or visit Tabu if you're looking for a sports bar that offers drag brunch. Although most of the lesbian bars have closed in Philly, Tabu and Stir Lounge are popular hunts for queer women.
---

2. Beyond the Bell Tours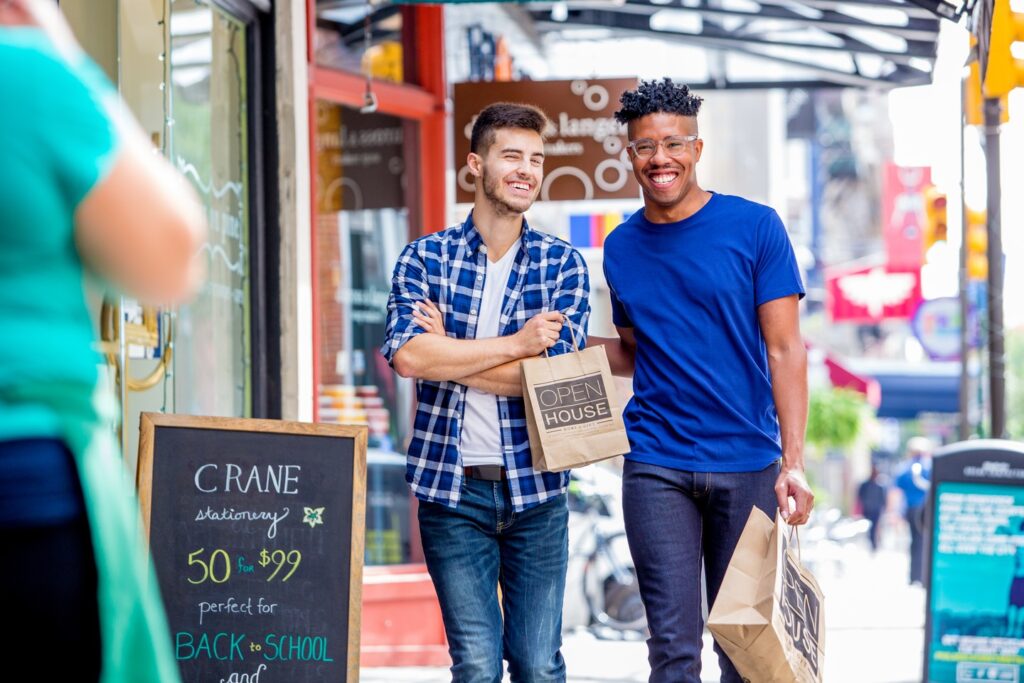 Discover Philadelphia's hidden stories with "Beyond the Bell Tours." They offer a daily Philly Gayborhood and LGBTQ+ History Walking Tour at 3 pm along with private walking tours. In just 90 minutes, these tours delve into the diverse neighborhoods of Philadelphia, uncovering art scenes, culinary treasures, and hidden gems, all while sharing essential stories often overlooked by mainstream tourism. From Kiyoshi Kuromiya to Barbara Gittings and Gloria Casarez, you'll learn about the influential figures who have shaped the city. These tours go beyond the iconic historical sites, providing a deeper, more nuanced understanding of Philadelphia, celebrating the stories of women, people of color, queer individuals, and indigenous communities that have made this city extraordinary.
---

3. OURfest: National Coming Out Parade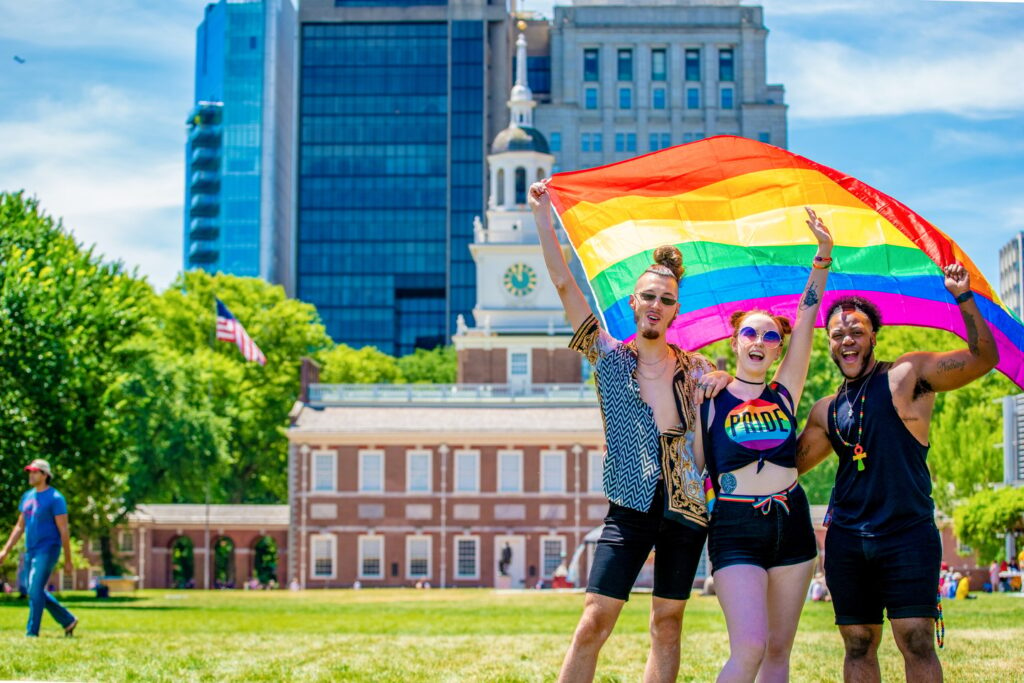 In the fall, Philadelphia gears up to celebrate National Coming Out Day with a weekend of festivities organized by Galaei's Pride 365 program, known as OURfest, which usually takes place during the weekend before October 11. The highlight of this celebration is the National Coming Out Parade, stretching from 5th and Market streets to Broad and Locust streets, featuring floats, community leaders, and Pennsylvania's largest Pride flag. The festivities continue the following day with the OURfest: National Coming Out Resource Fair and Festival in the Gayborhood, covering 12th and Spruce to 13th and Walnut streets. The event promises curated floats, live performances, and themed sections celebrating LGBTQ+ youth, families, sports, arts, and culture. If you miss OURfest, you should consider planning a getaway to enjoy the Philadelphia Pride March and Festival, which kicks off every June.
---

4. Philadelphia Museum of Art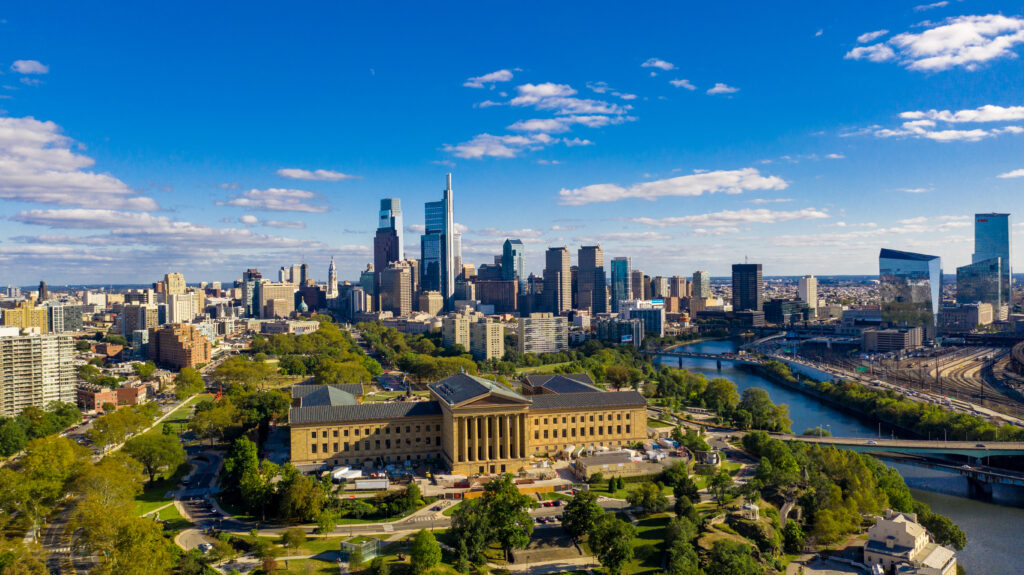 Perched atop Philadelphia's Benjamin Franklin Parkway, the Philadelphia Museum of Art is a true architectural masterpiece. This cultural beacon houses an extensive collection spanning 2,000 years, showcasing treasures from ancient civilizations to contemporary masterpieces. Its iconic steps, made famous by the movie Rocky, beckon visitors for a breathtaking city skyline view. Boasting over 240,000 works, including pieces by Renoir, van Gogh, and Picasso. The museum is also home to unique artifacts like armor and a Buddhist temple, and it holds a distinguished place among the nation's premier art museums.
Recent renovations, overseen by Frank Gehry, have added to the museum's allure, cementing its status as a must-visit destination on Philadelphia's cultural scene. Tickets provide two days of access to this artistic treasure trove and include admission to the Rodin Museum. The museum also hosts LGBTQ+ Pride Month events, including special Queer art talks, Queer(ing) Art Audio Tours, and the longstanding Queer Prom, a tradition in Philadelphia for over 25 years. For another epic art museum, check out the Barnes Foundation nearby.
---

5. William Way LGBT Community Center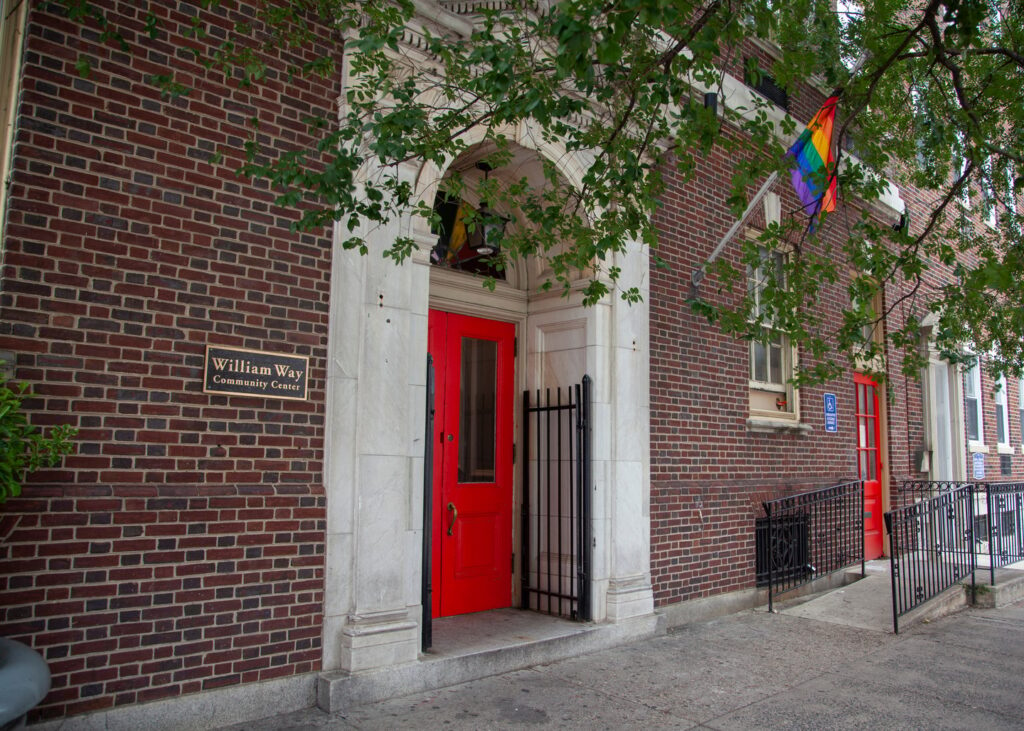 The William Way LGBT Community Center, situated in Philadelphia's heart, is a dynamic LGBTQ+ hub, providing inclusive resources and support for all ages and identities. It hosts social gatherings, cultural events, counseling services, and support groups, preserving LGBTQ+ history while actively fostering a more equitable future. Through advocacy, education, and outreach, the center champions provide a place for people to better understand the local queer community and or to make a connection to it. Whether seeking support or celebrating LGBTQ+ culture, William Way is a welcoming home in Philadelphia. In addition to providing a space for community connection, the center offers arts and culture programs and empowers LGBTQ+ youth and seniors. With over 50,000 annual visits, the William Way LGBT Community Center serves diverse organizations in support, arts, recreation, and venue services.
---

6. Philly AIDS Thrift @ Giovanni's Room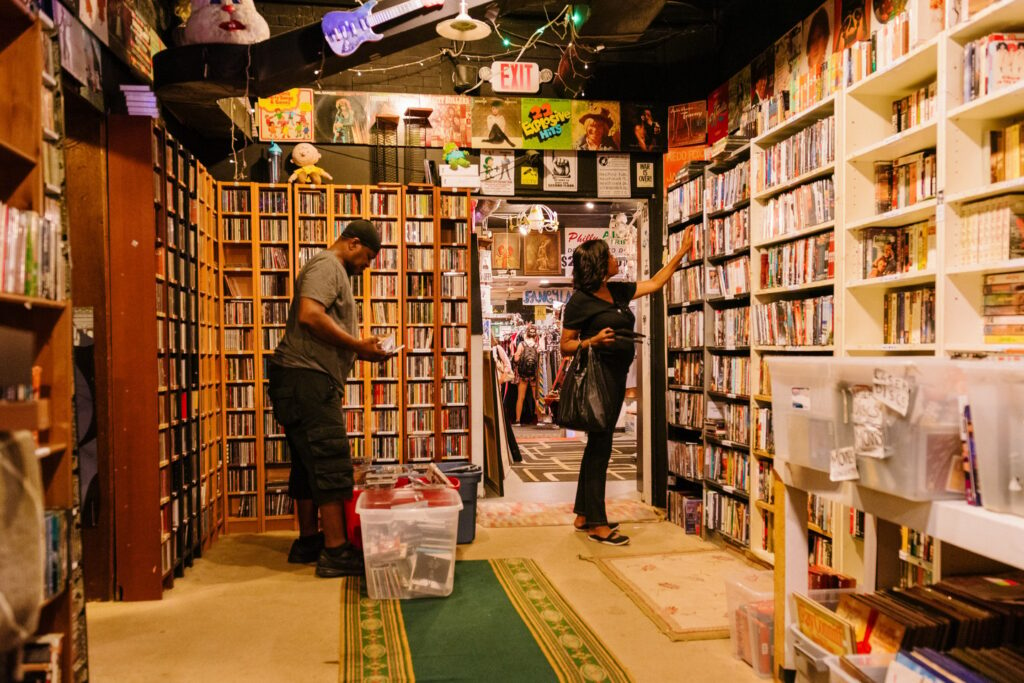 Named for James Baldwin's notorious gay novel, Philly AIDS Thrift @ Giovanni's Room, is a beloved thrift store with a unique mission. While it offers a range of secondhand treasures, including clothing, books, collectibles, and more, what truly distinguishes it is its unwavering commitment to supporting the fight against HIV/AIDS. Proceeds from every purchase contribute to crucial programs and services in this ongoing battle. Beyond being a thrifting haven, it's a symbol of community solidarity and a testament to the enduring spirit of activism. With a rich history and a mission rooted in social good, Philly AIDS Thrift @ Giovanni's Room continues to be a significant presence in Philadelphia's LGBTQ+ landscape.
---

7. Rittenhouse Square Park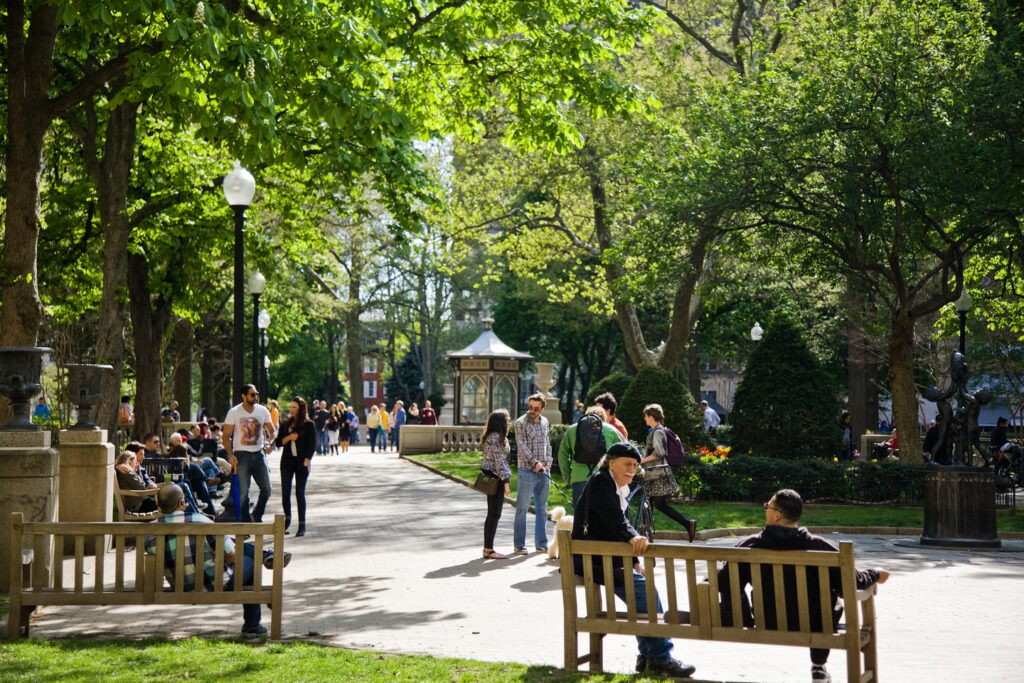 Rittenhouse Square, one of William Penn's original city squares, stands in the Center City's exclusive neighborhood. Surrounded by luxury apartments, fine dining, and upscale shopping, this tree-filled park offers a serene oasis for picnics, leisurely strolls, and relaxation. Notable sculptures—such as Antoine-Louis Barye's "Lion Crushing a Serpent" and Paul Manship's "Duck Girl"—grace the square. It hosts diverse events like the Spring Festival, Rittenhouse Square Fine Art Show, and the Christmas Tree Lighting.
Nearby, visitors can indulge in retail therapy on Chestnut and Walnut streets or explore unique attractions like the Mütter Museum. Enjoy the comfort of luxurious hotels like the Rittenhouse Hotel and Warwick Hotel Rittenhouse. If you're in the mood for a bite to eat look no further than Her Place Supper Club or Parc, a delicious French bistro offering gorgeous views of the park. Back in the day, Rittenhouse Square was the notorious epicenter of gay life with the first local Pride March starting there in 1972.
---

8. Liberty Bell and Independence Hall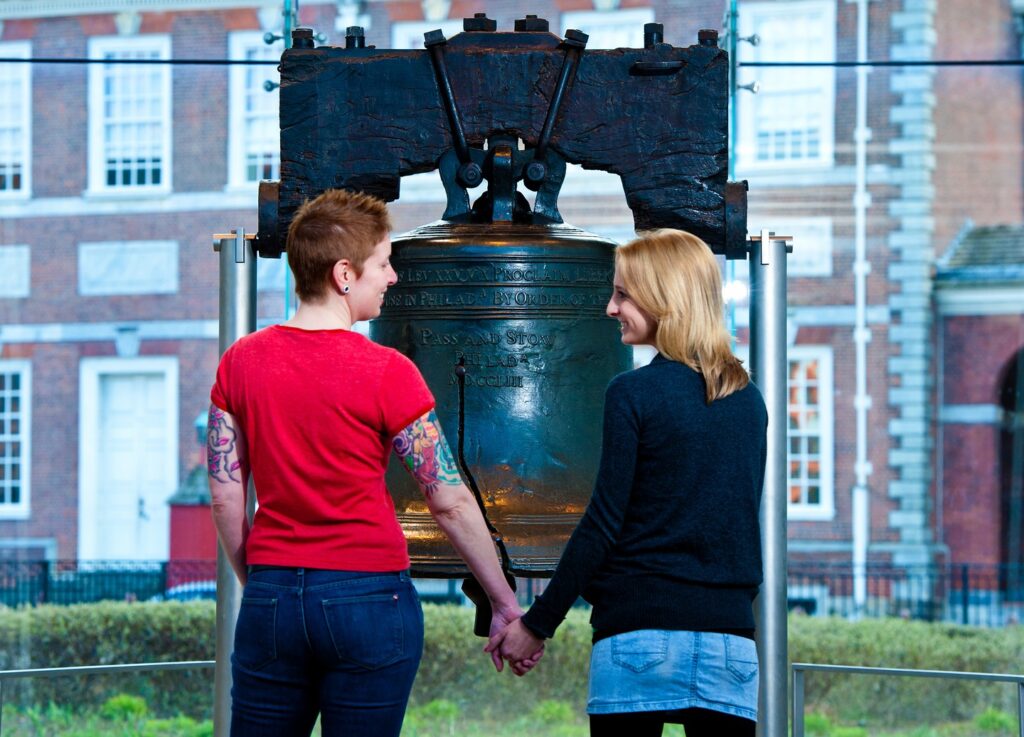 Visiting the Liberty Bell and Independence Hall in Philadelphia is like taking a step back in time to the birthplace of American freedom. At Independence Hall, where the Founding Fathers debated and adopted both the Declaration of Independence and the U.S. Constitution, you can stand in the very room where these historic documents were crafted. Broadway babies may consider this "The Room Where It Happens" from the hit musical Hamilton.
Nearby, the Liberty Bell, with its iconic crack, serves as a timeless symbol of American liberty. The experience of seeing these landmarks up close is both educational and awe-inspiring, offering a profound connection to the nation's history and the enduring principles upon which it was founded. For more history in Philadelphia, check out the Betsy Ross House.
---

9. Philadelphia's Magic Gardens
Philadelphia's Magic Gardens is an impressive mixed-media art environment created by artist Isaiah Zagar, covering a half-block area with colorful tiles, mirrors, and found objects. It's a celebration of creativity, community, and self-expression, extending to neighboring buildings and the South Street neighborhood. Zagar's journey to beautify the neighborhood began in the late 1960s, transforming it into a thriving artistic hub. In 1991, he started the masterpiece now known as Philadelphia's Magic Gardens. Threatened with destruction in 2004, the community rallied behind the nonprofit, preserving this unique art environment. Visitors can explore the tunnels, grottos, and intricate mosaics by engaging in tours and art activities that inspire creativity and community. For another popular garden, head about an hour outside of the city to spend an afternoon at Longwood Gardens.
---

10. Reading Terminal Market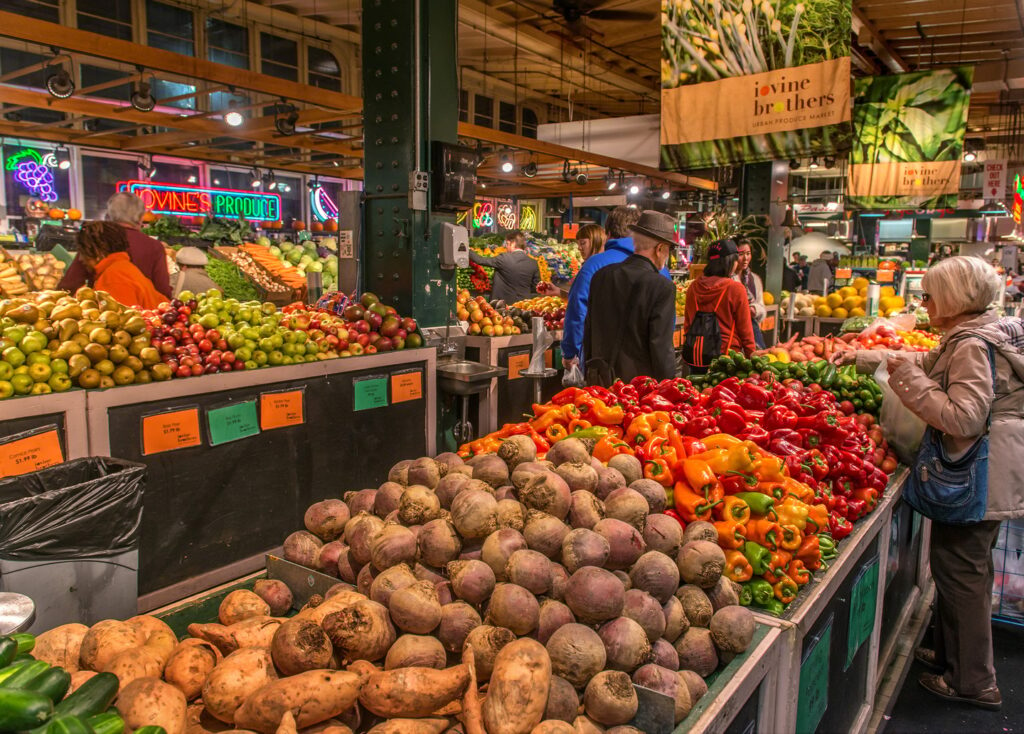 Reading Terminal Market, a historic treasure dating back to 1893, resides in a magnificent National Historic Landmark structure, providing an array of culinary delights and kitchen essentials. This bustling market boasts a variety of cuisines, from soul food to Asian and Middle Eastern flavors, and of course, iconic Philly cheesesteaks, all under one roof. Featuring an impressive 80 merchants, there's something to satisfy every palate. Don't miss local favorites like Tommy DiNic's, acclaimed as the "Best Sandwich in America" by the Travel Channel, the scrumptious offerings at Beiler's Bakery, the authentic Pennsylvania Dutch bites of Dutch Eating Place, Miller's Twist's mouthwatering pretzels, soul food from Ma Lessie's Chicken & Waffles and a side of scrapple from Down Home Diner.