Welcome to Cancun, Mexico's LGBTQ resort paradise, with luxurious waterfront escapes for couples and solo travelers alike. While it may not rival Puerto Vallarta in LGBTQ+ representation, Cancun boasts a solid array of gay-friendly resorts, clubs, and bars. As you immerse yourself in Mexico's rich culture, don't miss the nearby treasures of Chichen Itza, Isla Mujeres, and the enchanting cenotes.
Cancun is Mexico's premier tourist hub, particularly popular due to its convenient location and accessibility from North America. It evokes visions of blue skies, bronzed sunbathers, pristine waters, and endless stretches of sandy beaches. For gay travelers, it's a dream destination for both romance and adventure, offering an abundance of activities that can leave you spoiled for choice.
Mexico, as a whole, has continued to make progress in regard to LGBTQ rights and stands as the most LGBTQ-friendly destination in the Caribbean. Many Mexican states, including Quintana Roo, where Cancan is located, now have legalized same-sex marriage. Similar to most destinations, the cities, and parts of the country most visited by tourists are very welcoming of LGBTQ guests, while rural areas are a little slower to come around.
The city is divided into two distinct zones, the "hotel zone" and "El Centro" (downtown Cancun). The hotel zone is where you'll find more of the beachfront, all-inclusive resorts. In El Centro, you'll find a wealth of gay clubs, bars, shops, and restaurants. This comprehensive LGBTQ+ travel guide to Cancun is your go-to resource for a memorable visit.

Where to Stay
JW Marriott Cancun Resort and Spa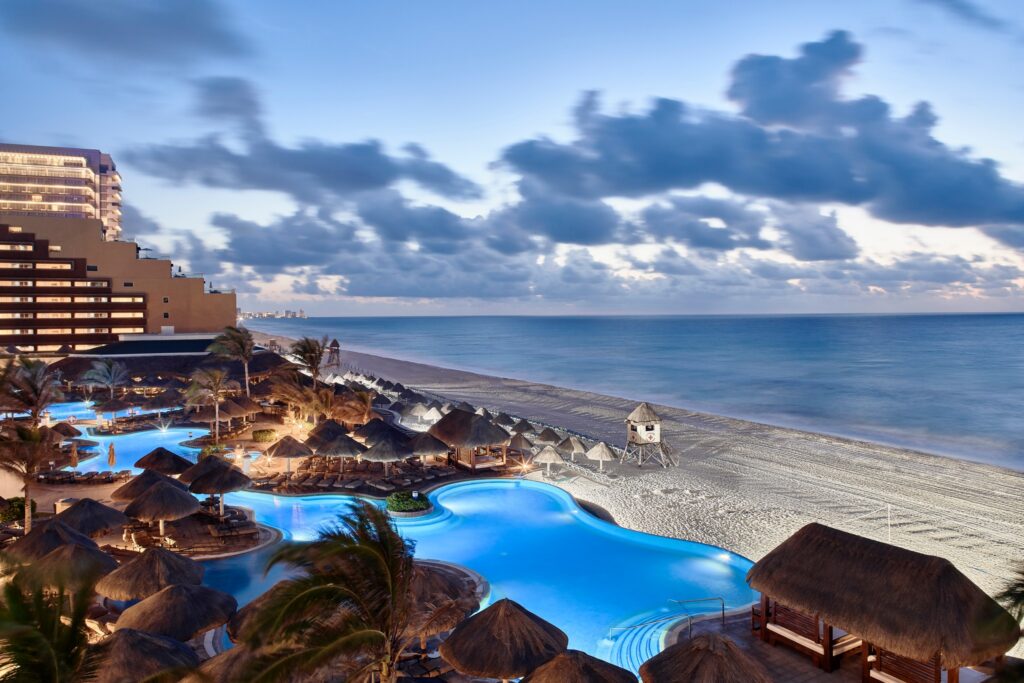 The JW Marriott Cancun Resort and Spa is a luxurious beachfront haven in the heart of Cancun, Mexico. This upscale resort boasts elegant rooms, a world-class spa, and nine dining or bar options showcasing everything from Mexican to Thai. Known for being LGBTQ+-friendly, Marriott, in general, is a great option when looking for welcoming accommodations all over the world. With stunning ocean views and a serene ambiance, it's an excellent choice for couples and travelers seeking a sophisticated and inclusive retreat.

Hyatt Zilara Cancun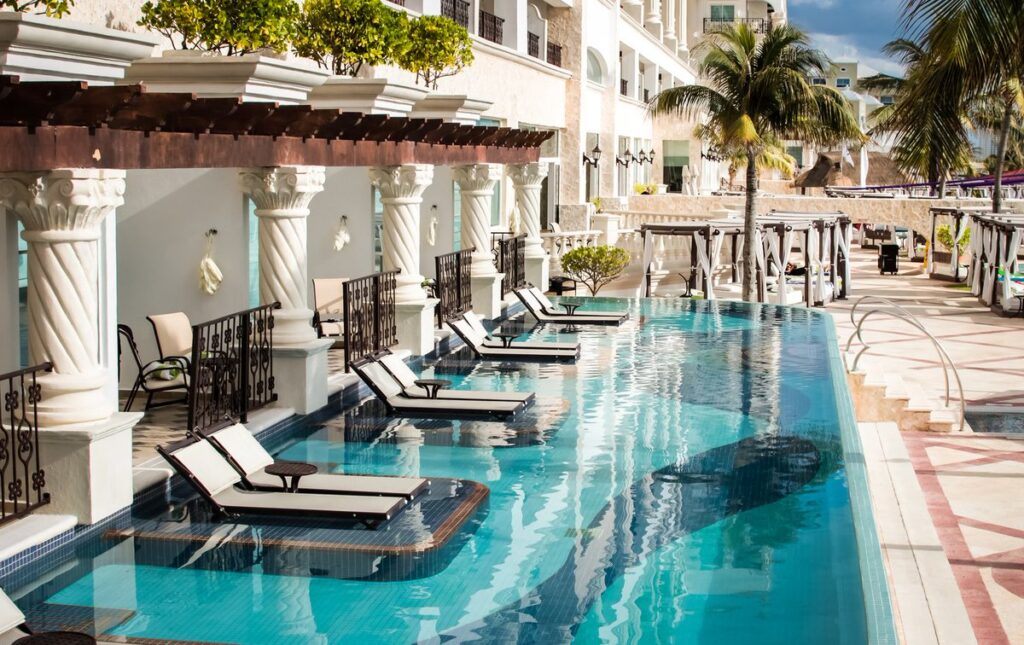 The Hyatt Zilara Cancun resort, located on a wide stretch of beach, offers an ideal getaway for couples and is welcoming of LGBTQ+ guests. This adults-only, all-inclusive haven features various room options, from Junior Suite Kings with whirlpool tubs and water view terraces to Ocean View Swim Up Suite Kings with pool access. The massive spa with hydrotherapy treatments is great for relaxation, while live entertainment, including traditional mariachi bands and circus shows, adds flair. They also offer private cabanas to spend lazy days soaking up the sun with your loved one.

Club Med Cancun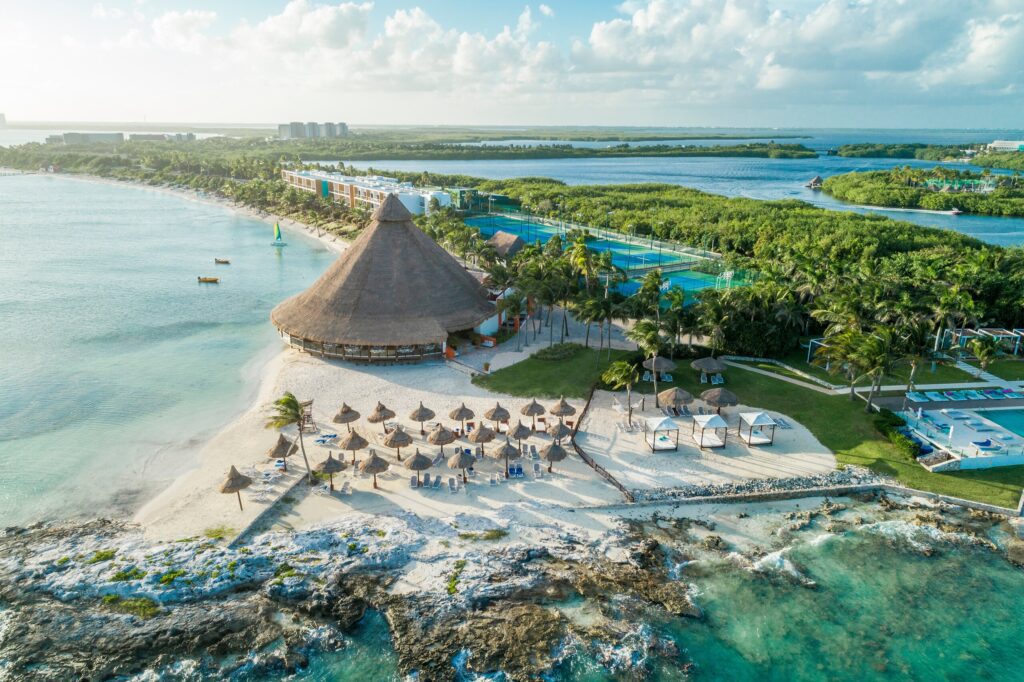 Club Med Cancun has firmly established itself as an inclusive haven for the LGBTQ+ community. Nestled on the sparkling shores of Mexico's Riviera Maya, this resort is a place where love knows no bounds, and everyone is welcomed with open arms. Club Med Cancun is committed to creating a safe and inclusive space that caters to all guests, irrespective of their identity or orientation. This commitment is evident in their partnership with Atlantis, a well-known name in the LGBTQ+ travel community, for an annual "Club Atlantis" takeover event. This week-long extravaganza transforms Club Med Cancun into an exclusive LGBTQ+ playground, complete with private gay beaches, entertainment, sports, activities, and parties.

Maroma, A Belmond Hotel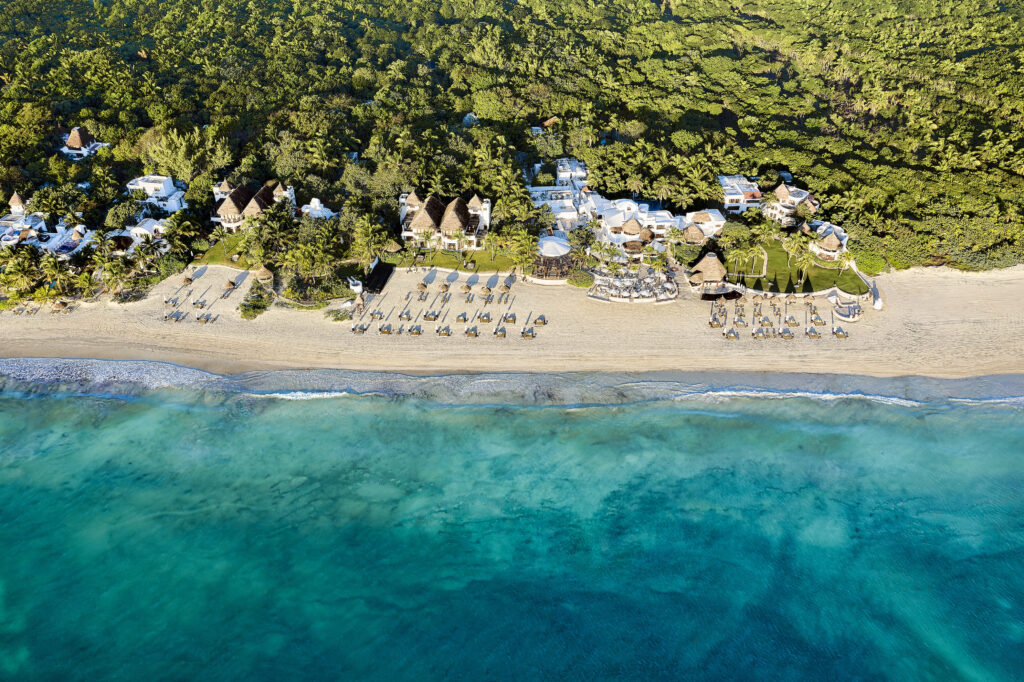 Maroma, A Belmond Hotel, is a luxurious beachfront retreat nestled along the Riviera Maya near Cancun, Mexico. It's renowned for its pristine white-sand beach, lush tropical gardens, and elegant accommodations. Guests can indulge in world-class spa treatments, savor gourmet cuisine, and partake in various water and land-based activities. The resort offers a tranquil and intimate atmosphere, making it an ideal choice for romantic getaways and upscale vacations. Belmond has made a dedicated commitment to LGBTQ+ guests, ensuring an inclusive and welcoming environment for all, making it the perfect destination for a relaxing luxury escape.

TRS Yucatan Hotel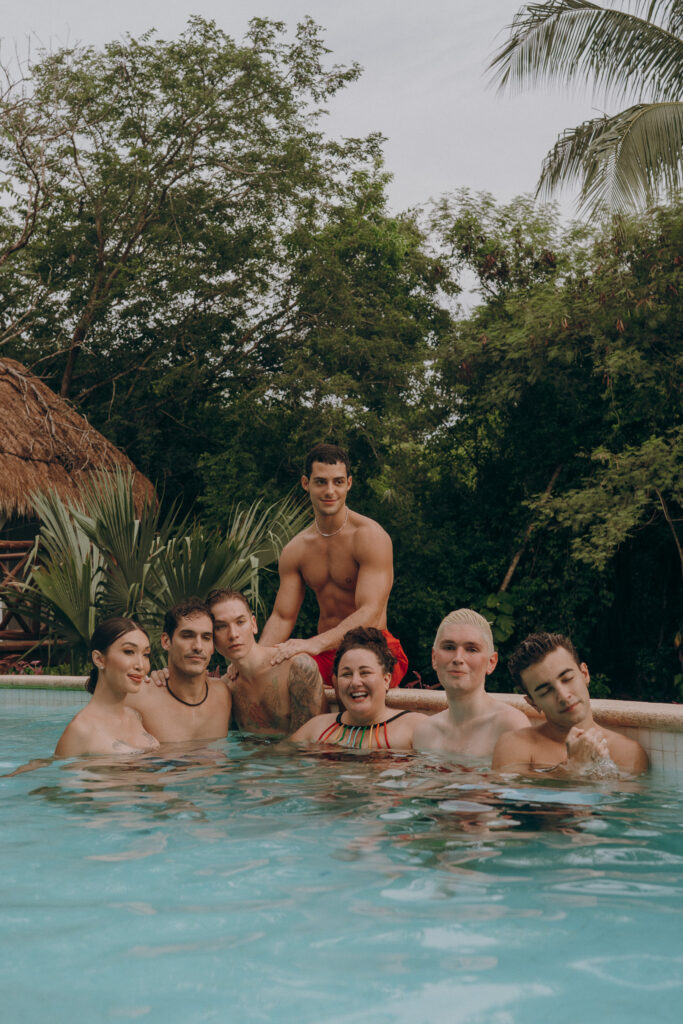 TRS Yucatan Hotel is a sophisticated adults-only resort located a 34-minute drive south of Playa del Carmen and north of Tulum. It's celebrated for its exclusive ambiance, luxurious amenities, and stunning beachfront location. Guests can unwind in elegant suites, savor gourmet dining experiences, and enjoy access to the adjacent Grand Palladium complex. TRS Yucatan Hotel proudly holds the Queer Destinations distinction, exemplifying its commitment to inclusivity and readiness to welcome LGBTQ guests. With its upscale offerings and welcoming environment, it's an excellent choice for those seeking a romantic or relaxing getaway in paradise.
---
Foods to Try
Cancun is renowned for its exquisite all-inclusive resorts, many of which boast multiple on-site restaurants. We wanted to provide insight into some of the quintessential Mexican dishes that guests should seek out when venturing out to local restaurants or markets.
Sopa de Lima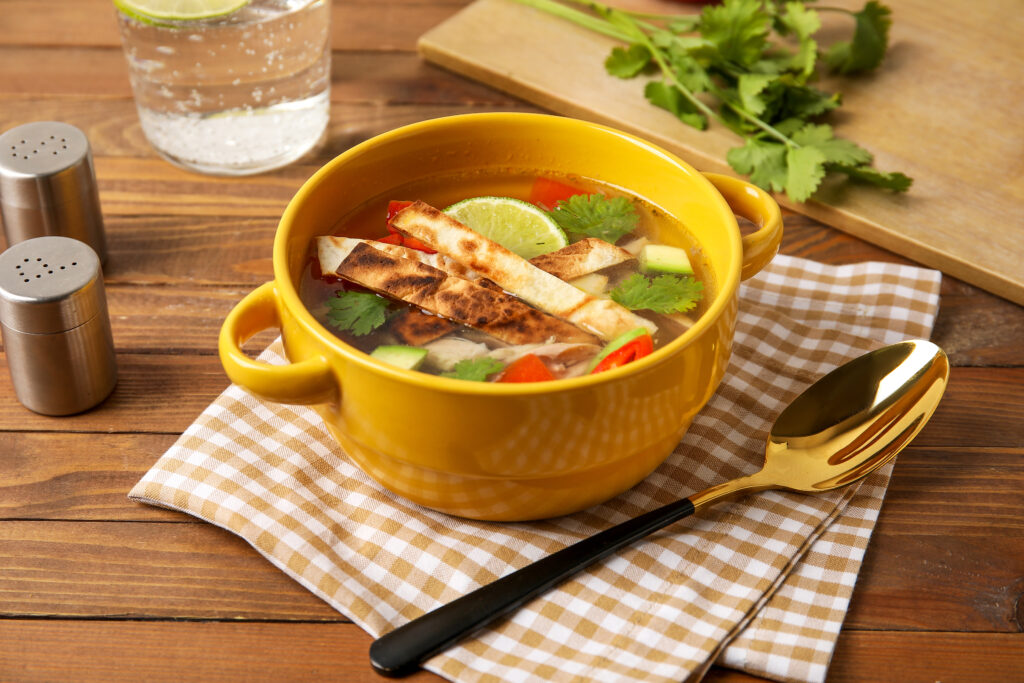 Sopa de Lima is a traditional Mexican soup from the Yucatan Peninsula, mainly in the inland city of Merida (P.S. If you don't have a trip to Merida on your radar it should be). It features chicken, aromatic vegetables, spices, and, most notably, fresh lime juice that gives it a refreshing and zesty flavor. Served with tortilla strips, avocado, and cilantro, it's a delicious dish, perfect even on a scorching day.

Torta Cochinita Pibil
Cochinita Pibil is a traditional Yucatecan dish where pork is marinated in achiote paste, citrus, and spices, and then slow-cooked to perfection. Shredded Cochinita Pibil is added to a bolillo or telera, often garnished with pickled red onions and an array of condiments, including salsa, avocado, and fiery habanero peppers. This mouthwatering blend of tender, flavorful pork, and zesty, spicy accents is a cherished street food, one that will not commonly be found at resorts.

Tacos al Pastor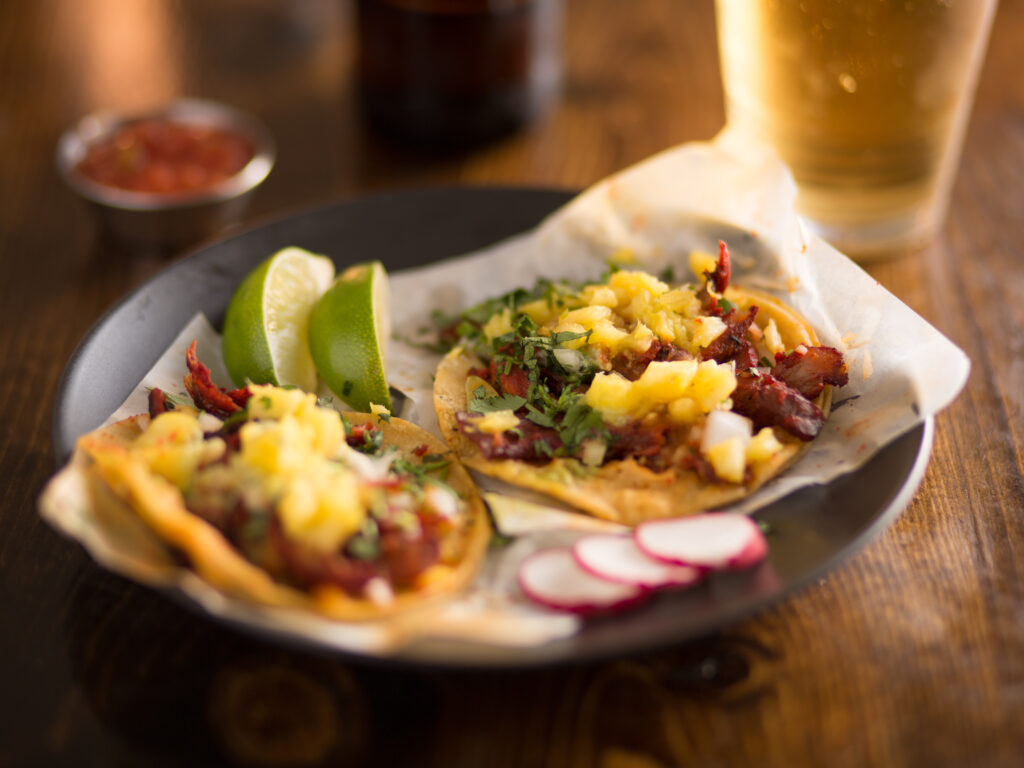 Tacos al Pastor, a must-try Mexican dish in Cancun, has its roots in Lebanese cuisine, introduced by Lebanese immigrants. Every local taco shop in Cancun offers this delectable option, making it a can't-miss culinary experience. The best places prepare it by cooking pineapple on the spit alongside the marinated pork, creating an unbelievably delicious fusion of flavors. Thinly sliced marinated pork, sweet pineapple, and savory spices come together in soft corn tortillas, garnished with onions and cilantro. You'll find this beloved food in local taco shops and on the menu at many resorts.

Salbutes
Salbutes is a cherished Mexican dish from the Yucatan Peninsula. They consist of small, thick corn tortillas that are fried until crispy and puffy. Once fried, they are adorned with toppings like shredded lettuce, diced tomatoes, pickled red onions, avocado, queso fresco, and a choice of protein, often chicken or turkey.

Marquesitas
Marquesitas are a delectable Mexican dessert originating from the Yucatan Peninsula. These thin, crepe-like pastries are rolled up and filled with sweet combinations, often featuring grated Dutch Edam cheese and a sweet syrup made from ingredients like condensed milk, Nutella, or caramel. You can find marquesitas sold by street vendors throughout Mexico.
---

What to Do
Visit a Gay Beach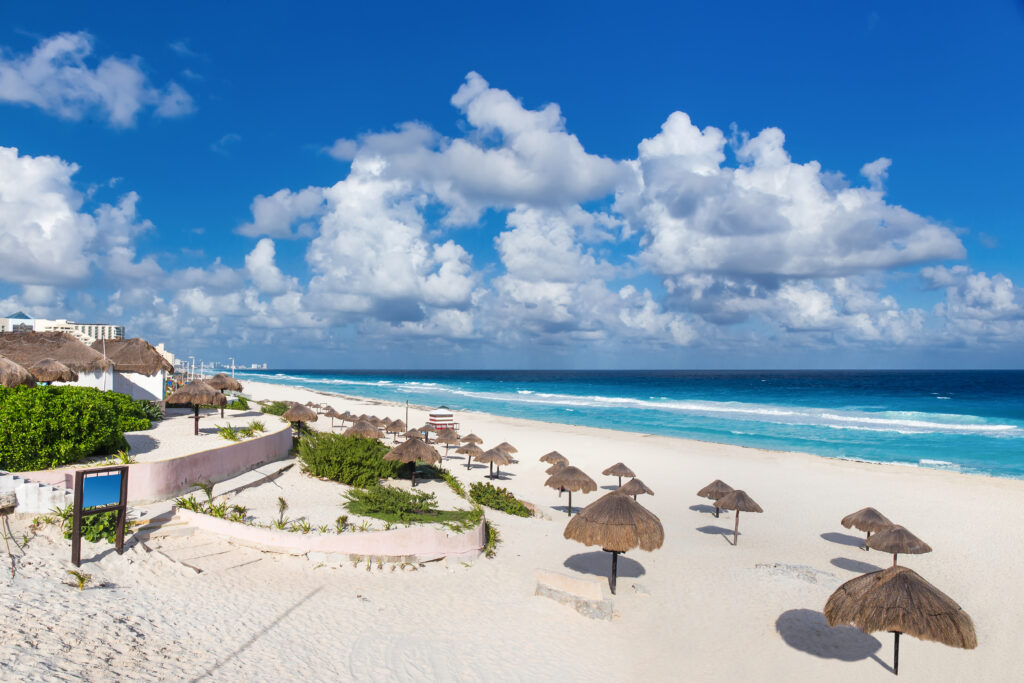 Unlike in Mykonos, New York, or Sitges, there is no official gay beach in Cancun. However, there are multiple unofficial gay beaches throughout Cancun. Please keep in mind that these are all public beaches and are likely to have a mixed crowd.
Playa Delfines
This gorgeous beach at the end of the hotel zone is known to be the most popular gay beach in Cancun. The section all the way down by the dunes is where you're most likely to find LGBTQ+ sunbathers. The beach is nice, but the water is typically a bit rough for swimming.
Playa Tortugas and Playa Forum
Both beaches are easily accessible from within the hotel zone. They are both stunningly beautiful beaches with stretches of ocean you can swim easily. The gay scene is a bit hit or miss here.
---

Take a Cenote Tour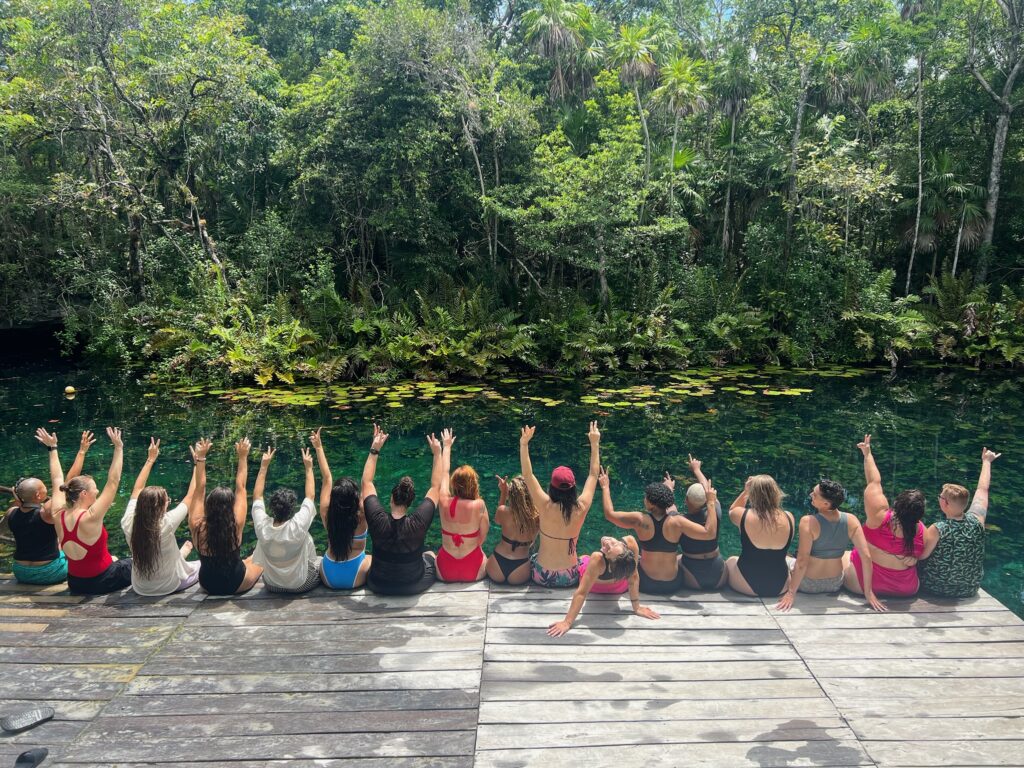 The Yucatan Peninsula, near Cancun, is a treasure trove of unique cenotes, and natural sinkholes with crystal-clear waters, making them a defining feature of this region. With over 6,000 cenotes, the Yucatan Peninsula is home to one of the world's most concentrated collections of these geological wonders.
Among the best cenotes are Cenote Dos Ojos in Tulum; Cenote Ik Kil near Chichen Itza, surrounded by lush greenery; Gran Cenote in Tulum; and Cenote Azul in Puerto Aventuras, ideal for swimming and cliff diving. This list could go on and on because there are so many great ones, each known for something different. Check out more of Vacationer's cenote recommendations here.
One of the best ways to enjoy cenotes is to join a tour group led by local people. There are many cenotes that are on private land and working with a guide will give you access to see many more unique cenotes with little to no crowds. Kay Tours Mexico offers private cenotes tours and is incredibly LGBTQ+ friendly.
---

Visit Archeological Sites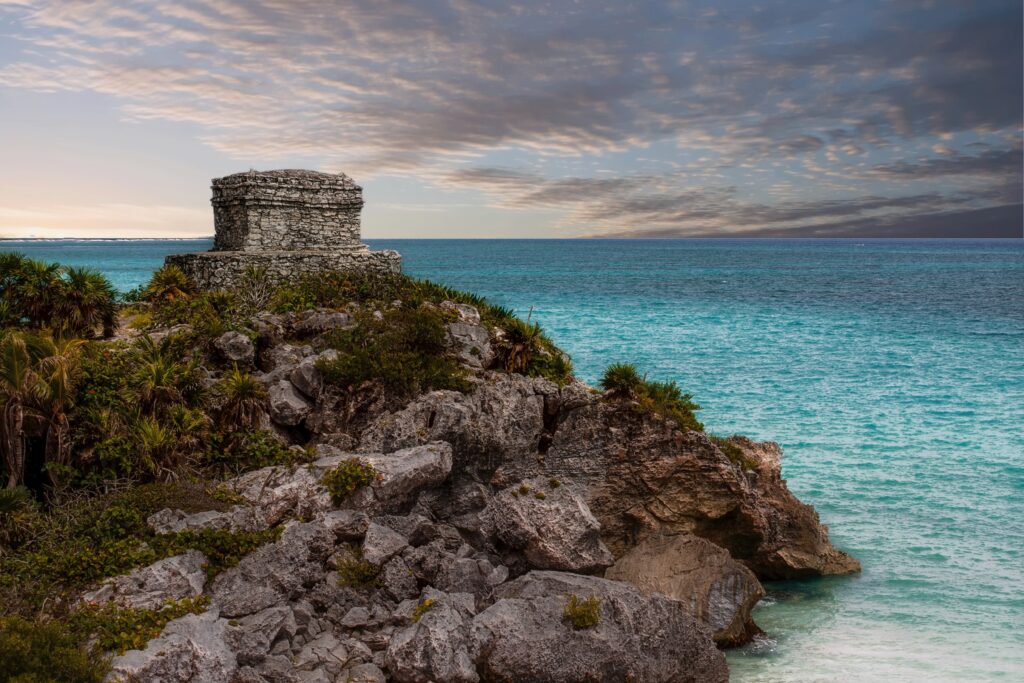 Cancun and the entire Yucatan Peninsula are a treasure trove of archaeological sites that allow visitors to gain insight into the rich history of the region. These archaeological sites showcase the brilliance of ancient civilizations that once thrived in this area, predominantly the Mayans.
Tulum Archeological Site
The closest of the Mayan Ruins to Cancun is in Tulum a short 2-hour drive from most of the Cancun hotels. The site is perched on a seaside cliff with some truly spectacular views. The area is open and unshaded which can be particularly rough in the midday sun but if you pack a swimsuit there's a set of stairs that leads to a gorgeous beach for a quick dip.
Chichen Itza
The most iconic archaeological site in Mexico, Chichen Itza is one of the New Seven Wonders of the World. It's about 2.5 hours from Cancun and a complete can't-miss for anyone into history. Going with a guide will give you the opportunity to learn what all the individual structures are and of course, take in the iconic El Castillo pyramid.
Other sites that are nearby and worth the visit include Coba, Ek Balam, and Muyil. Coba in particular is stunning surrounded by thick jungle and receives just a small fraction of the tourists per year that Tulum and Chichen Itza get.
---

Visit Other Nearby Cities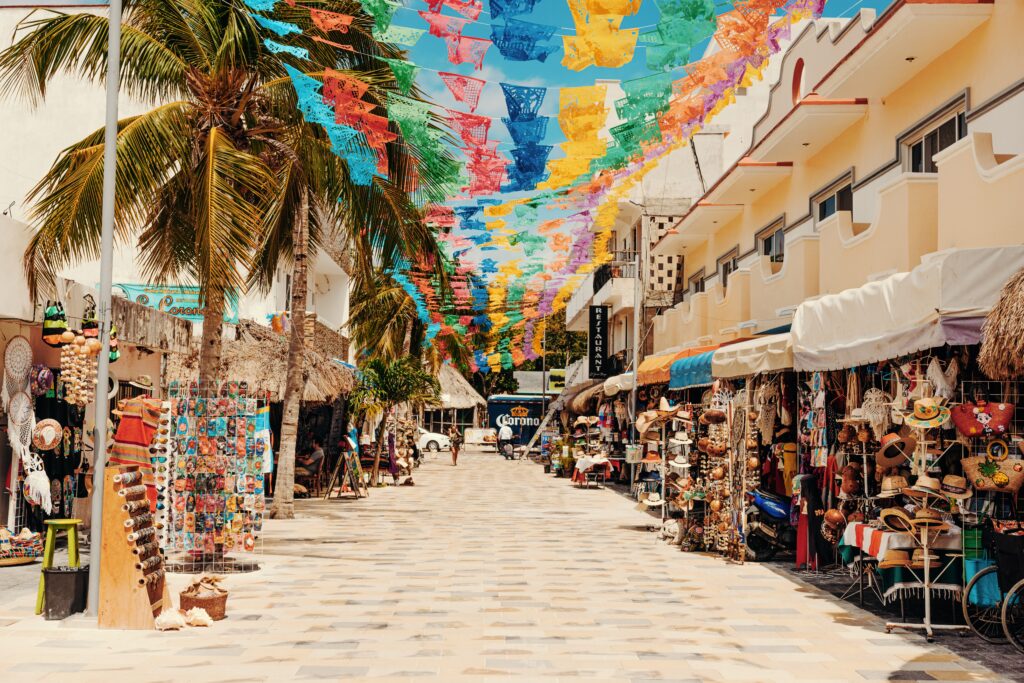 One of the best parts of Cancun is its close proximity to so many other great beach towns, each with its own unique vibe and personality. While none in particular are known as LGBTQ+ hotspots, each is very welcoming of LGBTQ+ visitors. Tulum has its popular boho chic vibe and trendy restaurants against the backdrop of a stunning coastline. Playa del Carmen is known for its vibrant Fifth Avenue, filled with shopping and dining. Lastly, consider a ferry ride to Isla Mujeres, for a slow-paced visit with vibrant marine life. You can also head to Cozumel, known for its outstanding snorkeling.
---

Experience LGBTQ+ Nightlife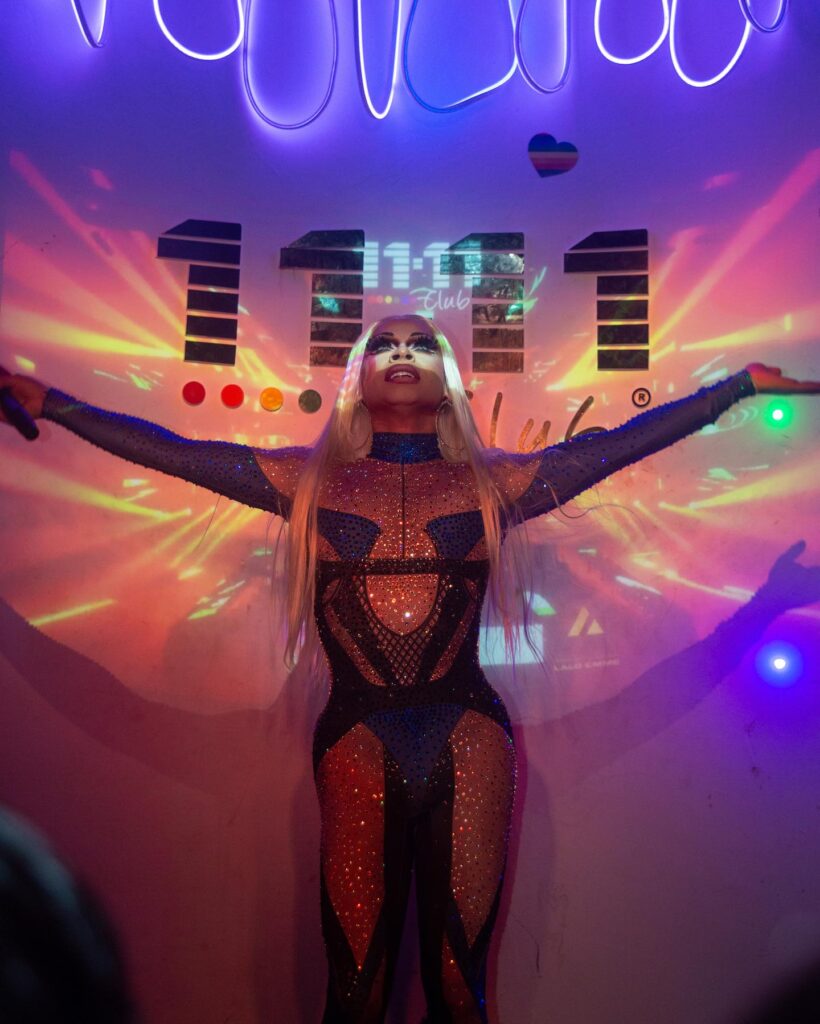 As mentioned earlier in the article, Cancun is essentially divided into two areas, the "hotel zone" and the downtown area or Centro. In the hotel zone, you can expect all the bars and clubs to be LGBTQ+-friendly and welcoming. However, the gay bars in Cancun are all located in the downtown area. You will need to take a cab if you are staying in the hotel zone but it's just a short and low-cost ride.
The two main gay bars are 11:11 and Laser Hot Bar. At 11:11 Club Cancun, you can expect a mix of international and local people with lots of dancing and drag shows. They are open Wednesdays through Sundays starting at 10 p.m. On the smaller size, Laser Hot Bar is always full. They have large and lively drag shows that take place most nights. The last option is Coco Bongo, it's a super club that has more of a mixed gay/straight crowd but there is always music and even better energy.
Hopefully, our LGBTQ+ travel guide to Cancun will help give you great travel ideas to plan your future getaway to the coastal beach town and explore other amazing places that make up the Riviera Maya.