Known as "the City Different," Santa Fe is one of the most unique small cities in the US. Home to a large LGBTQ+ population, Santa Fe has become a popular destination, especially for romantic getaways. So, it's not surprising that accommodations, restaurants, and bars are LGBTQ+ friendly, too. The city doesn't have a specific gayborhood because the whole city is one giant gayborhood!
Much of the appeal of Santa Fe lies in its complex history. It is the second oldest city in the U.S. In downtown Santa Fe, historical landmarks are located on nearly every corner. The city is a haven for artists, and it has a thriving art community that continues to grow every year.
If you're looking for all-night parties and wild clubs, then Santa Fe may not be the destination for you. However, that doesn't mean that there's nothing to do. Amazing food, the vast outdoors, and its quirky culture make Santa Fe the ideal destination for those who want a more laid-back adventure.
WHERE TO STAY
Inn of the Turquoise Bear
For intimate accommodations, LGBTQ+ travelers should consider booking a room at the Inn of the Turquoise Bear. This unusual 135-year-old adobe was first owned by Witter Bynner, a writer and activist who hosted the likes of Willa Cather and Georgia O'Keefe in his humble abode. In 1996, the Inn was transformed into a bed and breakfast and on the National Register of Historic Places.
Each room is uniquely styled and named after a specific artist who spent time at the Inn, are gardens filled with lilacs and wild roses. The most important meal of the day, breakfast, is included and the Inn does breakfast in style – blue corn pancakes with pinon butter and quiche Lorraine are a few of the must-try dishes. There are several experiences you can book through the Inn, such as hiking and art tours, and if this is a romantic getaway for you and your sweetie, you can add on romantic enhancements such as fresh flowers and champagne. The Inn itself is located just a short walk away from the historic Santa Fe Plaza, which serves as the center of Santa Fe's old town.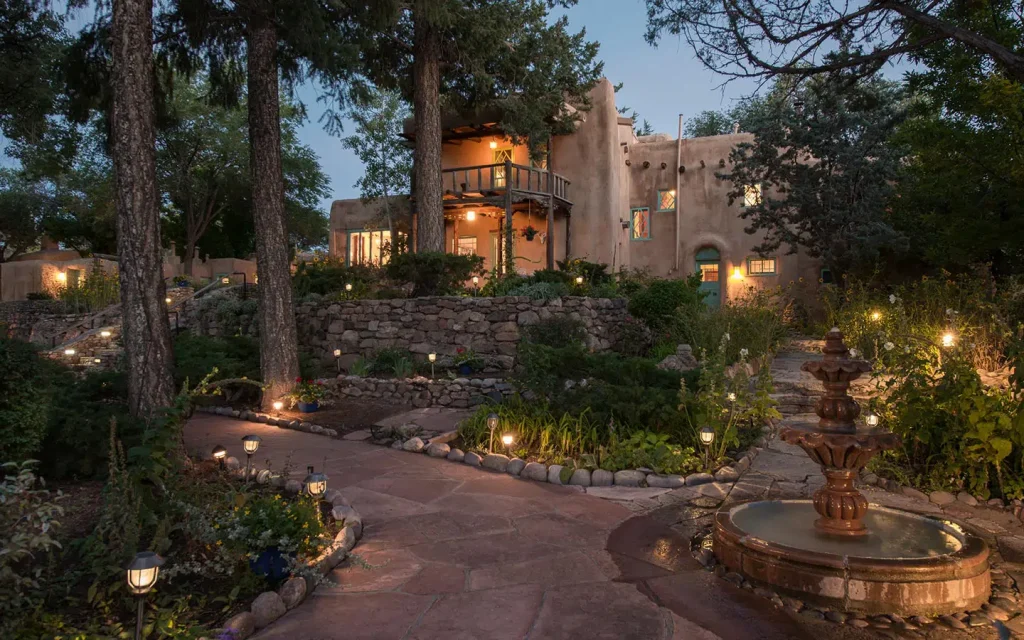 Hotel St. Francis
If you would like to stay somewhere that isn't made of adobe – as nearly every building in Santa Fe is – try the Hotel St. Francis. Located just one block south of the Plaza, the Hotel St. Francis has a historic 1920s California Mission revival design. The rooms themselves are cozy – expect a simple design and rustic furniture. While the rooms may be simple, the hotel's restaurant and bars are not. Scheduled to reopen on Feb. 14, 2022, Market Streer Steakhouse is owned by a Lesbian couple and is the only restaurant owned by women in the state, is known for its steaks and twists on traditional dishes, such as Tex-Mex mussels, which are served with green chile butter. The hotel's bar, Secreto Lounge, is home to some of the finest cocktails in Santa Fe, and if you're looking for a wine expert, the New Mexico winery Gruet, tucked just outside the hotel lobby, offers a tasting room. While Santa Fe is not home to any specific LGBTQ+ bars, the Gruet and Secreto Lounge are some of the more popular nightlife spots.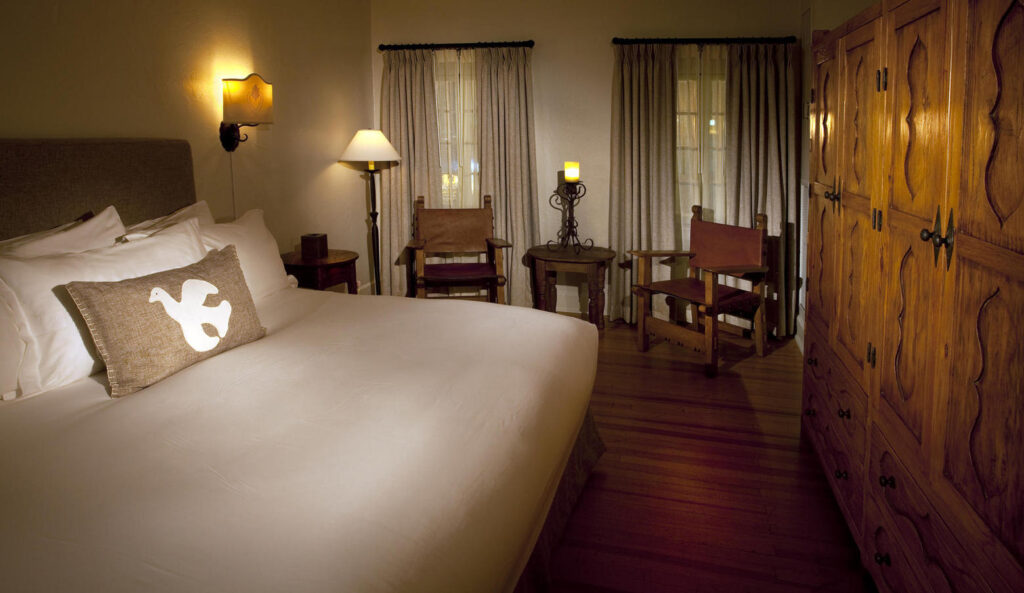 The Lodge at Santa Fe
For a more budget-friendly stay, The Lodge at Santa Fe offers stunning views of the Sangre de Cristo Mountains and is the closest hotel to the Santa Fe Opera. If you would like to bring your furry friends along, your dogs are welcome here. It is also one of the few hotels in Santa Fe that has a year-round heated pool. The Lodge is a 30 to 40-minute walk away from the Plaza and some of the city's main attractions, but the hotel does have a free shuttle service to get you there and back.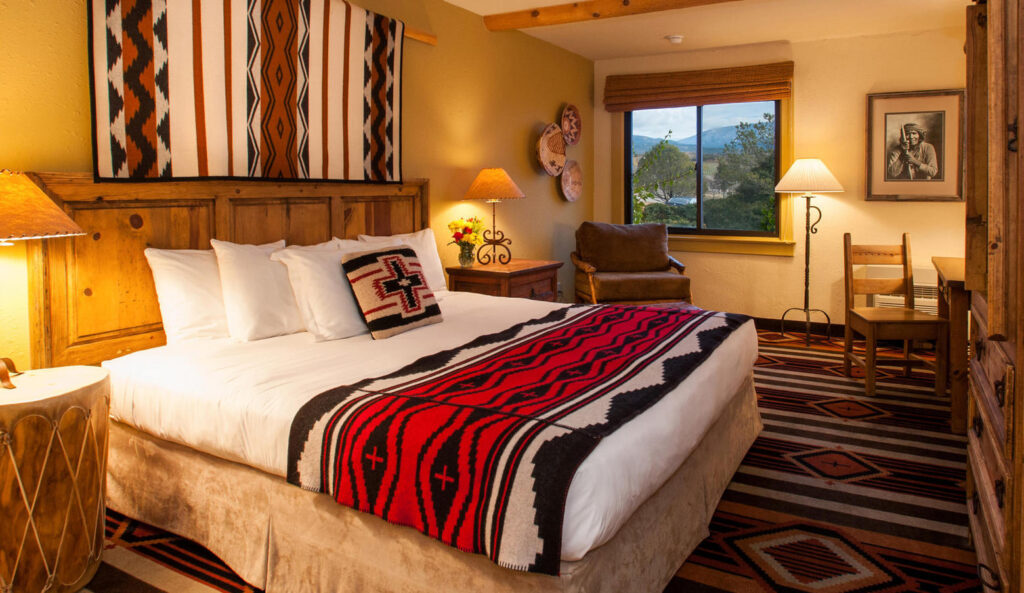 WHERE TO EAT
If there's one thing that locals in Santa Fe love – it's food! New Mexico has its own cuisine that is a combination of Spanish, Mexican, and Indigenous foods. What makes New Mexico's cuisine different from similar types of fare is New Mexican chile peppers, which are typically roasted in August. There are two types of chile: red and green, and red chile tends to be less spicy. Green chile can – and is – put on any type of food, including cheeseburgers, pizza, burritos, fries – you name it, and someone has probably put green chile on it. When dining out, waiters will often ask if you want red or green, which refers to what type of chile you would like. If you would like both, say Christmas! In addition to the use of chiles, New Mexican food also include sopapillas, which is an Indigenous fried bread that is eaten with honey, carne adovada, which is pork marinated in red chile, and posole, a hominy stew.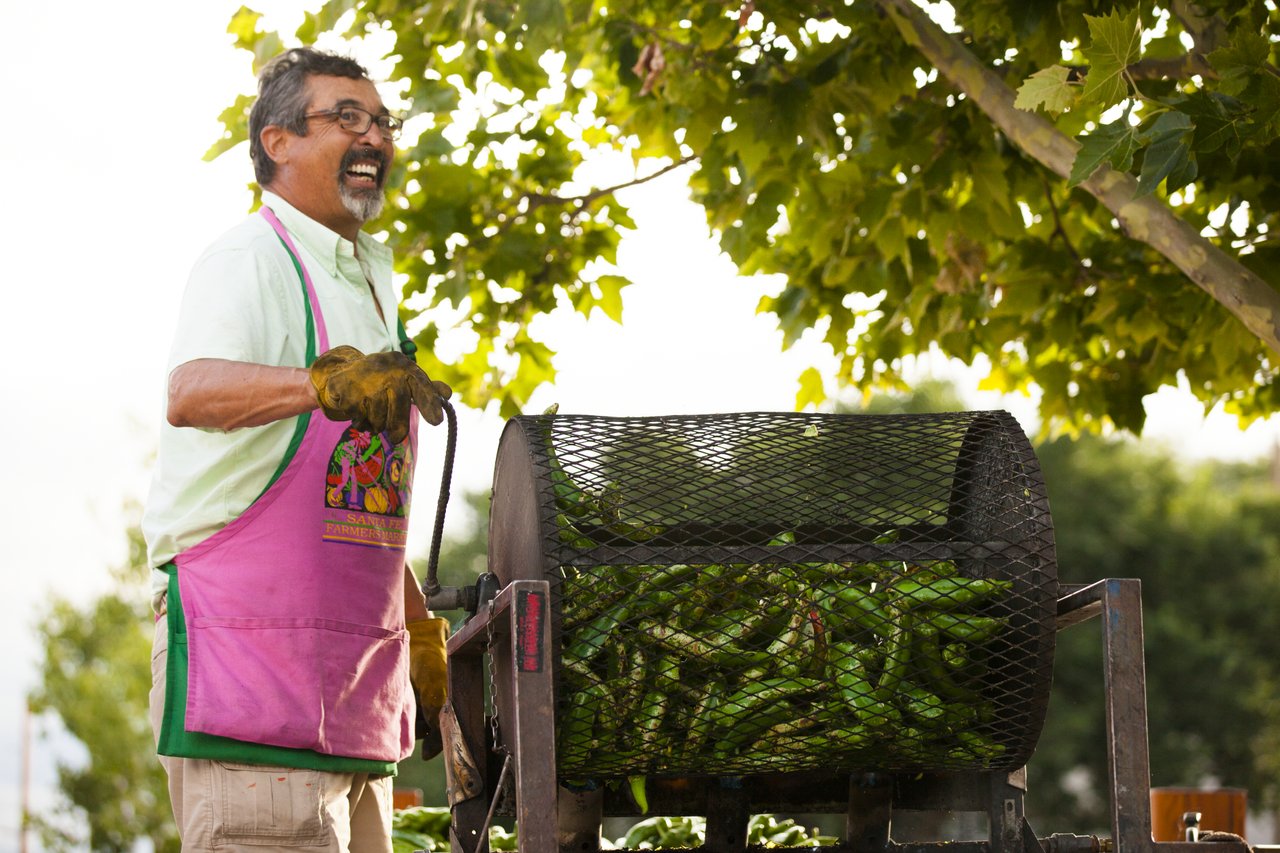 Tomasita's and The Shed
To try New Mexican food, start with Tomasita's. Consistently voted as the best New Mexican restaurant in the city, Tomasita's offers a variety of traditional New Mexican dishes, including sopapillas, green chile enchiladas, and even a New Mexican steak platter. They are also known for their margaritas – specifically, the Swirl, which is a fusion of their sangria and a frozen margarita. Their chile is hot, so if you're not used to spicy, you may want to ask to try it before ordering it. If you're more interested in red chile, then head over to The Shed as their signature dishes specifically include red chile. Due to how popular The Shed is among locals and visitors alike, be sure to get there early or to make a reservation!
Harry's Roadhouse
If you're in the mood for something completely different – this is The City Different after all – head over to Harry's Roadhouse, which is located on the outskirts of the city and is a local favorite. Known for their rather eclectic fare, Harry's offers buffalo burgers, fried catfish, and a surprising amount of different types of pizza.
Geronimo
For fine dining, journey up Canyon Road to check out several of the art galleries and stop by Geronimo, too. One of TripAdvisor's top 10 restaurants in the U.S, Geronimo is known for its four-course dinner, which changes every season. Geronimo isn't known for serving New Mexican fare but does offer some unique dishes, such as wagyu beef carpaccio and tellicherry-rubbed elk tenderloin.
WHAT TO DO
Despite being a small city, there is no shortage of things to do in Santa Fe. Between its vibrant art scene, complex history, and beautiful landscapes, it can be tricky to know just where to start.
Art Galleries & Festivals
For art lovers, start with a visit to Canyon Road. Home to over 100 galleries, Canyon Road features works from all over the world, ranging from traditional to abstract to contemporary. In addition to art galleries, various boutiques and restaurants line the street, each of which is housed in adobe. Throughout the year, Canyon Road holds multiple festivals, including the Spring Art Festival and the Christmas Eve Farolito Walk, where the entire street is lined with small paper bags with a candle in each one.
The latest art installation, Meow Wolf, was funded by Game of Thrones author George R.R. Martin, who lives in Santa Fe. Meow Wolf is the name of the art collective that created the exhibit, which is titled House of Eternal Return. Housed inside a vacant bowling alley, House of Eternal Return features over 70 rooms of immersive art. The house is designed to include multiple dimensions, which bend through space and time.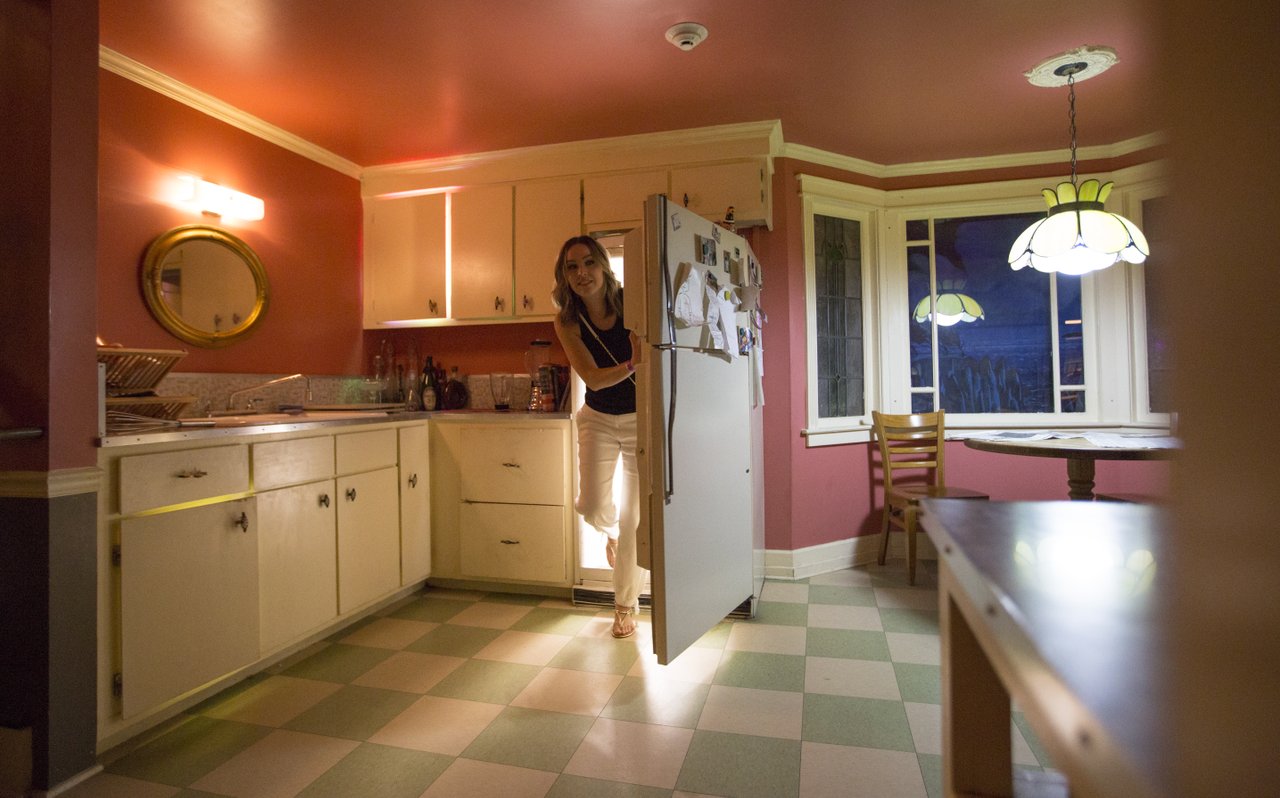 Historical Sites and Museums
Santa Fe is the oldest capital city, dating back to 1050 when there were several Pueblo indigenous villages. When Spanish conquistadors arrived in the early 1600s, Santa Fe was "formally" found. Over the next 400 years, Santa Fe officially became a state in 1912. Today, numerous buildings are from as early as the 1600s, including the Loretto Chapel, which is known for its "miraculous staircase." To dive into the full history of Santa Fe, the New Mexico History Museum and the four-centuries-old Palace of the Governors are home to thousands of artifacts from the various eras of the city.
Fun Seasonal Activities
During any season, Santa Fe is absolutely beautiful, and the best way to enjoy it is to get outdoors! In the winter, skiers and snowboarders head up to Ski Santa Fe, which is only 16 miles away from the city. There are trails for any type of snow bunny, whether you're a novice or pro. In the summer, try a bit of white water rafting along the Rio Grande or explore the rolling hills either by foot or on horseback. Fall is one of the best times to visit Santa Fe as the aspen trees change colors. The Aspen Vista Trail is the trail to hike to see the foliage in all of its glory, but it can get crowded – be sure to hike early in the morning to avoid the crowds.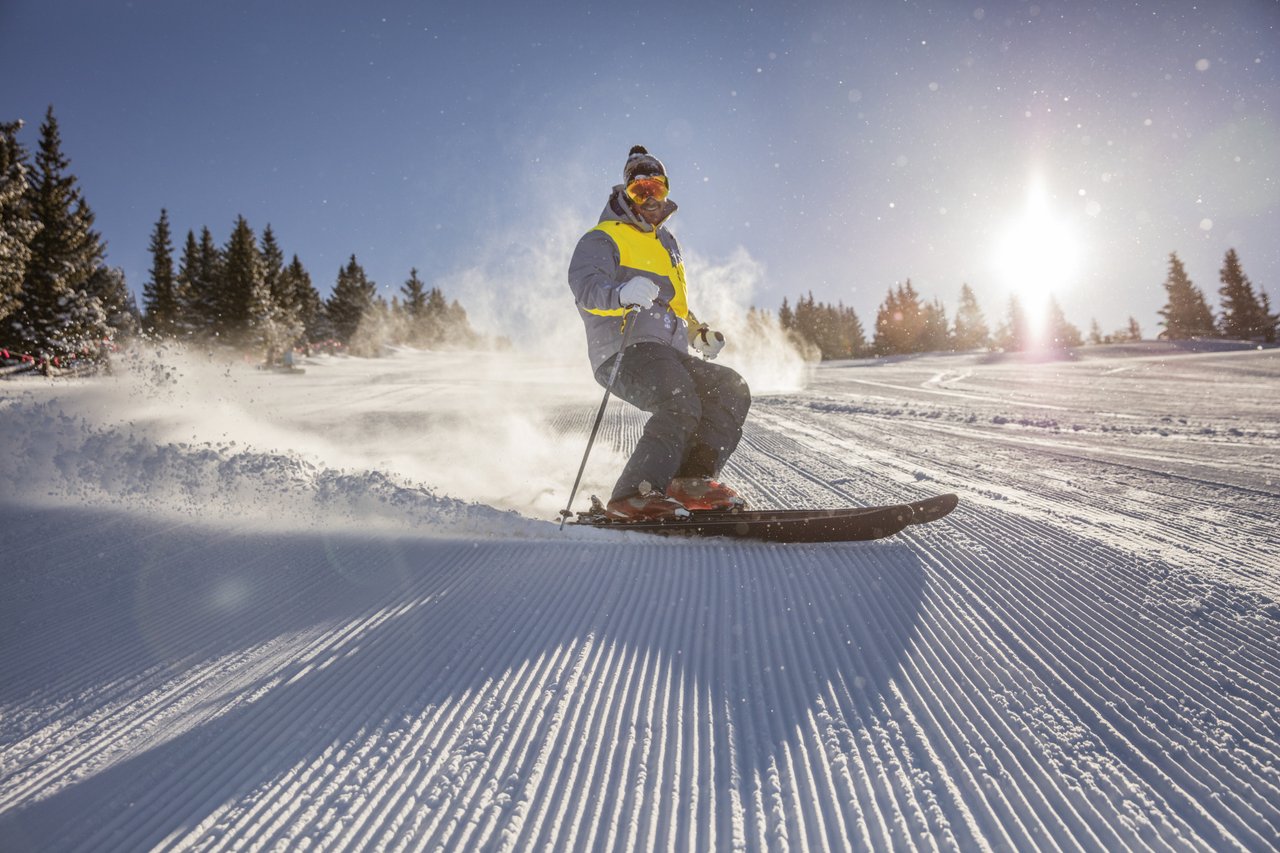 Ten Thousand Waves
For a bit of relaxation, Ten Thousand Waves is modeled after Japanese mountain hot spring resorts. You can soak in your own private tub in a serene Japanese garden or receive a deep tissue massage. If you get hungry, there is a delicious restaurant on site that serves a variety of Japanese dishes. You can even stay in one of the resort's rooms for a truly romantic getaway.
The Burning Zozobra
Throughout the year, Santa Fe holds a wide variety of festivals and markets. The most offbeat celebration is The Burning of Zozobra, which takes place at the beginning of September. A ritual that first began in the 1920s, Zozobra is a 50-foot high effigy that is made of wood, cloth, and hundreds of bags of paper. On each sheet of paper, locals write down one thing they would like to leave behind. Zozobra himself represents gloom, so every year Zozobra is invited to a party in his honor. The city then gathers to burn Zozobra – and the darkness and gloom – of the past year. He even talks, telling the crowd not to burn him. Zozobra is truly an event that has to be seen to be believed.
Local Markets
Most of the city's festivals and markets take place in the summer. The Traditional Spanish Market, which is held in July, includes handmade traditional art from several local Latino artists, while the Swaia Santa Fe Indian Market, which is held in August, is the largest Native American art market in the world. Jewelry, beadwork, drums, and textiles are just a few of the crafts that are sold by the best indigenous artists in the U.S. In addition to the market, there are also Native American fashion shows, music, dances, and performances.
Zia Regional Rodeo
The New Mexico Gay Rodeo Association hosts the Zia Regional Rodeo in August. While the Rodeo does have traditional events such as roping and riding bulls, it also holds the Wild Drag Race, where contestants in full drag try to hold onto a bull.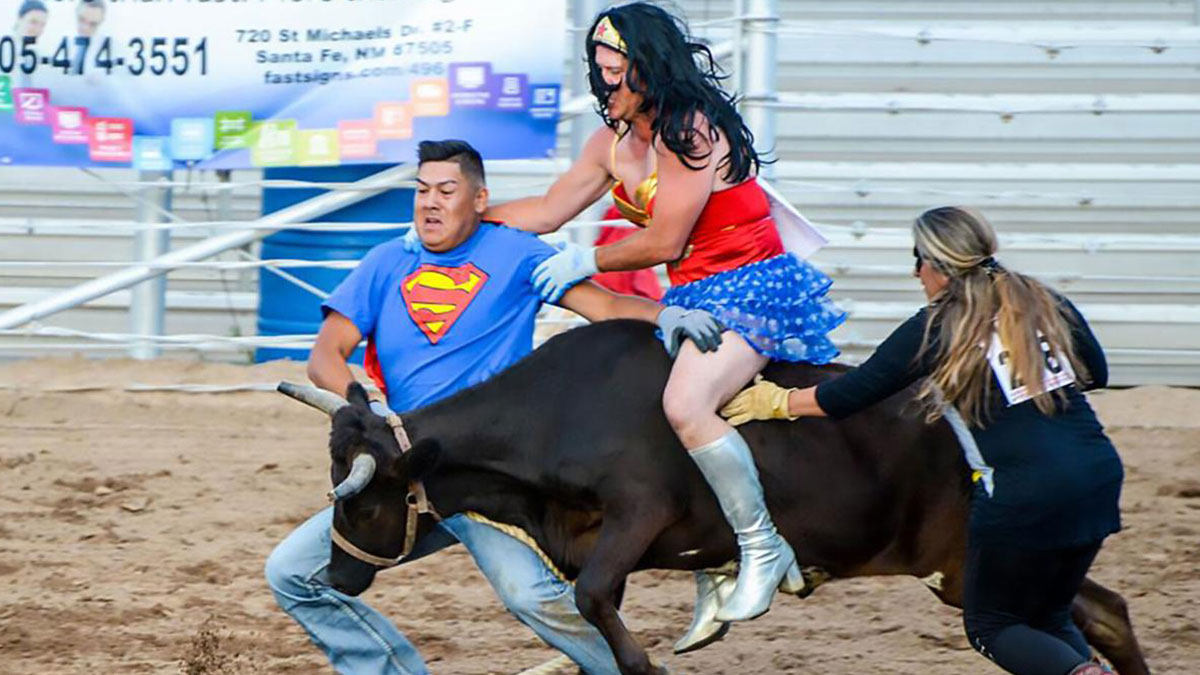 NIGHTLIFE
Santa Fe Opera
Even though Santa Fe may not have a thriving nightlife scene, the city doesn't just shut down at 9 pm. Every summer, the Santa Fe Opera House – an open-air venue surrounded by the majestic Sangre de Cristo and Jemez Mountain ranges – hosts several operas.
More Local Hangouts
Located in downtown Santa Fe, The Matador is the closest equivalent to a gay dive bar. Situated inside a basement, The Matador has a funky, punk rock vibe that is very different from most of the bars in the city. Also located downtown is Vanessie Restaurant & Piano Bar, which is a piano cabaret and a great steakhouse. The venue features renowned crooner Doug Montgomery as well as other prominent artists. For a more local Santa Fe feel, El Farol, located on Canyon Road, offers Spanish tapas and holds a weekly flamenco show.
In the city's up-and-coming Railyard District is the Violet Crown, which is a cinema that doubles as a tavern. Every night, the Violet Crown shows a wide array of films, ranging from new indie releases to cult classics. The theater offers munchies and numerous craft beer options. If you're up for more of a party, Cowgirl offers BBQ as well as live music and a pool hall.