For LGBTQ+ couples, Seattle is a great city to visit for a long weekend. Recently, my husband Triton and I had a fantastic experience – well, experiences – there. Even though there are so many things to see and do in Seattle as a couple, we made a successful effort to fit in as much as we could in one weekend.
In my opinion, Seattle is one of the most beautiful coastal cities on the West Coast. It's full of liberal, kind-hearted people who care about the planet and our environment, and the city has a mix of different rich cultures that influence the local cuisine, music, and art scenes.
As we explored downtown and the nearby neighborhoods, we lost count of the number of rainbow flags proudly displayed on the railings, rooftops, and flagpoles of several homes and businesses. Diverse queer couples walked hand-in-hand and showed as much PDA as they cared to without even a glance from others.
Based on our experience, we suggest spending at least three nights in the Emerald City to have a proper visit. Of course, more time is better, but a long couple's weekend in Seattle will provide you time to connect and bond with your significant other and create wonderful new memories, too!

Seattle is Giving Romance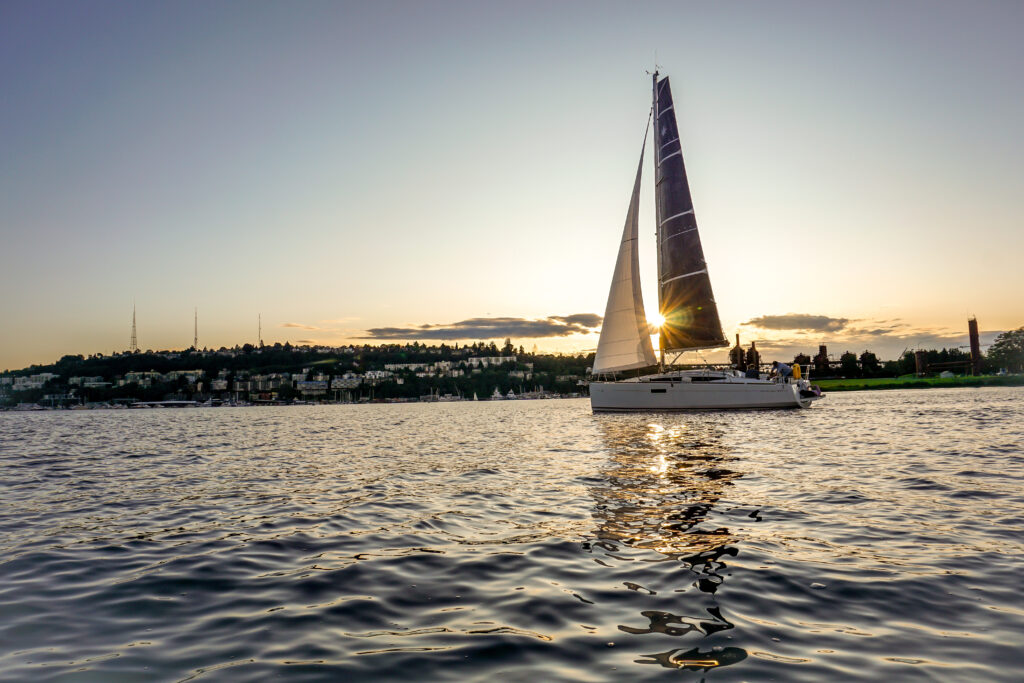 Nestled in the hills along Elliott Bay and surrounding area, Greater Seattle serves up plenty of romance. The views alone give visitors pause to relax and take in the city's natural and manmade beauty – from atop the Thompson Hotel's Nest rooftop bar to the historic Smith Tower Observatory. Much like San Francisco, downtown Seattle's steep streets slope down towards its waterfront, which features hotels, restaurants, and even shops.
We sat with wine glasses in hand, enjoying it all in during both sunlight and moonlight. Even lying in our hotel room bed at the Hotel Theodore, comfy with fluffed pillows and morning coffee, we enjoyed the sun glistening on the ocean waves. Of course, there are more than views that give Seattle its romantic allure.
Here are some great ways to plan your romantic getaway in Seattle.
---

Activities Drawing Couples Closer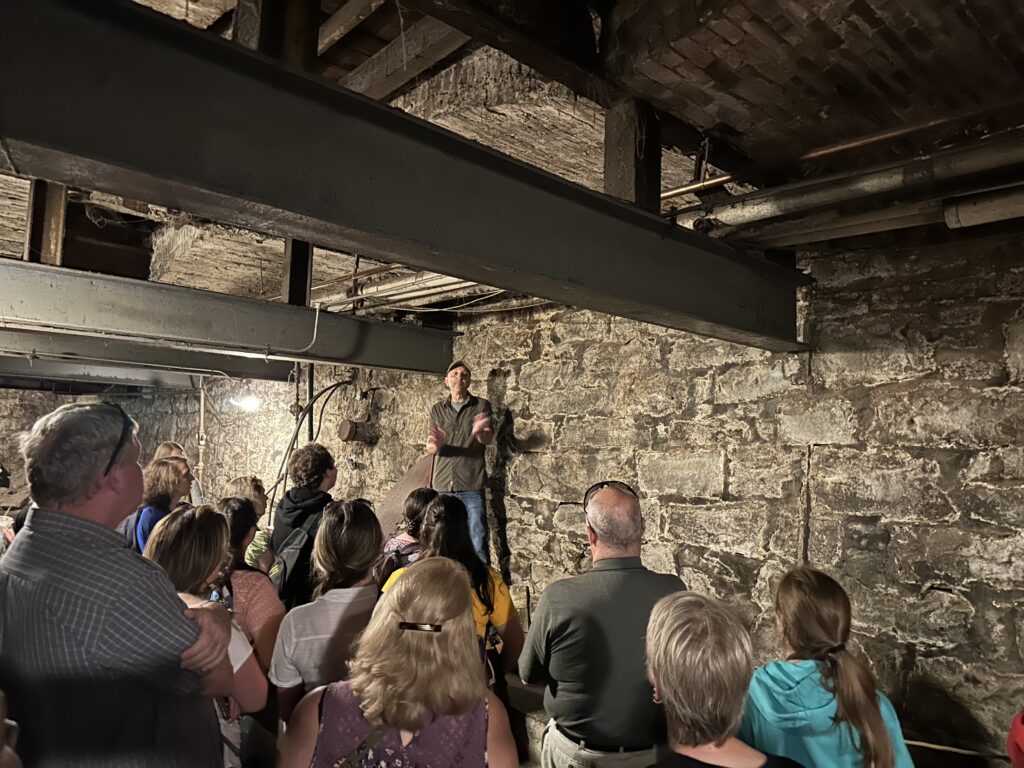 In Seattle, we sought activities that would allow us to enjoy each other's company while doing something new together. This city offers many options.
Underground Tour
Underneath the Pioneer Square neighborhood in downtown Seattle, visitors can take a guided underground tour of a city below the city. The 25 square blocks contain below-ground buildings and sidewalks, preserved since the late 1800s. This 90-minute tour of Seattle's underground led us through a labyrinth of abandoned basement rooms that used to be on the street level until city planners raised the streets to avoid flooding.
It's dark enough to sneak a kiss or two with your significant other, and spooky enough to cause the faint of heart to get a little closer. Maybe the fact that this underground used to be the denizen of ladies (and at least one gentleman) of the night makes it all the racier and more romantic.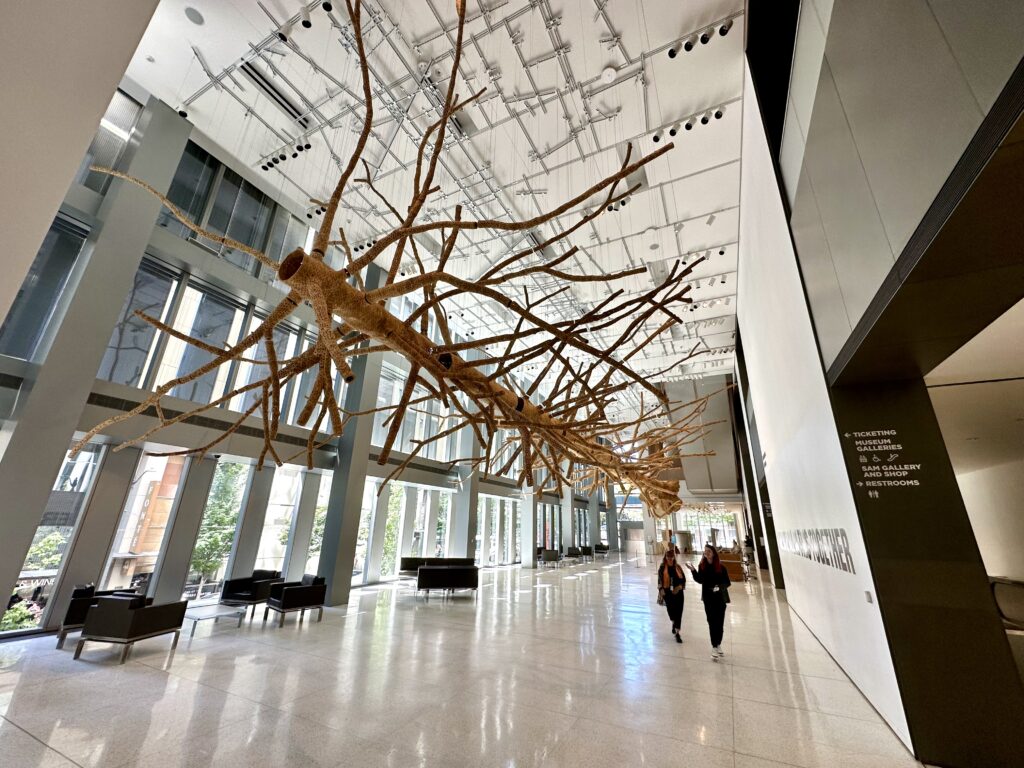 Seattle Art Museum
There is something passion-filled about visiting a museum with someone you love, and we were one of many same-sex couples at the Seattle Art Museum (SAM). It's a large space to showcase world-class art and it's intimate enough for visitors to enjoy it within a reasonable timeframe. SAM is filled with modern and antique treasures, including giant Andy Warhol close-ups of Hollywood starlets and heart-rendering prints of the moon and stars created by indigenous locals.
Glassblowing Experience
People in Seattle have a thing for glass art, as evidenced by world-renowned artist Dale Chihuly, who built the Chihuly Garden and Glass, a museum of his work that is conveniently located next to the Space Needle. We paid a visit to Seattle Glassblowing Studio for a private session where we learned how to blow glass into beautiful creations, like colorful bowls, globes, and vases. Couples can get close to the fiery furnaces to melt their glass and work together to create a special glass creation to take home. Sessions start at $70 and range up to $495 based on length of time and complexity.
---

Streets to Stroll Arm in Arm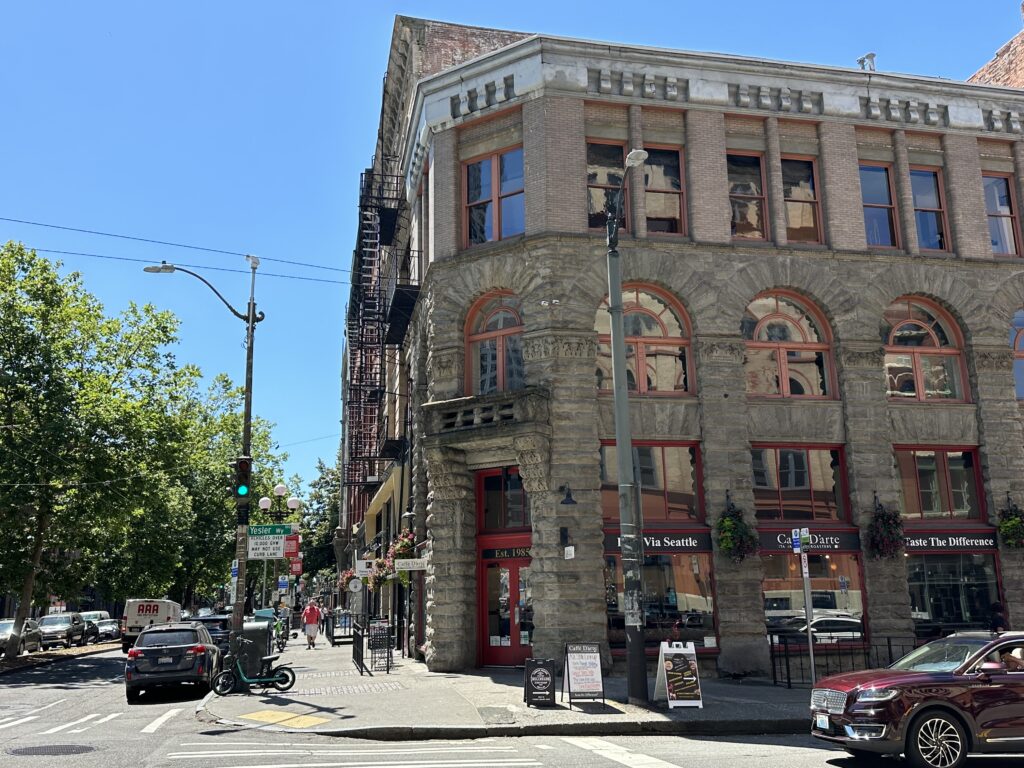 Despite its hilly terrain, Seattle is a walkable city that features interconnected neighborhoods that have distinct personalities and are located near the downtown area.
Pioneer Square
Since Seattle was founded in the 1850s, Pioneer Square was the center of activity as the city grew. It's located in the heart of Seattle and is home to dozens of shops, galleries, and restaurants housed within historic buildings. We loved rummaging through the curios at Bon Voyage Vintage, the hilarious gifts at Ugly Baby, and the sex-positive art collections at Gallery Erato. If you've worked up a hunger exploring the area, dip into Café Paloma for some delicious Mediterranean cuisine and a nice cold local brew.
First Avenue
Downtown in the midst of it all, First Avenue is one of the main thoroughfares that connects many of Seattle's main attractions. Running from Belltown to Pioneer Square and beyond, this easily walkable street connects popular tourist attractions such as Pike Place Market, Seattle Art Museum, and the Central Waterfront via grand staircases.

Belltown
Just north of downtown, Belltown is an artsy neighborhood of historic buildings intermixed with modern architecture. There are tons of queer-friendly businesses including boutiques, galleries, restaurants, bars, and nightclubs. One of our favorites in the area is Biscuit Bitch, an incredibly popular lesbian-owned restaurant with the best biscuits and gravy we've had outside of the Carolinas. We also recommend the burlesque show at The Rendezvous and a nice stroll in Olympic Park (near the trendy Ace Hotel) to check out sculptures and art.
Capitol Hill
Long recognized as the center of all things LGBTQ+, Capitol Hill is filled with queer-owned businesses and friendly establishments. The accessories at Station 7 caught our attention, and the interior décor at Retrofit Home made us want to redecorate our house… again. Rainbow crosswalks punctuate intersections, and sidewalks are filled with happy people showing tremendous diversity and creativity. We felt welcome by gender non-conforming fashionable folx carrying or donning rainbow flags, patches, t-shirts, and tattoos. This neighborhood has a high concentration of bars and clubs for dancing and to celebrate all members of our community.
International District
A diverse Asian population – primarily Chinese, Japanese, and Filipino – coexist in this neighborhood filled with restaurants, galleries, shops, and museums. Once tenement housing, these brick structures have been reclaimed, born anew as spaces to celebrate the international diversity of the people who immigrated here in the early 1900s looking for a better life. We strolled through the Wing Luke Museum to view art by local queer indigenous artists and then walked down the street to sample the cuisine at one of the many local restaurants and eateries located nearby. Hood Famous & Café came highly recommended for its specialty creations with ube (purple yam) as the primary ingredient. We fell head over heels in love with the ube cheesecake, a local favorite and now one of ours too.
---

Share a Romantic Meal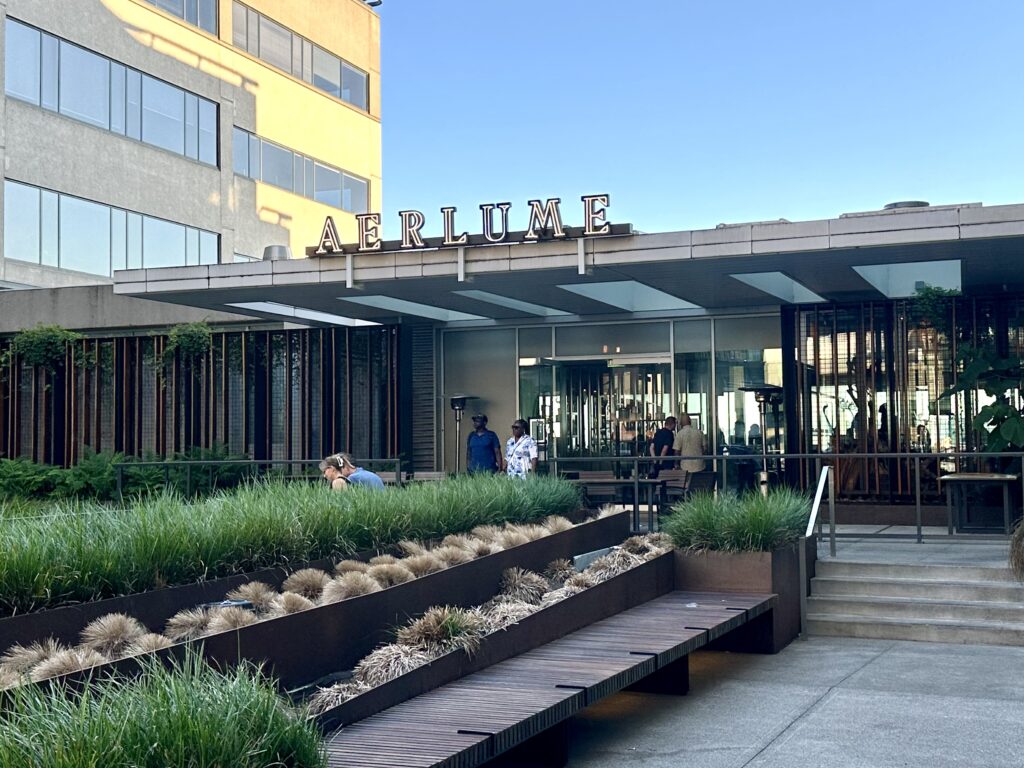 Seattle is home to a strong food culture and has been attracting top chefs for years. The restaurant scene offers several options for couples interested in trying something new together.
Rooftop Drinks at The Nest
Rain or shine, The Nest Bar atop the Thompson Hotel serves up some of the best views from downtown along with innovative cocktails and delicious small bites. We loved sipping on signature cocktails like the Wagon Wheel a combination of mint-infused Knob Creek Rye, Cointreau, peach, and lemon. The Garden Party is made with ginger-infused Hendricks Gin, rhubarb syrup, lime, and soda. For an appetizer, we tried the Fava Bean Dip with sunflower dukkha, spearmint, and crisp vegetables. Reserve a table along the railings to take full advantage of the panoramic views.
Waterfront Dinner at Aerlume
Located on a perch overlooking the waterfront, Aerlume seems like it was designed for romantic dining for two with its warm and inviting room filled with flattering golden light and spectacular views of the waterfront and sailboats and a perfect spot to watch the sunset. Inspired by the bounty of fresh, locally grown ingredients, the menu is full of so many tantalizing dishes you'll want to share plates. Try the Dungeness Crab Lettuce Wrap appetizer and the Wild Alaskan Cod with smoked andouille sausage, heirloom carrots, lemon chili spinach, and smoked hazelnuts in sauce vin blanc. Both are so good and worth sharing with your significant other.
RockCreek Seafood & Spirits
Head to the Fremont neighborhood to experience RockCreek, known for its seafood and spirits. This restaurant has some of the most inventive and interesting seafood dishes we've experienced in a while. Our excellent server had some spot-on menu recommendations, including the Mussels Bruschetta, served with saffron aioli, garlic confit, and fresh dill. She also convinced me to try a Washington Chardonnay that I truly enjoyed, and I normally hate Chardonnay.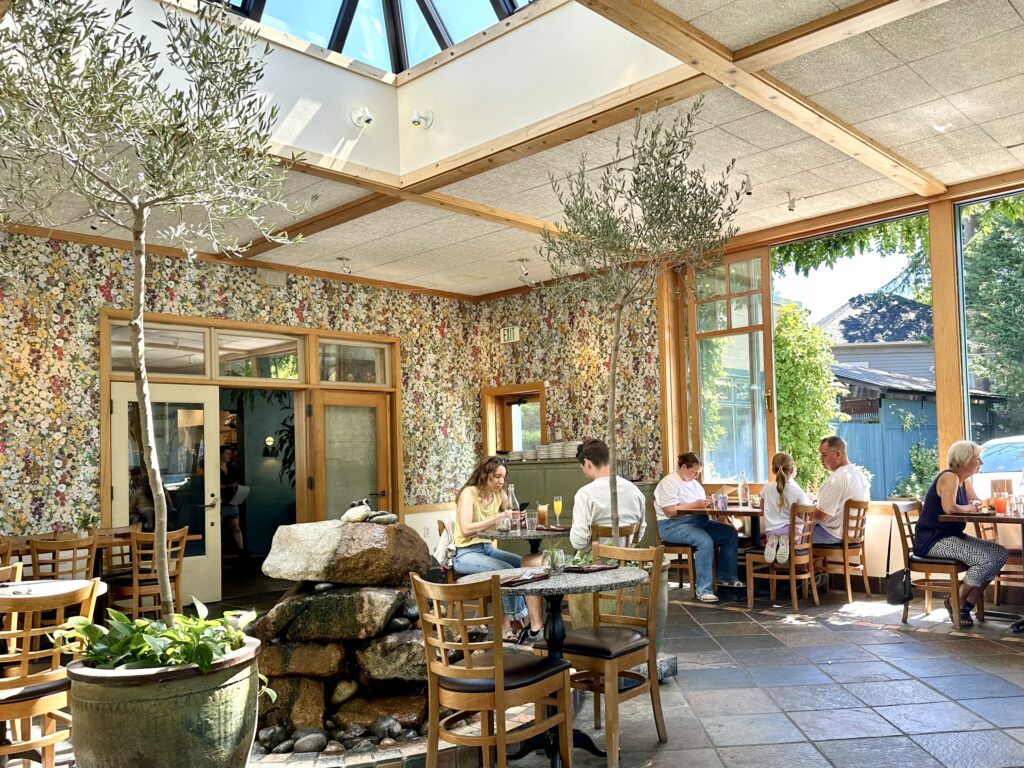 Veggie-Forward Brunch at Café Flora
The elevated vegetarian and vegan dishes at the trans-owned Café Flora combine flavor and flair. A good example of this is the must-have Cinnamon Roll with cream cheese frosting. Several dining rooms and patios are festooned with floral themes, giving Café Flora a hippie-chic atmosphere perfect for a hearty breakfast that can include Peaches and Cream Pancakes and a Roasted Pepper and Portobella Frittata. 
Conversation Kitchen & Bar at the Thompson Hotel
Sophisticated, dark, and lovely, Conversation is not your typical hotel restaurant. We were drawn by the kitchen's stellar reputation for dishes like Bourbon-Glazed Pork Belly with blackberry ancho jam, mustard maple glaze, and cornbread puree. The Halibut dish was served with za'atar crusted along with tomato fava bean stew, lemon, and roasted spring onion. Everything we ordered disappeared from our plates, so clearly the chef here is doing things right.
---

Romantic Hotel to Cozy Up Together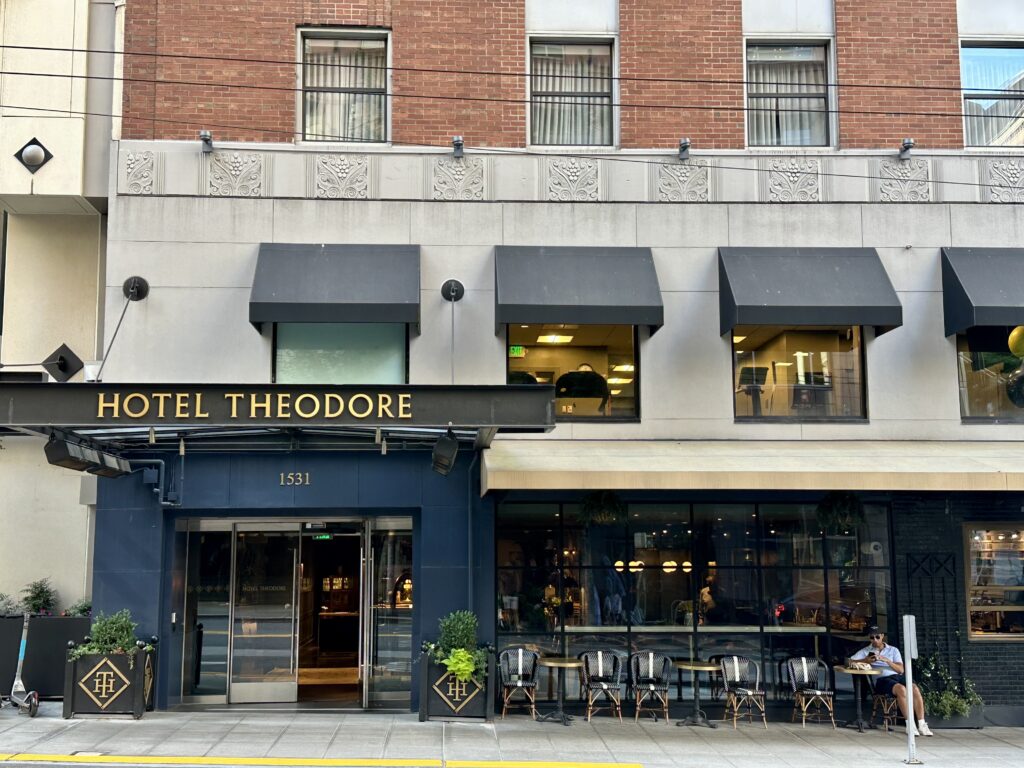 There's no shortage of cool places to stay when you're trying to book the perfect hotel or accommodations for a romantic getaway in Seattle. For this trip, we decided to stay at a fun boutique hotel with luxury amenities, where we could pamper ourselves.
With sincere enthusiasm, we recommend the Hotel Theodore. This stylish art deco-period building has been renovated into a stunning boutique hotel to give guests a sense of history, fashion, and humor. Every floor offers a display of historic forestry tools used long ago to harvest local timber, and somehow this works when combined with velvet furniture in rich jewel tones. The lobby is airy and colorful in its French-modern style with oversized comfortable seating and high ceilings, while the guest rooms lured us with soft textures and interesting art installations.
Our large corner suite featured a king bed, sitting area, and bathroom. Oh, that bathroom! One enormous room is dedicated to a soaking tub built for two along with an open-concept shower that takes up the rest of the space. There is plenty of room to get wet together. The toilet and sink are located in another spacious, charming room.
Morning coffee is important to our happiness and Made Coffee in the lobby is the ideal spot to grab a quick latte and croissant to start the day.