Whether you're visiting Las Vegas for the first time or planning a repeat getaway to experience the 40th Anniversary of Las Vegas Pride, Vacationer Magazine has you covered! We've pulled together some of the best experiences in Las Vegas that are LGBTQ+-friendly including a few Insta-worthy tourist attractions, inclusive spaces to mingle with local artists, and multi-entertainment districts that are sure to stimulate all five of your senses.
We also provide hotel accommodations to match every budget, and of course, highlight the diverse and vibrant venues that openly welcome the LGBTQ+ community. With this Las Vegas travel guide, you'll be equipped to experience everything in the destination and beyond its famous Strip.
---

Where to Stay in Las Vegas
If you're looking for LGBTQ+-friendly places to stay when visiting Las Vegas, there's a variety of options at different price points to suit your budget.
New Hot Spot Hotel
One place you should consider is the new Bent Inn, scheduled to open this year. The only LGBTQ+-owned and operated boutique hotel in Las Vegas, Bent Inn will feature 33 rooms, an onsite gastropub, and a poolside food truck. It is conveniently located close to downtown Las Vegas near Fremont Street and other cool attractions.

Cost-Efficient Hotels
If you're looking for hotel rates that won't break the bank, then you should consider checking into Luxor Hotel & Casino. LGBTQ+ travelers will also be happy to know that MGM Resorts International, the parent company of Luxor Hotel & Casino, is routinely on HRC's Corporate Equality Index. So, a company that takes care of its LGBTQ+ staff is a positive sign that it's also a good place to stay.
Flamingo Las Vegas is another excellent option. Featuring six notable drag queens in regular performances, RuPaul's Drag Race LIVE! is a must-see! Caesars Entertainment International is routinely on HRC's Corporate Equality Index. Again, even though the Equality Index is focused on the employee experience, it's still significant.

Moderately-Priced Hotels
Check into Palms Casino Resort, known for hosting LGBTQ+-focused events such as AFAN's (Aid for AIDS of Nevada) annual Black & White Party they also host GLAM, a reoccurring party at the iconic Ghostbar nightspot.
Another option in this price range for LGBTQ+ vacationers, SAHARA Las Vegas features Magic Mike Live, a popular production among the LGBTQ+ community.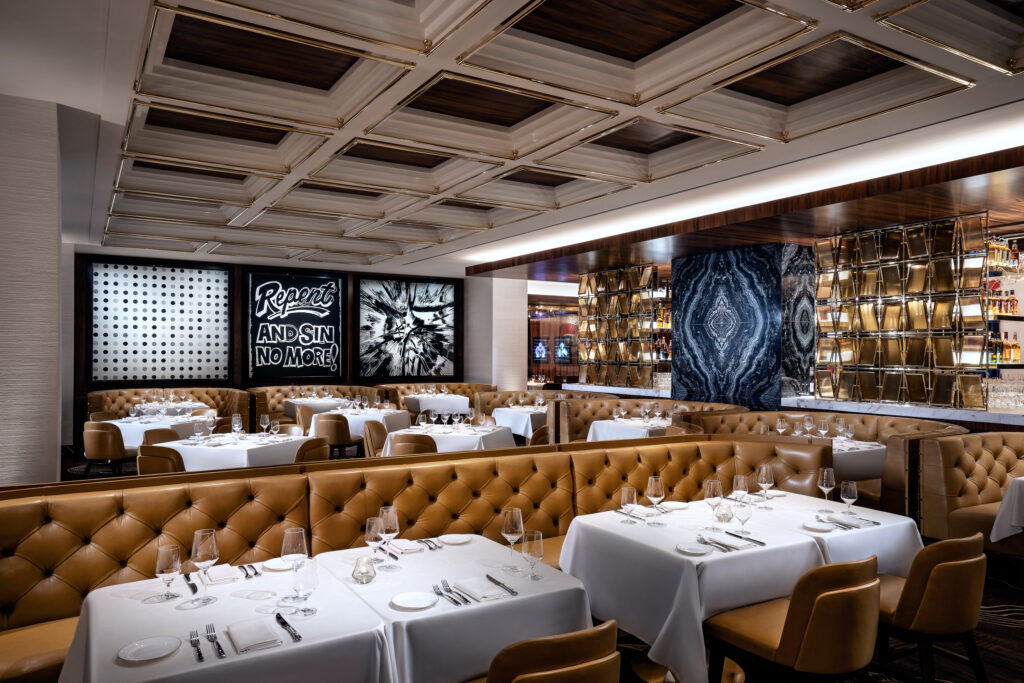 Luxury Hotels
Go ahead and splurge! LGBTQ+ visitors have several luxury hotel options to consider when visiting Las Vegas, including Wynn Las Vegas, known for hosting LGBTQ+ entertainers such as gay comedian Matteo Lane and it is routinely on HRC's Corporate Equality Index, too.
Another LGBTQ+-friendly luxury hotel or resort is Resorts World Las Vegas. This resort also has played host to several LGBTQ events, including the LGBTQ Center of Southern Nevada's annual Honorarium event. The hotel also offers entertainment from many supporters of the LGBTQ community, most notably headliner Katy Perry.
---

LGBTQ+ Bars and Clubs in Las Vegas
Las Vegas is home to many gay bars and nightclubs, and a few are located in the Fruit Loop, a section of Naples Street near the University of Nevada, Las Vegas, which is also near the famous Strip. Instead of having you sift through a long list of places, you can check out a few of these recommended LGBTQ+ bars below.
FREEZONE Bar & Nightclub
Grab your best dancing shoes before you head to this popular nightclub that touts itself as "the absolute best LGBT+ nightclub for locals and tourists of Las Vegas," which hosts several events ranging from drag performances and exotic dancers to karaoke and comedy shows.
Piranha Nightclub
This club hosts theme nights such as Latin Tuesdays and Sundays. Every night, Piranha Nightclub has a different drag queen host, and occasionally they bring in guest DJs. Piranha is popular and the first floor gets crowded quickly. The second floor is the perfect vantage point if you enjoy people-watching. Arrive early on the weekends because there are always long lines as well as a cover charge to get in so order your tickets online if you can.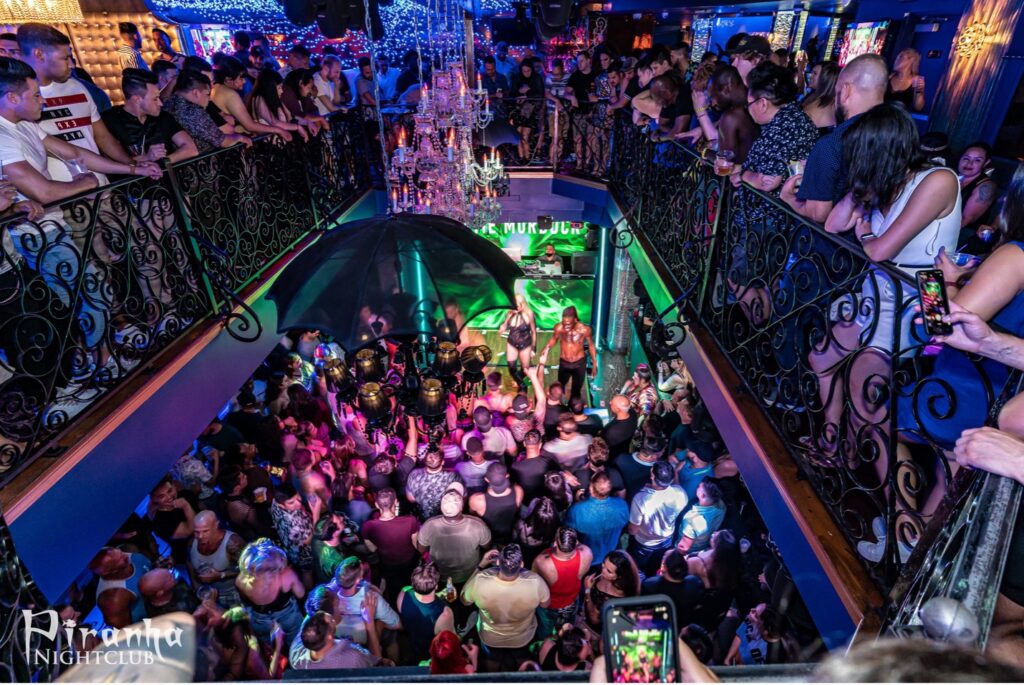 The Garage
The Garage resembles an autobody shop, but guests will find a welcoming gay bar with shuffleboard, video poker, pool, darts, and daily drink specials inside. Grab a bite to eat and order from the bar's extensive grill menu. The Garage has an outdoor patio that allows tourists to mix and mingle with the local patrons.
The Phoenix Bar & Lounge
The Phoenix Bar & Lounge is an easy-going bar that hosts a diverse lineup of events, from high-energy drag shows, trivia, interactive bingo nights, video game tournaments, and karaoke, and it also hosts a regular Sunday Brunch.
Charlie's Las Vegas
Country western bar Charlie's Las Vegas features live DJs and theme nights including its popular underwear night. You'll also find line dancing, live bingo, and more at this popular spot!
---

What to Do in Las Vegas
In addition to its vibrant nightlife for LGBTQ+ visitors, Las Vegas offers a variety of unique experiences holding true to its nickname, the "Entertainment Capital of the World." Here are a few not-to-be-missed sights and attractions you should add to your trip itinerary when planning a visit.
The Neon Museum
Take an illuminating self-guided tour of The Neon Museum, which includes the Neon Boneyard and North Gallery, two open-air exhibitions of historic neon signs. Visitors can go on an informative tour with an onsite guide who will reveal some of the incredible stories behind each iconic sign on display, including the personalities who created it, what inspired it, where and when it was made, and the role it played in the destination's distinctive history. During National Pride Month, tour guides place a greater emphasis on LGBTQ+ stories that include facts from Las Vegas historian and queer advocate Dennis McBride, adding important details about key figures in the local LGBTQ+ community, such as celebrity pianist Liberace, drag queen star Kenny Kerr, and trans actress Christine Jorgensen.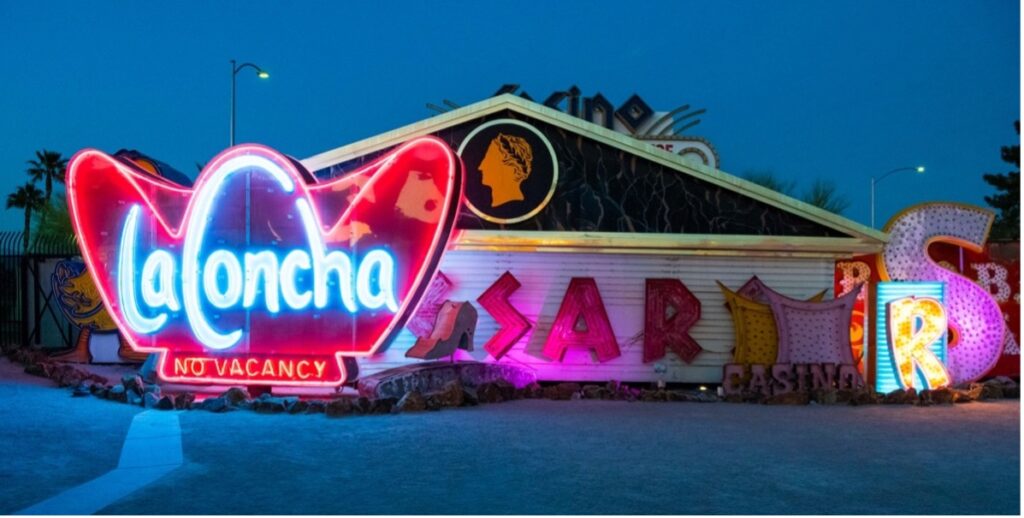 Seven Magic Mountains
Created by internationally renowned Swiss artist Ugo Rondinone, Seven Magic Mountains is comprised of seven towers of colorful, stacked boulders that stand more than 30 feet high. Located 11 miles outside of Las Vegas, the public art installation sits within the Ivanpah Valley adjacent to Sheep Mountain and the McCullough, Bird Spring, and Goodsprings mountain ranges. Seven Magic Mountains opened in 2016 and was originally scheduled to be on display for two years. Now, it has become an Instagram and TikTok-worthy attraction that LGBTQ+ travelers should add to their to-do list when visiting Las Vegas.
Fremont East Entertainment District
This six-block pedestrian-friendly district consists of restaurants, lodging, sidewalk cafes, rooftop bars, nightclubs, and music and entertainment venues. Catch a comedy show, live music, or avant-garde performance at Commonwealth, Inspire Nightclub & Bar, or Fremont Country Club. All of these are located in the neighborhood, which conveniently sits adjacent to the popular tourist attraction, Fremont Street Experience. For adventurous LGBTQ+ visitors, don't miss out on seeing the bright lights of the Viva Vision Light show on Fremont Street from above on a heart-pumping zipline ride at SlotZilla!
AREA15
If you're looking for a wonderful sensory overload, then this place is for you! AREA15 is an immersive entertainment and events district touted as a "multiverse of attractions" that includes restaurants, bars, and shopping. Visitors can enjoy more than a dozen onsite activities, including unique virtual reality experiences, including Birdly where you can get a bird's-eye view of New York City or fly high above dinosaurs during the Jurassic period. Strap yourself in and experience the adrenaline-pumping space odyssey on the OZ Ride. If you're into vintage arcade games, then head to Asylum Bar + Arcade, where you can enjoy a craft beer or handcraft cocktail while playing everything from a game of pool to pinball to PacMan.
Note: An Experience Pass grants visitors access to 11 experiences for 3 to 10 hours. Keep in mind that guests can engage in up to 3 attractions per hour when factoring in the wait times.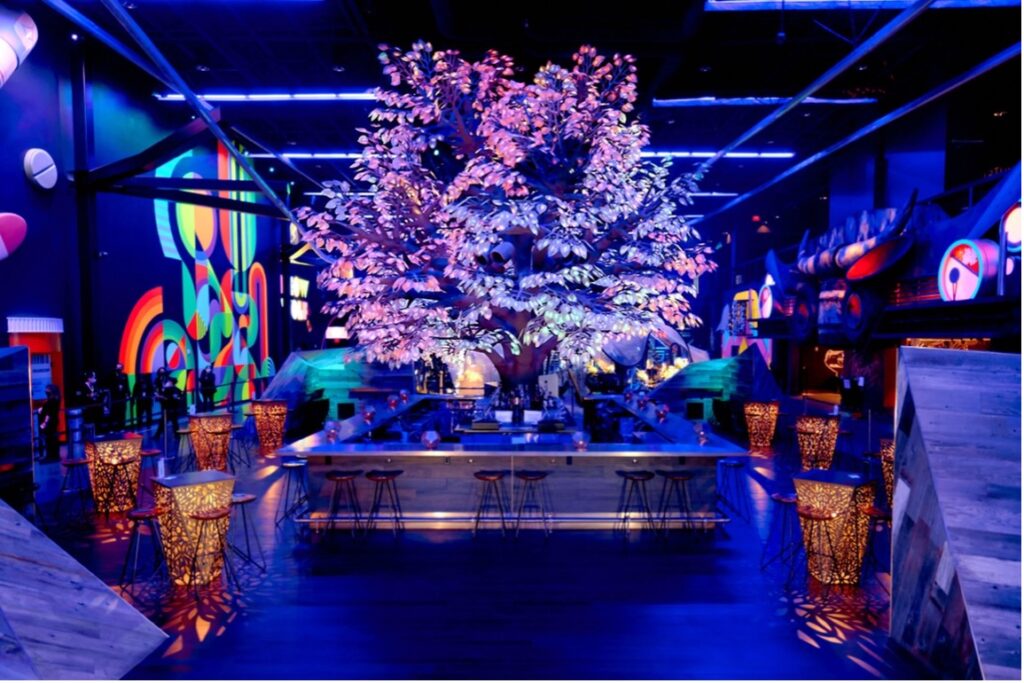 Las Vegas Arts District
Several years have gone into the growth and improvement of the Las Vegas Arts District, an ongoing effort that continues to elevate the neighborhood's identity and attract unique prosperous businesses while maintaining the Arts District's authenticity. Consider including a visit to The Arts Factory, which houses art studios and galleries as well as unique shops and businesses such as DEL'LA Couture, Forever Flowers By GiGi, Diamond Sutra Books, and Blue Sky Yoga. We'd be remiss if we didn't mention a stop to grab a bite eat and drink at 18bin Bar and Restaurant, known for hosting theme nights and events such as a Vintage Bike Night, Comedy Night, a night of live DJ performances, and weekend brunch for all ages from 10 am – 5 pm. Art Square is another place worth visiting that includes galleries, shops, live theater, food & drink, and an Art Garden. Downtown Las Vegas' Art District is a must, especially for creative LGBTQ+ folks who enjoy traveling to connect with artists and the members of the local community.
Drag Brunch at Señor Frog's
Unleash your fiesta at bottomless Drag Brunch with performances from star-studded queens from RuPaul's Drag Race and other female impersonators. With a highly interactive show and bottomless brunch on the menu, you're in for the time of your life. Taking place on Fridays and Saturdays at Señor Frog's at Treasure Island – TI Hotel & Casino, be sure to add this to your itinerary for a fabulous trip to Las Vegas!
Our LGBTQ+ travel guide will help you plan an amazing trip to Las Vegas. For more travel inspiration and information, check out Visit Las Vegas and follow them on X (formerly Twitter), Facebook, Instagram, TikTok, and YouTube!