Embark on a fall getaway in the Finger Lakes Region to explore Watkins Glen, Corning, and everything in between these two charming towns.
When most people think of the state of New York, they immediately think of New York City, and the bright lights in Times Square, catching a show on Broadway, or a day of shopping along 5th Avenue. But a weekend escape to the Big Apple isn't your thing, or if you're looking for a relaxing getaway to avoid large crowds, there are dozens of ways to explore the rest of the state.
After a visit upstate New York this summer, I'd recommend a trip to the state's Finger Lakes Region, the cities and towns that surround the 11 lakes, including the deepest, the 618-feet deep Seneca Lake.
By the time this article is published, the peak time to catch the leaves donned in bright fall colors may have come and gone, but there is still much to see and do when visiting the area, and you can always plan a road trip when the temps warm up again.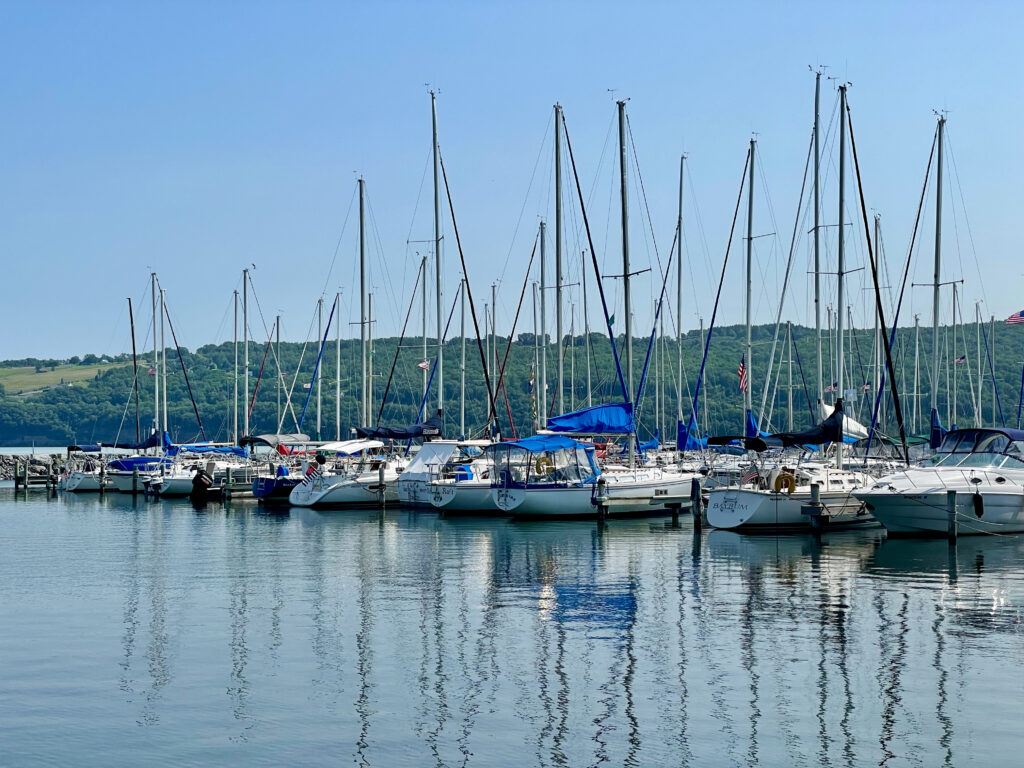 Because I'm from Washington, DC, I flew into the Fredrick Douglass Greater Rochester International Airport, rented a car a month or two in advance, and headed for Watkins Glen. Located on the southern tip of Seneca Lake, the small town is a good home base to explore the area for an extended weekend or longer, if you so desire. Here's a detailed recap of my five-day extended weekend in the Finger Lakes, and my recommendations on where to stay, things to do, and where to eat.
Editor's Note: Those who travel are strongly encouraged to check local government restrictions, rules, and safety measures related to COVID-19 and take personal comfort levels and health conditions into consideration before departure.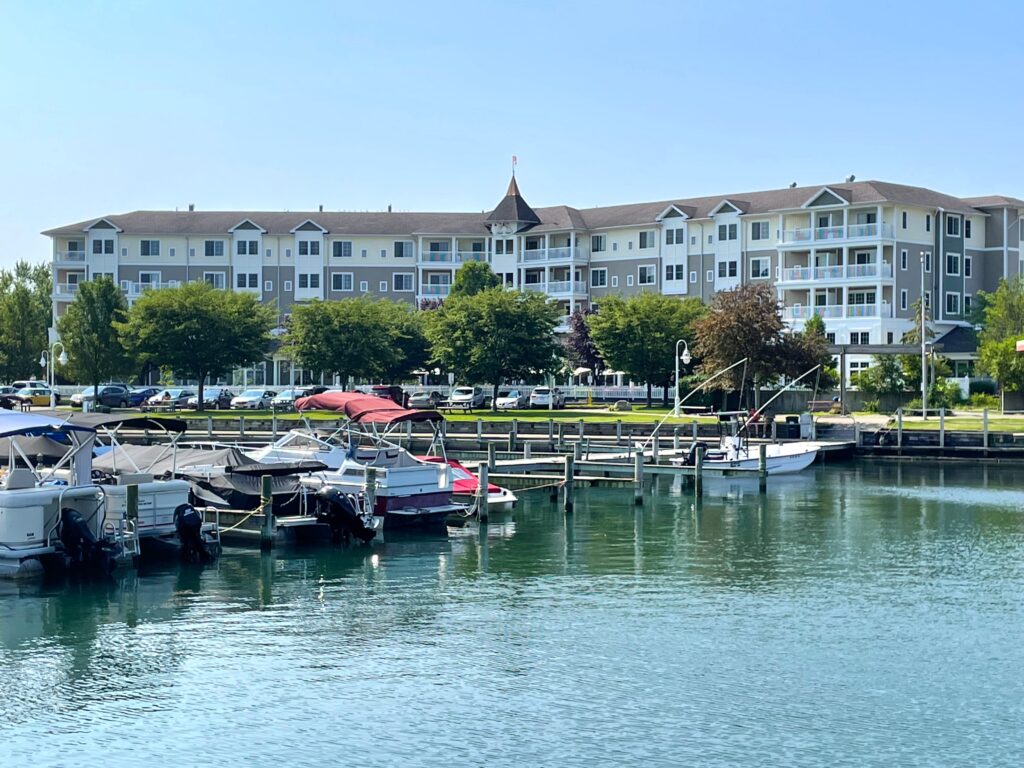 Where to Stay
Watkins Glen Harbor Hotel
Named "Best Waterfront Hotel in the Nation" by USA Today, The Watkins Glen Harbor Hotel has 104 spacious guestrooms and suites, many with balconies that offer guests a view of Glen Harbor Marina and the glistening, deep waters of Seneca Lake. An indoor swimming pool, hot tub, and fitness center are a few onsite amenities.
After settling in your room, grab a pre-or post-dinner cocktail at the Coldwater Bar, where you can mix and mingle with other hotel guests. It's also a popular bar for locals, too, which gives you the opportunity to ask for a few pointers on the best wineries and hiking trails to tackle while you're in the area.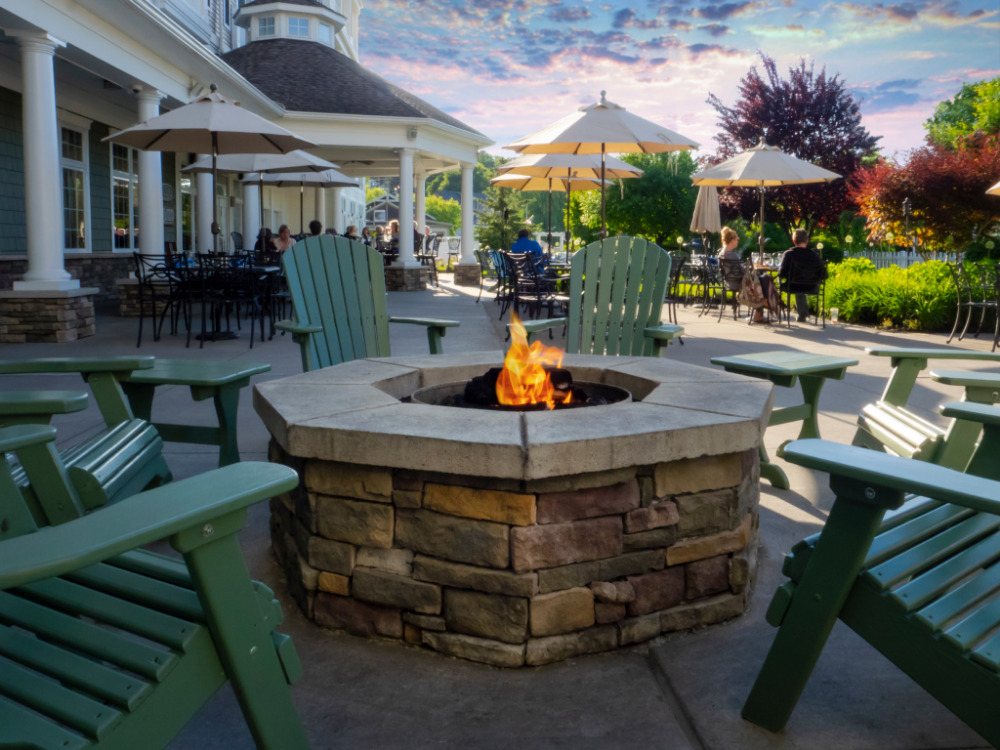 The hotel's restaurant, Blue Pointe Grille, serves breakfast and lunch, but I'd recommend making a reservation for dinner. It's usually pretty busy. Try the seafood scampi made with lobster, shrimp, and scallops in white wine garlic butter sauce with fresh basil and grape tomatoes over linguine.
Not surprisingly, but from my astute observation, I was the only guest of color, and if not, one of a few. That being said, I'm used to that after spending 15 years in several years in Minnesota. Overall, the staff and locals are friendly, which is the small-town vibe I'd expected. Watkins Glen has a whopping population of 2,000 people, but it's the tourists who keep the town buzzing, especially in the summer.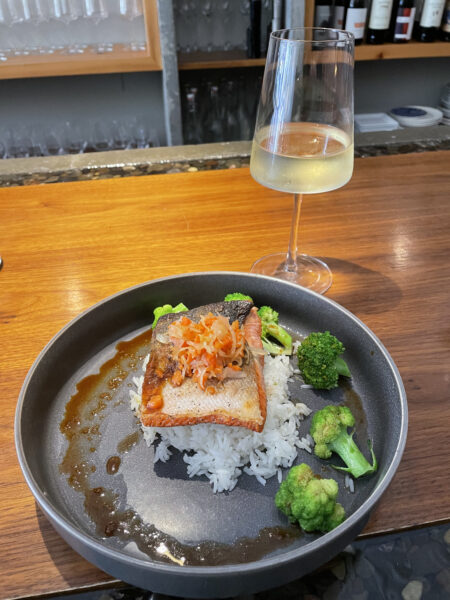 Where to Eat
There are several options to dine in Watkins Glen and the surrounding area and don't forget that several wineries also serve food to make sure you have something in your stomach in preparation for a day of vineyard visits and wine tastings. I won't give you a laundry list of places to go, but there were two restaurants that I really liked during my visit.
Graft Wine + Cider Bar
Only a short walk from the Watkins Glen Harbor Hotel, the Graft Wine + Cider Bar has a cozy atmosphere, clean décor, and modern knick-knacks strategically placed on shelves to the right of the bar. Award-winning chef Orlando Rodriguez is not only the owner, but he's also at the helm in the kitchen making tasty creations, including pan-roasted salmon, kale, lime rice, ginger carrots, and sweet ginger soy sauce. I sat at the bar where the bartender was quick to help me pare my salmon with a glass of local white wine.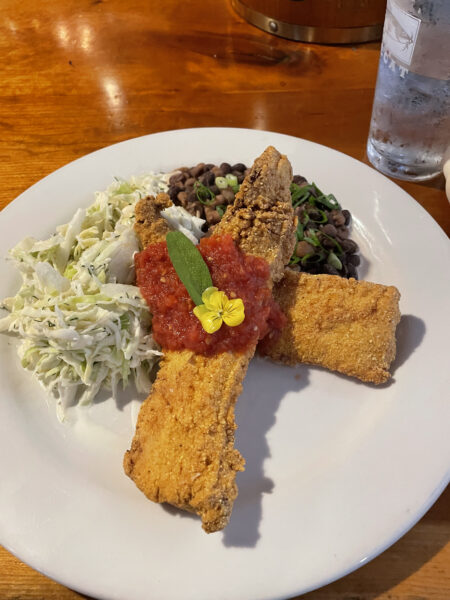 Stonecat Café
My other top recommendation is Stonecat Café, where reservations are necessary. It came highly recommended by locals and returning out-of-towners I met during my stay in Watkins Glen. Don't blink because you might miss the eclectic roadside restaurant and guest house. The restaurant is known for its cornmeal-crusted catfish and its farm-to-table cuisine. In addition to the catfish, the cornbread with honey and the chilled beet salad were my favorites.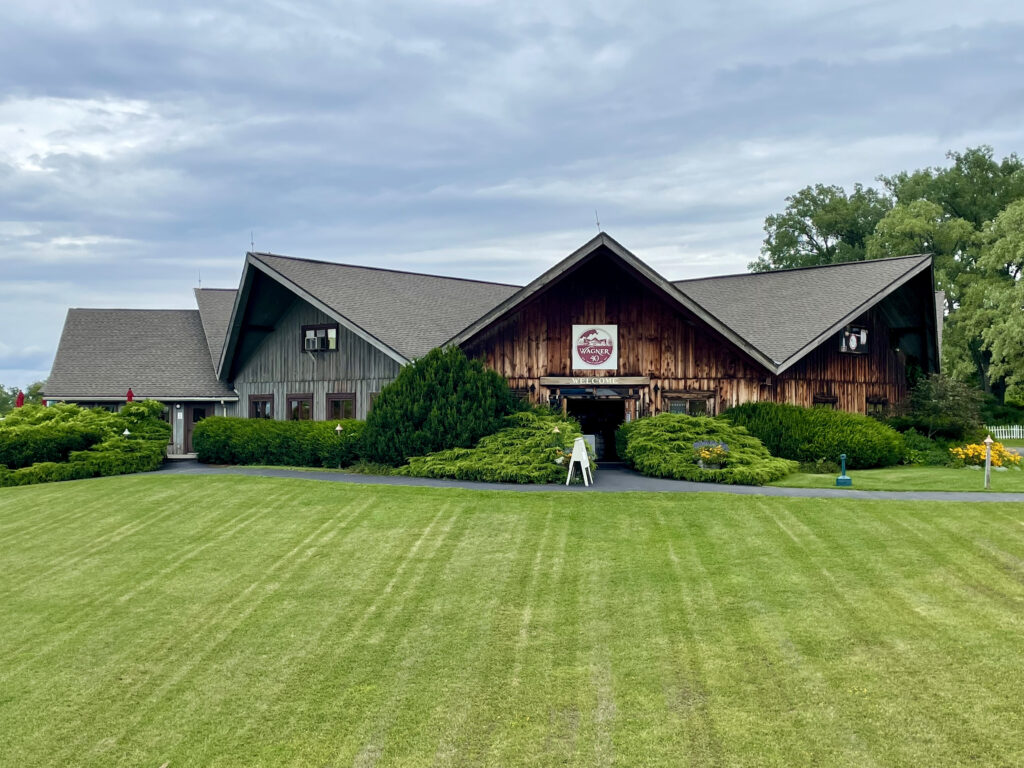 Things to Do
Visit Vineyards and Go Wine Tasting
Staying in Watkins Glen gives vacationers a vantage point to visit 35 wineries on the Seneca Lake Wine Trail – 22 wineries on the west side of the lake and 13 on the east side. From the hotel, take in the fall colors on a 20-minute drive to Lodi and visit Wagner Vineyards & Wagner Valley Brewing Company. The 250-acre estate produces 50,000 cases of wine each year and produces a selection of craft beers, including fall favorite, the Fjord Expedition, a dry-hopped red ale.
I was lucky enough to have PR-Marketing and Sales Manager, Alex Jankowski, take me on a tour of the vineyard and guide me through the different types of wines produced onsite during a private wine tasting. Open since 1978, the family-owned Wagner Vineyards produces a variety of Rosé, Blush, Red, and Dessert wines. If you're a white wine connoisseur, like me, try the Riesling Select 2020 or Riesling Select Semi-Dry 2019, a combination of lively peach and pear flavors, perfectly paired with sharp cheese, pork, and poultry.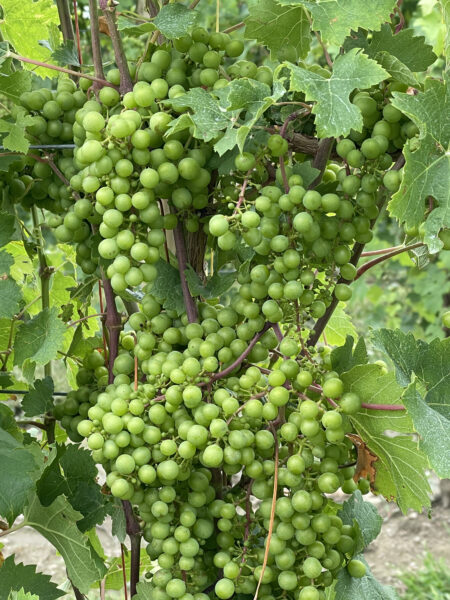 If there's any winery that should be at the top of your list when visiting the Finger Lakes Region, it should be Dr. Konstantin Frank Winery in Hammondsport, New York. The winery's namesake revolutionized wine production in the Finger Lakes Region. Immigrating to New York in 1951, he used his experience growing grapes in very cold climates to lead the innovative charge in creating high-quality vinifera wines in New York. There are actually two vineyards, one on Keuka Lake and one on Seneca Lake. For a change of scenery, drive 38-minutes from Watkins Glen Harbor Hotel to the Keuka Lake Vineyards, where the lake is usually a bit cooler than Seneca Lake. Red grape varieties are grown at the Keuka vineyard, and the cooler climate is perfect for the production of traditional method sparkling wine, which includes the vineyard's Chardonnay, Pinot Noir, and Pinot Meunier.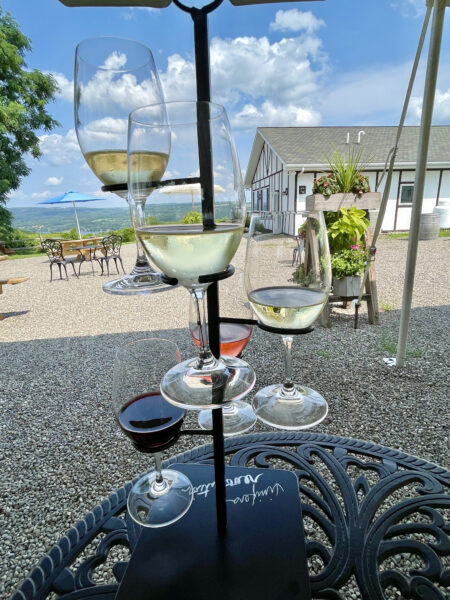 Arrange a self-guided wine tasting, and then, pick your favorites to create a flight you can enjoy at a shaded table in the vineyard's back garden. My favorite wines are the Amber Rkatsiteli 2019 and the Rkatsiteli 2020, made from a Georgian grape variety that dates back to 3000 B.C. and is the oldest known grape variety in the world. After your visit to the Dr. Frank vineyard, consider a quick jaunt to Keuka State Park for a hike and a little leaf peeping. The eight trails are fairly short and range from 0.4 miles to 1.3 miles.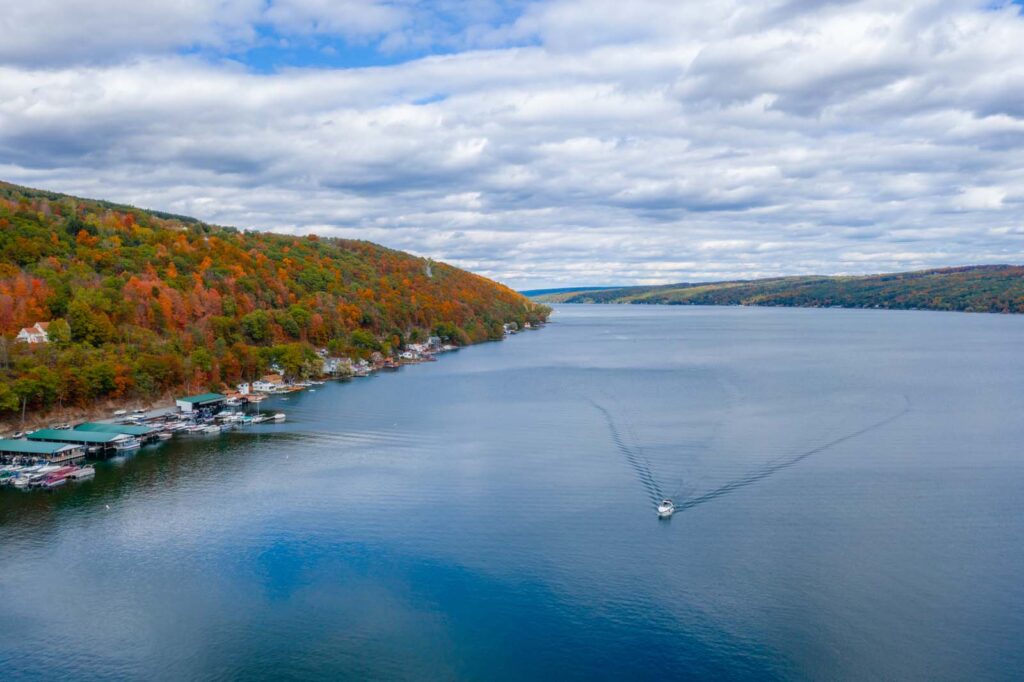 Sample Spirits at Finger Lakes Distilling
There are several fun activities to keep you busy if Watkins Glen is your home base during your visit to the Finger Lakes. Make a reservation to visit the tasting room at Finger Lakes Distilling, where they produce 17 types of spirits – a variety of whiskies, vodkas, gins, brandies, and grappa – made with local agricultural products such as corn, wheat, barley, grapes, apples, cherries, pears, and maple syrup. After your tasting, you can head to the bar, where a bartender can create your favorite cocktail using one of the distillery's spirits. Enjoy your drink while taking in the panoramic view of Seneca Lake from the patio.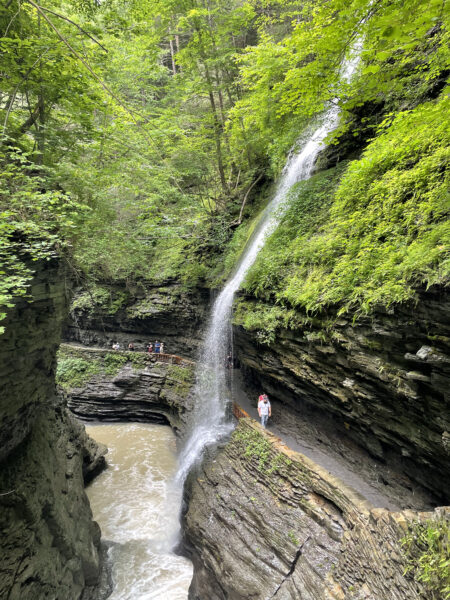 Take Hike in Watkins Glen State Park
This is one not-to-be-missed experience in the Finger Lakes Region. Embark on a journey along the Gorge Trail in Watkins Glen State Park, which has two entrances: the main entrance and the upper entrance. I recommend starting at the main entrance on Franklin Street to tackle the 1.5-mile trail, which is a paved path, for the most part, with a series of steps. The paths can be muddy because of the cascading waterfalls along the way, so don't wear your best shoes, but make sure they're sturdy but comfortable. And as I gay traveler, I couldn't miss out on dodging the foot traffic along the trail to get an Instagram-worthy pic at Rainbow Falls. By the way, the park is a two-minute walk south of the Watkins Glen Hotel.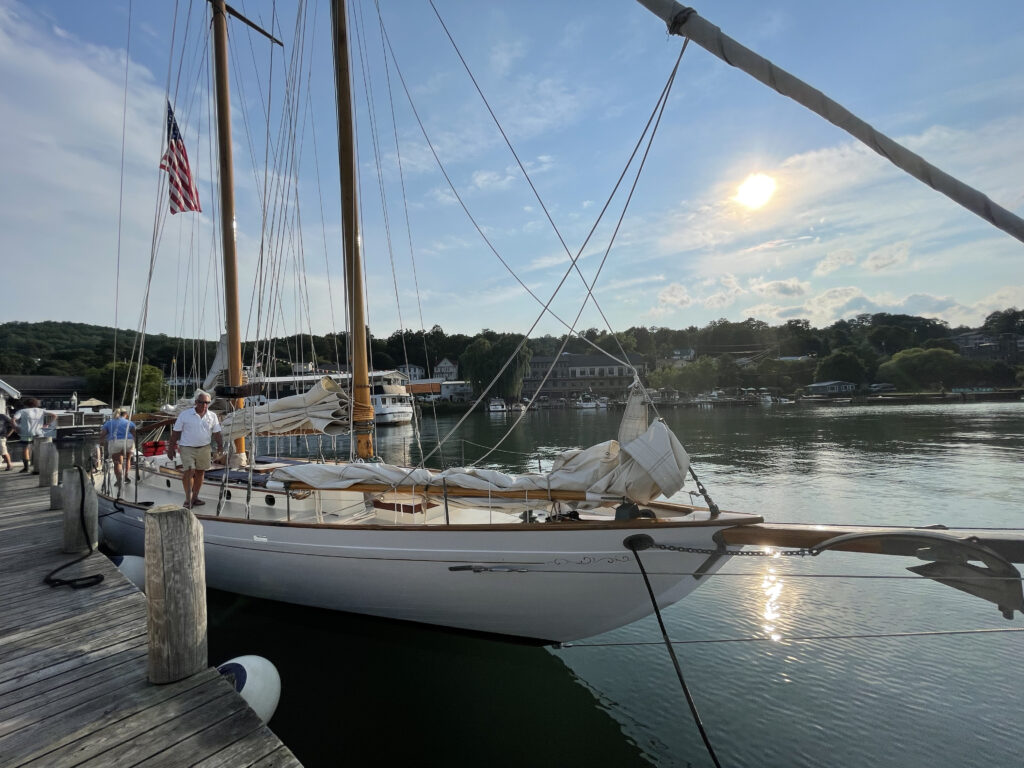 Go on a Sunset Cruise
For a more relaxing activity, consider a sunset cruise with Schooner Excursions. Sip on an adult beverage while the captain offers up fun facts and local history about Seneca Lake. If you're staying at the Harbor Hotel in Watkins Glen, the marina is located on the other side of the hotel. No car is necessary.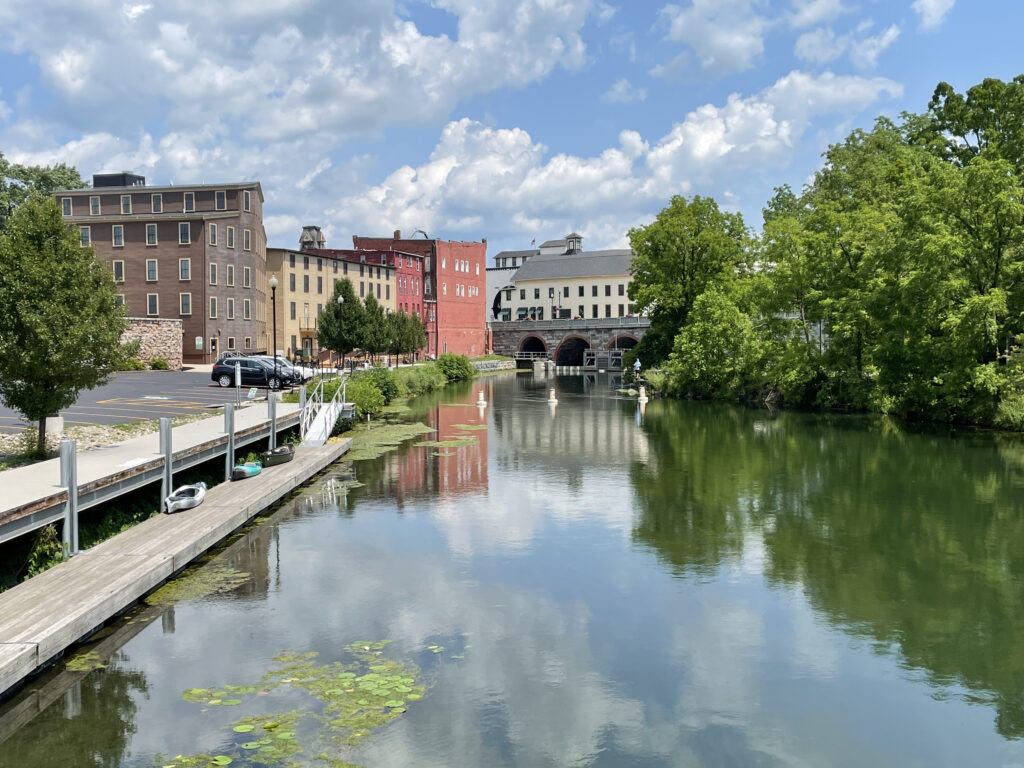 Hike and Dine in Penn Yan
For more adventurous travelers, drive 30-minutes north of Watkins Glen to hike the Keuka Lake Outlet Trail in Penn Yan. After you wrap up your hiking trek, stop by the small, quaint Penn Yan Diner for a big breakfast. Order "The Sean", two pancakes or French toast, two eggs, with home fries, toast, and your choice of bacon, ham, or sausage. Burn off a few extra calories and check out the variety of small shops and cafés that line Main Street.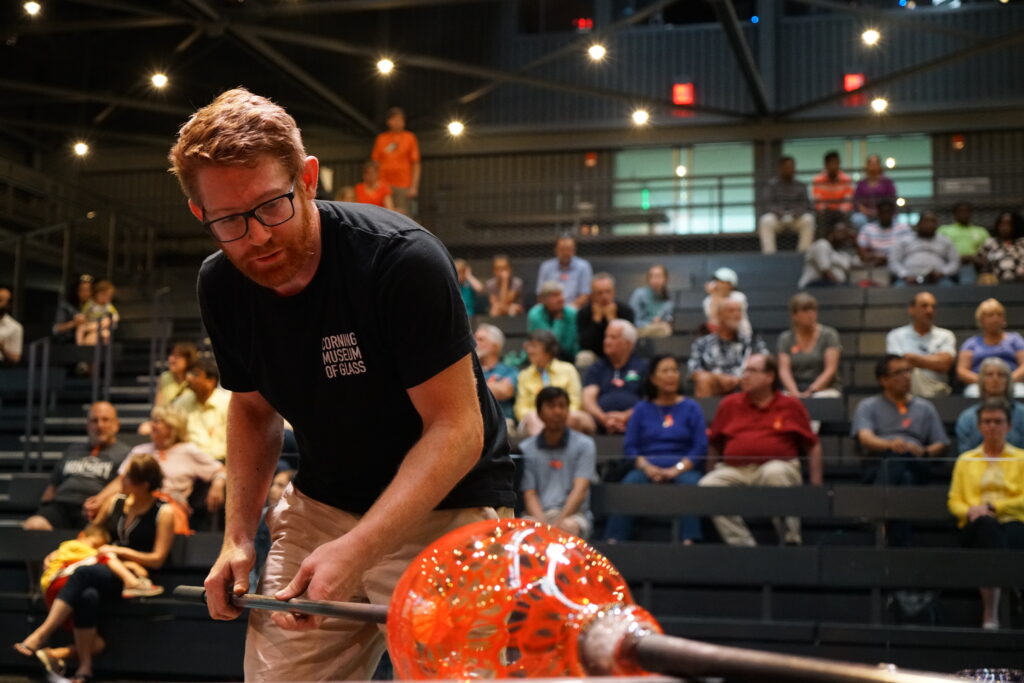 Take a Scenic Drive to Corning, New York
For LGBTQ+ travelers, I recommend a day trip to queer-friendly Corning, home of the Corning Museum of Glass, a museum dedicated to the art, history, and science of glass. Watch glass-blowing demonstrations and get a chance to help create your own glass ornament.
While you're in the area, check out the Rockwell Museum – no, not Norman Rockwell, but a unique collection of art gifted by Bob and Hertha Rockwell to the Smithsonian. When I visited in the summer, I was quite surprised that there are works of art on display from pioneering LGBTQ+ artists such as Keith Haring, Martine Gutierrez, Grant Wood, and Robin Tichane. The museum also includes several works of art created by people of color and or indigenous artwork, such as Haudenosaunee (Iroquois) artifacts and modern art. I enjoyed my visit, including the special exhibit that displayed the work of a local National Geographic photographer. You'll be pleasantly surprised by this gem in the Finger Lakes Region.
Don't leave Corning without dining at The Quincy Exchange. The delicate uneven lighting, elaborate bar, and separate dining room featuring a colorful mural add to the restaurant's sophisticated vibe. I had Saturday brunch and the food was good. had brunch and the food was good, including the omelet with farm eggs, spaghetti squash, chèvre, and green salad with sherry-date vinaigrette. And they have the fluffiest pancakes ever! If you enjoy a good handcraft cocktail, make sure you check out their list of "Innovations" cocktails.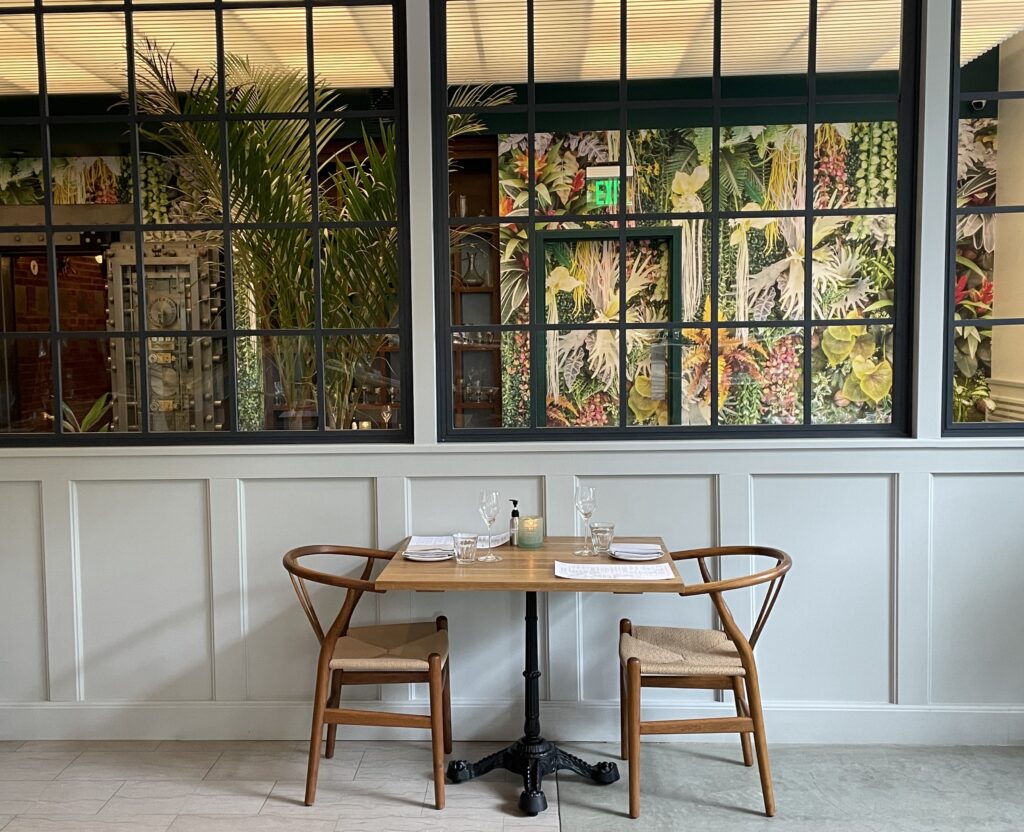 LGBTQ+ travelers will enjoy spending a day or two in Corning. If you're planning a visit in the summer, you can join the local queer community as they celebrate Pride with the annual Corning Pride Car Parade, usually scheduled for the second weekend in June. And even though I made the drive down to Corning in the summer, I'm sure the lush green landscape I witnessed would only look better with the trees and leaves lit ablaze with beautiful autumn colors. Want more travel ideas for a fun Finger Lakes Region holiday? Don't forget to check out our Corning travel guide.
Disclosure: The author traveled as a guest of Finger Lakes Wine Country, but all opinions expressed are entirely his own.